Posted by Milan Jara on 8th Apr 2022
Drop ceiling tiles don't have to be boring. Here are ways to transform your drop ceiling from yawn-inducing to interesting in a few hours.
Gone are the days when drop ceiling tiles had to be boring white tiles or bland white fiber panels that added little to no excitement to a room.
Suspended ceiling tile has changed to reflect a modern look that is more appealing for homes and professional business places.
If you have a boring drop down ceiling, there are several ways to transform it. You can even turn it into a focal point for the room. Here are some ways to do the transformation.
Paint the Ceiling
For most people, painting a boring drop ceiling white is the first option. One good thing about white color is that it is reflective and boosts the lighting status in a room.
The other advantage of the white color is that it blends well with the wall colors, and it even works better if the walls are also white. However, you risk having too many white surfaces in a single room.
Another way to transform bland ceiling tiles is to paint them with bright or fun colors that suggest a festive atmosphere in the room. Some bright colors to use include orange, purple, pink, green, and yellow.
Bright colors are ideal for spaces like bedrooms because they usually absorb light and may interfere with the initial lighting system. If you choose a bright color, ensure the room has enough natural or artificial lighting.
Replacing Old or Damaged Tiles
Here's a simple way to redo a drop ceiling and make it look new. One of the many advantages of drop down ceilings is that they are easy to repair by removing and replacing damaged or old tiles.
The room between the traditional ceiling and the drop one makes it easy to handle such repairs involving the removal and replacement of tiles.
Old, faded, broken, or water-damaged tiles can be lifted out and new ones installed in their places. If you want to add a little more kick, you can add tiles of a different color, provided the design fits well with the ones already in place.
Replacing Old or Damaged Tiles
You can turn a boring drop ceiling into something eye-catching by paneling it using beadboard panels. The idea here is to cover up the unpleasant existing ceiling, much like you would install a new ceiling over an ugly popcorn ceiling without removing it first.
PVC or vinyl beadboard panels are an excellent option because they are water-resistant. They aren't damaged by any leaks through the existing ceiling, though you should repair any structural problems long before the transformation project begins.
Install Copper Tiles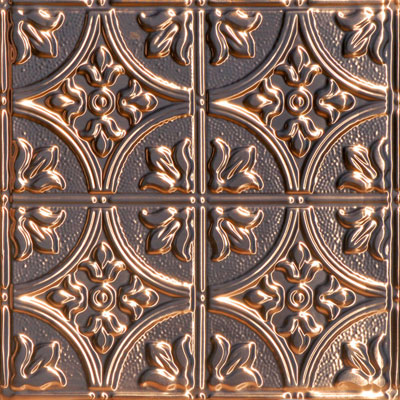 Copper ceiling tiles bring an impressive elegant look to a room. Available in many patterns and designs, you'll have several options. But they are more expensive than other metal ceiling tiles, though the resultant timeless look is worth the money.
Install Faux Tin Tiles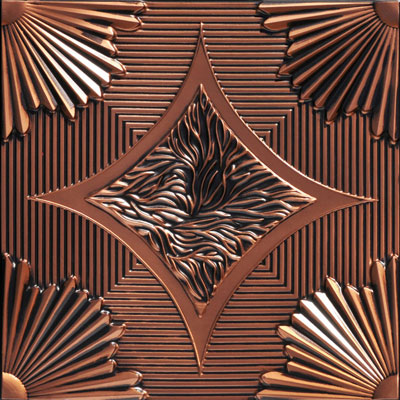 Faux tin tiles made of styrofoam or tough PVC are another good option for changing the look of an old drop ceiling. They are easy to install because they are lightweight, and you can cut them using scissors.
Faux tin tiles impeccably imitate the appearance of real tin and come in different colors, designs, and patterns. Their durability and near-maintenance-free nature make them ideal for drop ceilings.
Install Aluminum Tiles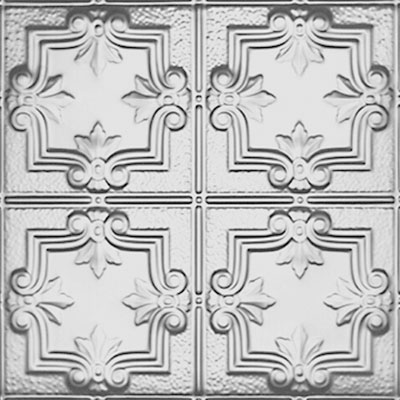 Aluminum tiles come in different colors, and you can order your favorite color, so you don't have to paint the entire ceiling when you install them. Or you could order pre-finished ones as an alternative to the painted ones.
The patterns are also diverse, and you can find a suitable one for your room, be it the dining room or kitchen.
Install Styrofoam Tiles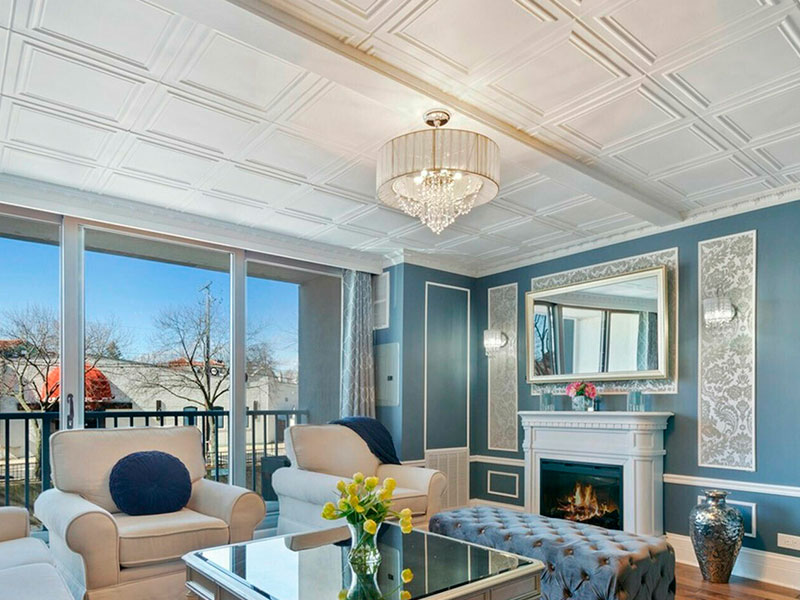 Like PVC tiles, styrofoam tiles are water-resistant and ideal for drop ceilings where the roof is prone to leakages. The water won't penetrate the tiles, but you should first take care of the leakages before installing the tiles.
Styrofoam tiles are low-profile and can help maintain the height of a room. Drop ceilings are notorious for loss of room height since they are installed under a traditional ceiling and could potentially rob a room of up to two feet in height.
Install Tin-Plated Steel Tiles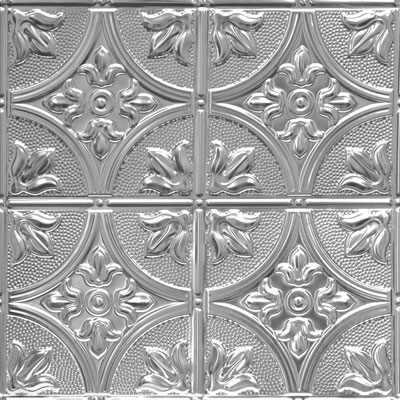 Installing tin-plated steel tiles is easy, and you can do it yourself in a short time if the ceiling grid work for the drop ceiling is still intact.
The tiles are available in different colors, so you can choose the one that best fits your place. You can also paint them before installation.
Install a Creative Wood Finish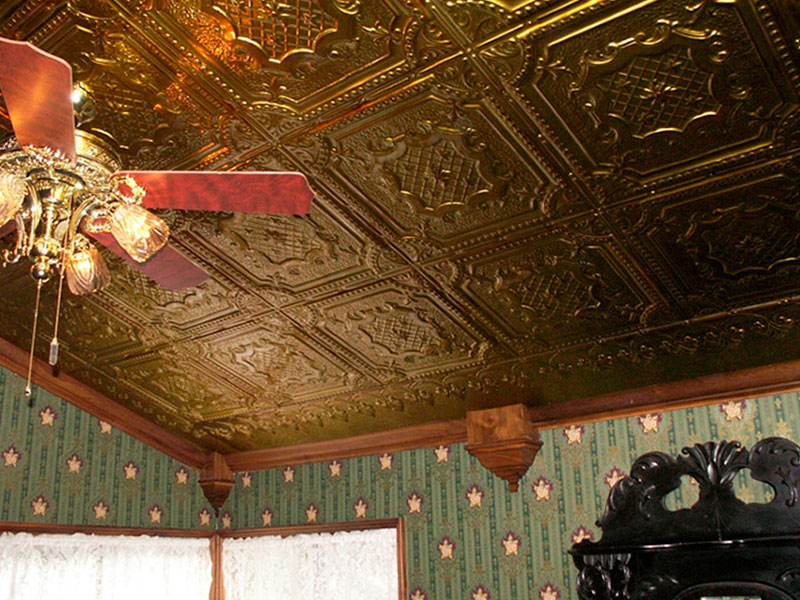 It is easy to enhance a drop ceiling with other decorative materials like wood along the borders or edges. You can choose between dark and light wood, based on the decor and general look of the room.
Draw Attention Away from the Ceiling
While this seems to go directly against the objective of transforming the drop ceiling itself, it is an excellent way to revive the ceiling.
The point here is to turn other key areas of the room into focus areas, while leaving the ceiling physically intact, provided there is nothing wrong with it that would warrant repairs or tile changes.
You'll only need to change other aspects of the room such as the color of the walls, general home decor, ceiling fans, curtains, and furniture. The ceiling remains unchanged, but it ceases from being the critical focal point.
Keep the Ceiling but Install Lighting Creatively
Another minimalist approach to transforming bland suspended ceiling tiles is creative lighting. With this one, you don't have to physically change the ceiling but rather enhance its look by creatively installing enough lighting.
You can't go wrong with LED disk lights, and they will be easy to install.
Conclusion
From faux tiles to metal ceiling tiles, you have plenty of options to transform drop ceiling tiles from boring to entertaining in hours, provided the ceiling's grid is still in good shape.
You can install copper, faux tin, tin-plated steel, aluminum, or styrofoam tiles. Wood finishes and beadboard panels are also suitable.