Posted by Milan Jara on 30th Nov 2019
When most people think of drop ceilings, they think of practicality rather than style. Due to the low cost, ease of installation, and their versatility, drop ceiling tiles have been used as a go-to industrial ceiling solution for decades.
We have all seen those office-style suspended ceiling tiles. These boring, white fiber panels are enough to put anyone off the idea of installing a drop and make it hard to believe that this style of ceiling can ever be attractive.
Drop ceiling tiles have improved immensely over the years. Now, designers, architects, and homeowners are viewing them as a cost-effective way to add character and style to any ceiling.
You can now use drop ceiling tiles to add an antique look to your ceiling without blowing your budget. Modern molding and manufacturing techniques recreate the look of hand-sculptured plaster, without the cost or hassle.
There are so many styles and materials to choose from with modern drop ceiling tiles, giving your ceiling a unique and sophisticated appearance has never been easier or more affordable.
---
Drop Ceiling Tiles for Style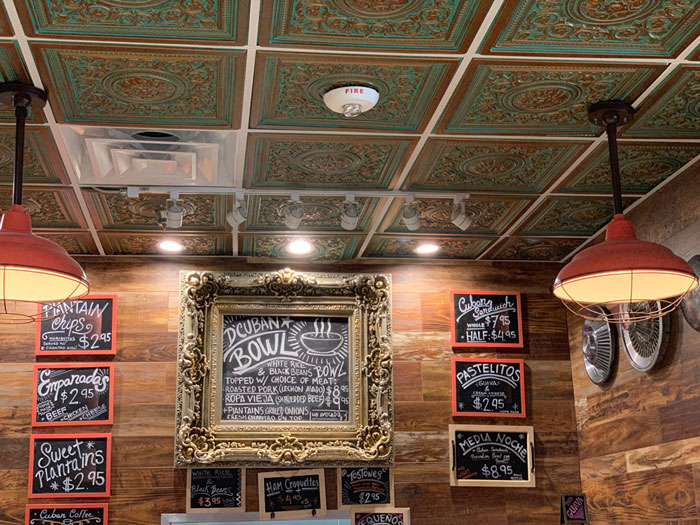 There are a lot of colors and styles available when it comes to drop ceiling tiles. Whether you are going for a vintage look or want to modernize your space, there are more than enough styles, colors, and finishes to suit your every need.
When decorating a room, the ceiling is one of the areas most often overlooked. Whether you are renovating a home, restaurant, or retail space, your project will benefit from having an eye-catching ceiling.
Take a look at the wide variety of drop ceiling tiles you have available to you HERE.
If you want to add some character and style to your ceiling without blowing your budget, here are some of our favorite styles of drop ceiling tiles.