Posted by Milan Jara on 16th Oct 2019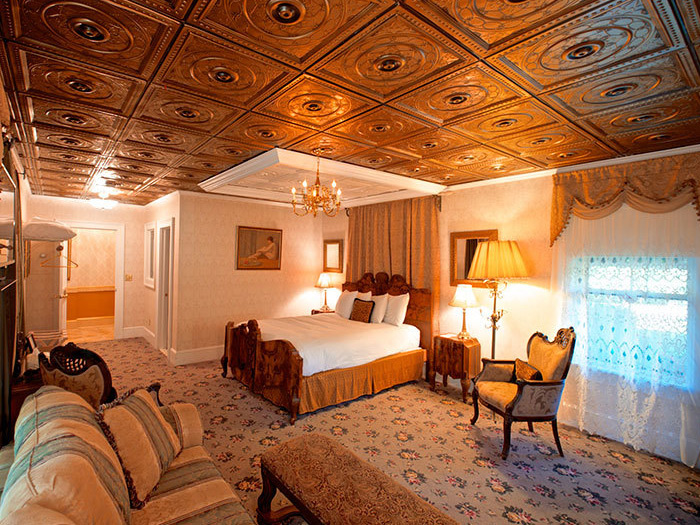 Once you've decided on using drop ceiling tiles, you have to sift through the options that are available to make a final decision on the style you want. There is a lot more to choose from than you may think.
---
Wood Finish
When choosing a drop ceiling tile there are many wood styled ones that may suit your taste. Darker woods tend to make a room warm and cozy and metals can make a more modern impression. You can cover a full ceiling with wood tiles or just create a border or central focus depending on the tile you choose. Lighter wood can also work well if you have somewhere that you want to give a more relaxed or country style. If you look at the furniture you have and wall décor then you may have an idea of what you want. Wood tiles in business areas tend to be in offices or places where you want to convey comfort and elegance. Again, it's best to think about this taking into consideration the current room content or if you are starting from scratch.
Tiles that are fashioned to look like cherry or walnut add to the elegance and classic nature of a room. It tends to be a sophisticated look that works in older style homes and professional businesses that want to show that classic style. Going with a lighter looking wood tile such as pine can offer a more western looking style. This is great for kitchens, family rooms, games rooms or maybe a retail store if the product suits that look.
---
White Drop Ceiling Tiles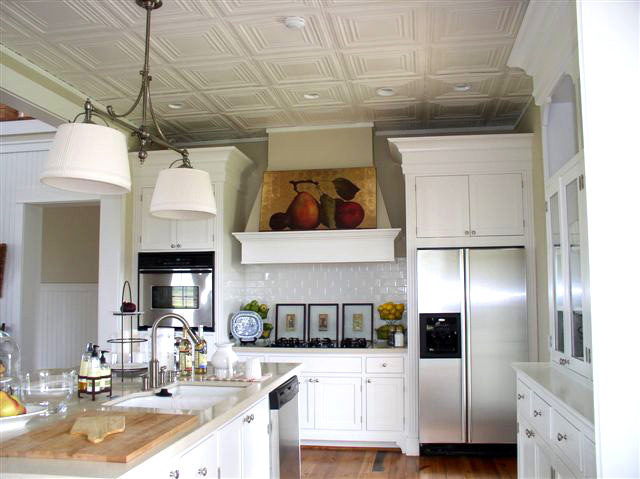 White is a color that offers substantial flexibility when you decide to decorate with drop ceiling tiles. Whether you are looking to create a clean, young flashy room or one where sophistication is the key, white is the way to go. Versatility means you can use almost any existing décor without having to worry about an overhaul of furniture, flooring and wall color. If you are choosing something a little more old fashioned or a tile that is a little edgier, going with white will let you blend and alter your current room décor easily without limiting its range. The decorating ease of many of these white tiles is it's easy to add an accent color to pull the room together. It's a less expensive way to decorate as you won't need to redo everything with a simple change or installation of ceiling tiles. White will allow you to select from many design schemes whereas choosing other colors may limit your room design choices.
---
Faux Finish Ceiling Tiles
While wood and light-colored ceiling tiles can showcase different styles of rooms, creating a design based on tiles that include metal, fabrics, and color are also an asset. While these style of drop ceiling tiles are flashy and can spruce up a room, they are a little more problematic to work with as they are not always as easy to fit into existing décor. Some of the older styled ones aren't too bad as they can look like copper and showcase a room that needs that sophistication. But others are a little more modern and colorful. They may suit a games room or maybe a teen room where the desire is to give it some strong color and liveliness.
---
Eclectic
The great thing about drop ceiling tiles is they can create a whole new look for a room without a ton of work. You don't need any extras once the grid is in. You just drop them in, and the ceiling is done. Drop-in tiles can create a room personality whether than is quiet and relaxing or something that wants to be livelier. Choosing something that is a little outside the box can create a great look. You can go with something that exudes fun such as the jazz age or a modern Steampunk look if you're looking for a mix of classic/sleek. Just take a look through the drop ceiling tile stock and there will be lots of styles that will pique your interest if you are looking for something a little more off the wall.
---
DIY is Not That Complicated
While the initial install of drop ceiling tiles is more complicated than adhesive or nails, once the grid system is set up it becomes simple. To install the drop tiles you need to start with the grid and then move to the tiles themselves.
Creating the grid – First, you have to find the center of the room, do your ceiling design on paper to make sure it all works, and you can layout the grid on paper
Installing the grid means putting up wall angles, T hangers, main T's and cross Ts
Put in the grid sleeves
Drop-in your ceiling tiles
---
So Many Great Options
Decorating is not everyone's forte and yet not everyone can afford to hire an interior decorator. Drop ceiling tiles take out some of the hard work, stress, and cost when it comes to changing a room's design. We don't always think to look at our ceiling to make those changes, but ceiling tiles can transform a look without changing paint, wallpaper or furniture. It can morph a room into a new look without a lot of effort and money. With all the great drop ceiling tiles available you're sure to find something that you not only like the looks of but will enjoy the cost of the project as well. Lots to choose from and it makes your decorating challenges less of a challenge.