Tin Ceiling Tiles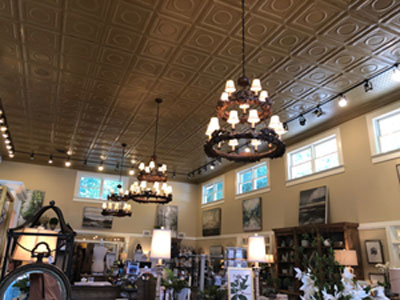 Real tin ceiling tiles are made out of tin-plated steel and must be primed and painted from both sides to prevent corrosion. You may have read that these tin tiles were invented because plaster ceilings were too difficult and too messy to make and not many people could afford them. The truth, however, is that people simply want beautiful ceilings, and tin ceilings are gorgeous. You can choose tiles that will lend your space a very modern look or tiles that look more antique. Tin ceiling tiles are popular in the U.S. but are also used in Canada, Europe, and Australia. They are great for adding elegance to your space and can also cover any damaged ceilings or walls that you just cannot find anyone to restore at a reasonable price. We carry about 200 different patterns, from 3x3 to 24x24.
How can these tiles be used to make stunning tin ceilings? There are two ways. They can be nailed to your ceiling or dropped into a grid system. Our tin ceiling tile, made of real tin, is our most economical metal tile, starting at only $7.75 per tile.
Do I Have To Paint Tin Ceiling Tiles?
Our tin ceiling panels must be primed and painted to prevent rust, but if this poses no problem for you, they may be your best option, as they can save you some money and still give your ceiling a beautiful finished look. In the event you do not want to paint, you still have options. We also carry aluminum ceiling tiles, painted in 80 different decorative finishes. In addition, we carry solid copper and aged solid copper ceiling tiles. That means you can choose from 80 different looks in three different metals!
What Type of Tin Ceiling Tile is Right for Me?
Perhaps you have decided to go with the most affordable option, our tin ceiling tiles. When you buy them from our online shop, you will still need to choose an application type. Depending on your situation, you may choose:
Nail-Up Tin Ceiling Tiles
If you are a homeowner, you would mostly want to choose the nail-up type of ceiling tiles. The nail-up application tends to look better, since the tiles interlock, and you will maintain the approximate height of your ceiling. If you haven't already, you will need to install plywood prior to the installation of your tin ceiling tiles, but the amount of height you'll lose to the thickness of the plywood and the tiles themselves is negligible.
If, on the other hand, you are finishing the basement in your home or trying to upgrade your drop ceiling, the right choice for you is:
Drop-In Tin Ceiling Tiles
Drop-in ceiling tiles are used mostly in commercial properties, restaurants, hotels, casinos, and basements. This kind of tile is the best option if you need to access the space above your ceiling, as is the case in basements and commercial spaces.
We also carry fillers, cornices and grid sleeves in case you need the whole nine yards.
Click here if you are looking for Fake / Faux Tin Ceiling Tiles?
The page was recently edited by "Milan Jara"