Tin Ceiling Tiles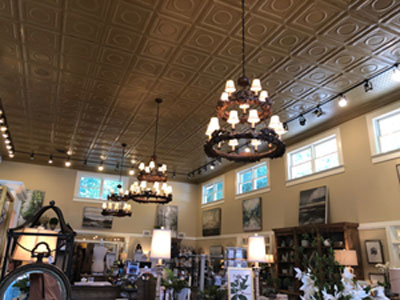 Real tin ceiling tiles are made out of tin-plated steel and must be primed and painted from both sides to prevent corrosion. You may have read that these tin tiles were invented because plaster ceilings were too difficult and too messy to make, and not many people could afford them.
The truth, however, is that people simply want beautiful ceilings, and tin ceilings are gorgeous. You can choose tiles that will lend your space a very modern look or tiles that look more antique. Tin ceiling tiles are popular in the US but are also used in Canada, Europe, and Australia.
They are great for adding elegance to your space and cover any damaged ceilings or walls that you just cannot find anyone to restore at a reasonable price. We carry about 200 different patterns, from 3x3 to 24x24.
Benefits of Metal Ceiling Tile Panels
When you choose metal ceiling tile panels like a tin ceiling, you will find they do not rot, crack, or absorb moisture. Additionally, they can add strength to a building.
Tin tile is moisture resistant, mold and mildew resistant, and quite durable. They will also stand up to wear and tear nicely while retaining their shape.
Here are a few more of the benefits of a tin ceiling.
Calming
With a myriad of design options, you can easily accomplish any style or personality you want for your home. However, you should be careful with your design choices, as certain color options can make a room appear darker and not as vibrant as you may have liked.
Temperature Control
Tin ceilings have good insulating capabilities as well. This can help you cut down on utility bills because the tin ceiling tiles will more effectively utilize the heat.
Sound Blocking
In addition to its insulating properties, a tin ceiling can also help block out sound, making them a great option for a home or a commercial space like a restaurant or office.
Durability
Another benefit of tin ceiling tiles is their durability. The materials are nonporous, it rarely stains, and the dirt and moisture in the space really have nowhere to go once they hit the surface of your tin ceiling tiles.
Increases Home Value
A new tin ceiling will improve the aesthetics of a space, but they can also improve your home's overall value. The long-lasting durability of tin ceiling tiles greatly increases the home's value, whether they were installed as a DIY project or by a professional.
How to Use Tin Ceiling Tiles
How can these tiles be used to make stunning tin ceilings? There are two ways. They can be nailed to your ceiling or dropped into a grid system. Our tin ceiling tile, made of real tin, is our most economical metal tile, starting at only $7.75 per tile.
Cover an Unsightly Ceiling
Tin ceiling tiles are a great way to cover an otherwise unsightly or hideous existing ceiling. Have a popcorn ceiling? Popcorn ceilings are outdated and can be a pain to remove. The easier solution is to use your tin ceiling tiles to cover the popcorn ceiling and completely transform the space.
Use as Wall Decor
Tin ceiling tiles can also be used on the walls and can be incorporated into your other wall décor or as artwork itself. Faux tin tiles also work well for this.
Use as a Tin Backsplash
Tin ceiling tiles also make a good bathroom or kitchen backsplash. They are easy to clean, durable, and work well in these spaces.
Create an Accent Wall
Another great use of tin ceiling tiles is creating an accent wall. Your dining room, for example, is the perfect space to create a focal point, and using tin ceiling tiles on the wall is a great way to create an accent wall with complementary colors and other home décor.
Do I Have to Paint Tin Ceiling Tiles?
Our tin ceiling panels must be primed and painted to prevent rust, but if this poses no problem for you, they may be your best option, as they can save you some money and still give your ceiling a beautiful finished look.
In the event you do not want to paint, you still have options. We also carry aluminum ceiling tiles, painted in 80 different decorative finishes. In addition, we carry solid copper and aged solid copper ceiling tiles. That means you can choose from 80 different looks in three different metals!
What Should Be Considered When Looking for Tin Ceilings?
Before purchasing your tin ceiling tiles, keep a few things in mind.
Installation: Tin ceiling panels come in nail-up or drop-in styles. So, consider which installation style you will use and make sure you have everything you need. Nail-up panels, for example, have to be installed on a plywood base, while drop-in panels are dropped into a metal grid system.
Size: There are varying sizes to choose from when ordering your tin ceiling tiles. The most common size is a 12-inch square. However, if you have a smaller space like the bathroom, you may want a smaller tile. Reserve the larger tiles and patterns for a more expansive space like the living room.
Price: the price for tin ceiling tiles can vary depending on the finish you choose and the size of the tiles.
What Type of Tin Ceiling Tile is Right for Me?
Perhaps you have decided to go with the most affordable option, our tin ceiling tiles. When you buy them from our online shop, you will still need to choose an application type. Depending on your situation, you may choose:
Nail-Up Tin Ceiling Tiles
If you are a homeowner, you would mostly want to choose the nail-up type of ceiling tiles. The nail-up application tends to look better since the tiles interlock, and you will maintain the approximate height of your ceiling.
If you haven't already, you will need to install plywood prior to installing your tin ceiling tiles, but the amount of height you'll lose to the thickness of the plywood and the tiles themselves is negligible.
If, on the other hand, you are finishing the basement in your home or trying to upgrade your drop ceiling, the right choice for you is:
Drop-In Tin Ceiling Tiles
Drop-in ceiling tiles are used mostly in commercial properties, restaurants, hotels, casinos, and basements. This kind of tile is the best option if you need to access the space above your ceiling, as is the case in basements and commercial spaces.
We also carry fillers, cornices and grid sleeves in case you need the whole nine yards.
Click here if you are looking for Fake / Faux Tin Ceiling Tiles?
Tin Tile Installation
Before any tin tile installation, you need to determine how much square footage you need to cover. So, when ordering your tin tile, be sure to measure the length and width of the area carefully.
Once you have the square footage, you can determine how many tin ceiling tiles you need. We always recommend purchasing a few more than you think you need if there is any mistake made during the cutting of the tiles.
Start by measuring the control line. This will be a straight chalk line at the halfway mark of the ceiling or wall where you will be installing the tin tiles.
You can use duct tape to dry fit the tiles if you want. This will help determine if any additional cuts need to be made, like around light fixtures or ceiling fans. Once you make your marks, remove the tile and make the appropriate cuts.
Now, apply the cement or adhesive to the back of the tiles. You also want to coat the ceiling or wall where the tiles will be going with the cement adhesive as well. Since the cement only takes about fifteen minutes to set, you should only wait a few minutes for the cement to become tacky. You can then begin applying the tiles.
When installing your tin ceiling tiles, be sure all your measurements are accurate and make adjustments as needed. Wipe the tiles down, so they are dry, and you are done with your DIY tin ceiling tile installation.
How Do You Cut Tin Ceiling Tiles?
Cutting tin ceiling tiles is easy. All you need is a good pair of tin snips or scissors. Before cutting, make sure to plan all your cuts in advance to avoid mistakes. When cutting, make sure you account for corners, light fixtures, and if it is a ceiling, any sloped areas there may be.
Can You Place Recessed Lighting in Tin Ceilings?
Yes. Recessed lighting is a good option for those with a tin ceiling. Other lighting options include chandeliers and pendant lighting. When you use recessed lighting with your tin ceiling tiles, you want to make sure that the lights fit nicely into the design of your tiles. If not, recessed lighting may look out of place.
What Is the Average Lifespan of Tin Ceiling Tiles?
Tin ceiling tiles are known for their longevity. When you take care of them and follow through with the right installation process, your tin ceiling tiles can last upwards of 20 years or more. This far surpasses the average lifespan of other more traditional ceiling tiles that have to be replaced around the ten-year mark.
How to Maintain Tin Ceiling Tiles
The maintenance of tin ceiling tiles is easy, and they require minimal time. Simply fill a bucket with warm water and a few drops of a non-abrasive dish detergent.
Use a soft sponge or cloth and wipe down each tin ceiling tile with your cleaning solution. Dry the tile when you are done with a clean cloth.
If you installed tin ceiling tiles in your kitchen and need to remove grease or other cooking spatters, make sure to use a dish detergent capable of cutting through the grease.