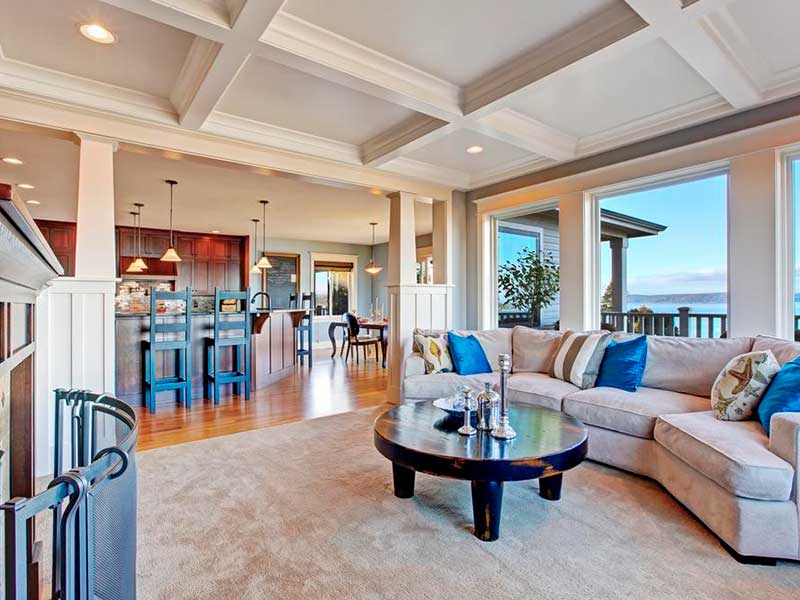 Want to elevate your living room with a coffered ceiling but are concerned that it won't match your décor? Here are modern coffered ceiling ideas that will amaze you.
Want to install a coffered ceiling but are concerned that it won't match your décor? While many people think that coffered ceilings incorporate a more formal element into a living space, we show you that with the right color, design, and fixtures, you can elevate your living room using a modern coffered ceiling.
10 Modern Coffered Ceiling Ideas
Coffered ceilings don't have to have an old-school or formal atmosphere. They can pair easily with modern, minimalist, rustic, or contemporary home décor. It all depends on the lines, color, and design of the coffered ceiling. Here are some interior design ideas to update your living space.
Warm and Sleek
Some people feel that coffered ceilings will not work well in a minimalist living room. They feel the ceiling design is too intricate and lofty to pair well with this design. However, there is a look that works well for this home décor style.
To complete this faux coffered ceiling look, your ceiling must have a wood finish. Then, build a thicker yet minimalistic coffered ceiling over the wooden one. If you have a light wood finish, a beige or ivory coffer ceiling pairs well to add warmth to the room. The lines of the coffered ceiling complement the room's décor and maintain that minimalist look.
Add a circular light fixture in each part of the square coffered ceiling to provide a warm visual appeal to the room.
Updated Mediterranean
Mediterranean styles are gaining popularity and aren't limited to just dwellings in Europe. To create a modern Mediterranean look with a coffered ceiling, incorporate different textures and materials. Tie it in with a natural coffered ceiling, and you have an incredibly modern look.
If your living room is a mixture of neutral colors – whites, browns, taupe, and hints of red – this look will be spectacular. The coffered ceiling can be natural wood in a soft beige. It will complement the colors in the room very well, open it up, and make it feel very airy.
The coffered ceiling should be a standard, square, single-beam construction with a worn façade. Complete this look by choosing a neutral cream for the beams. In areas where there is ample light coming from windows, this look will make your living room appear incredibly spacious.
Add a few small darker colors for contrast to prevent the room from becoming too washed out.
Living in Luxury
In rooms that are a bit more elegant, create a coffered ceiling with a single large, round panel in the center. Surrounding it should be smaller square panels. The ceiling in this design can be a greyish blue, while the beams should be bright white for contrast. A gorgeous drop chandelier completes the look, but you can add recessed lighting if you prefer.
The beams themselves offer clean lines and are slightly beveled close to the ceiling, adding a bit of flair without the look being too classical.
Bold, Modern, and Chic
Many homeowners shy away from painting coffered ceiling panels with darker hues, especially if they have a small living room. However, with this design, it can pay off. The space isn't large, but the black ceiling paired with the thick, white coffered ceiling beams make the room seem taller.
It also pairs well with a country rustic theme with a beige herringbone wall pattern, beige furniture, and a cow skin area rug.
Geometric and Gorgeous
For a more whimsical look for your coffered ceiling, consider a geometric pattern. This design features hexagonal panels to provide a gorgeous, dramatic look to this Spanish-inspired décor. The ceiling uses wood panels with off-white walls and pairs well with furniture in the hues of deep reds and browns.
Rounded archways with a bit of wrought iron complete this contemporary coffered ceiling design.
Natural Delight
This beautiful coffered ceiling idea allows light to come flooding into your living space and can show off some spectacular scenery. In this design, the coffered ceiling should contain glass to allow people to enjoy a vast amount of natural lighting and be amazed by the surrounding nature. Chic hanging light fixtures, plush chaises, decorative throws, and mirrored tables add a bit of glam to the look.
Contemporary Warmth
Smaller spaces can really benefit from these coffered ceiling design ideas. When done in the right shade, the room can appear more open and taller. Despite the room's modest size, you can add a bit of modern luxury by installing dark slate panels to balance out cool tones. The lines of the room are clean, and the dark slate provides that element of warmth despite the straight lines of the design. This leaves the room looking more inviting and less sterile.
Exotic and Interesting
For a living room furnished with exotic décor, coffered ceilings should be used more for an accent rather than focal points. This ceiling treatment features a room in mostly brown hues with pops of yellow interwoven in statement pieces like lamps and artwork. The ceiling is left white, providing visual interest without competing with the boldness of the room.
Relaxing Retreat
Instead of painting a coffered ceiling's panels, paint the beams. Use a darker shade for contrast, or for a more relaxed look, use subdued shades. If you have bamboo shades or are using more natural materials in your living room or dining room, this look will pick up on the added texture. It will give a more laid-back atmosphere to the room.
Golden Luxury
Adding gold paint to the ceiling tiles or panels brings luxury and depth to a living room. Golden tones complement a beige or taupe décor providing an upscale appeal. By varying the golden color of the panels, you add visual interest and a bit of a retro 70s vibe. Visually, it will be stunning. Pair the wood with a white for the illusion of a higher ceiling.
Summary
Modern coffered ceilings can add interest to any sized room. Whether you want to go for a more relaxed look, modern elegant, or whimsical, a coffered ceiling can easily match your style. These beautiful coffered ceiling looks all incorporate the straight lines of a coffered décor with very little deviation. Pairing the effect with different colors and materials gives the overall desired appearance.