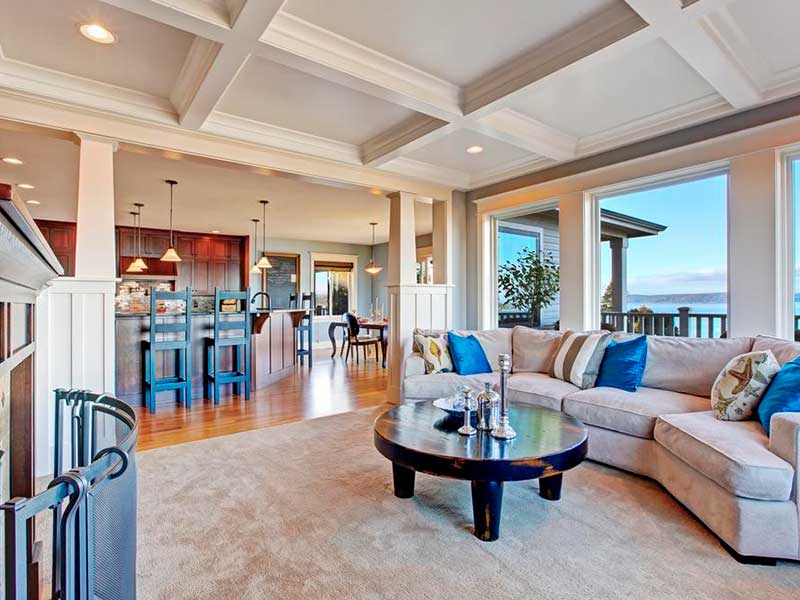 Coffered ceilings offer luxury to any home, defining spaces in an open concept or adding dimension. Here are our most intriguing ideas.
Adding a coffered ceiling quickly takes a room from ordinary to stunning in a short amount of time. When renovating, many homeowners don't consider any possibilities for their ceiling outside of traditional paint. Ceilings don't have to remain in the background. Coffered ceilings create a bold statement in any home.
What is a Coffered Ceiling?
Coffered ceilings are a series of three-dimensional panels that cover a room's ceiling. They form a grid pattern that quickly becomes a room's focal point. These ceilings are common in higher-end kitchens because they add dimension and status to any area.
Coffered ceilings are also popular in many open-concept areas like living and dining spaces where there are bigger areas.
Is a Coffered Ceiling Right for My Home?
Open floor plans have become a staple of modern homes. They provide a more inviting atmosphere and make it much easier for parents to monitor the activity of young children. With the increasing popularity of this floor plan, most homeowners feel the need to define spaces. Instead of using partial walls or separators, some people turn to coffered ceilings.
Another reason to incorporate a coffered ceiling into your design is that it provides drama. Dining rooms with coffered ceilings have more formality, removing the casualness of the space in terms of entertaining. In a living room, it looks elevated and stylish. If you want to add detail to a room, consider this ceiling type.
Coffered ceilings add a gorgeous touch to a variety of home designs. While they are great for most spaces, they are not ideal for rooms with lower ceilings.
Rooms with an existing ceiling under eight feet are too low for a coffered ceiling. Homeowners risk the feeling of closing in the room as coffered ceilings decrease the room's height by a considerable margin. However, there are additional treatments that you can incorporate into a room with a lower ceiling, like decorative ceiling tiles, faux beams, painted/lacquered ceilings, beadboard, and ceiling panels. These additions will make the room stand out.
Are Coffered Ceilings in Style?
Coffered architecture was made popular by ancient Roman and Greek civilizations, and the design has a classic feel that never goes out of style or dates a room. A coffered ceiling adds style and luxury, which always remain at the forefront of interior design.
The only thing that may change is the architectural detail of the design. Modern homes may want a cleaner appearance and avoid any decorative molding that will clash with the design elements in the home and potentially date it. Yet it is perfectly acceptable for character homes. It will make it look like a restoration job.
10 Most Beautiful Coffered Ceiling Design Ideas
Ranging from kitchens to living rooms and everything in between, here are some styles to guide you in your journey.
Living Room Open Space. Coffered ceilings can separate and define areas. Installing a square grid-like coffered ceiling can add a bold statement to this room – especially if you have large, bright windows. To add an extra dimension to a large living room, you can paint the borders a darker hue to further enhance the dimension.

Octagonal Coffered Ceilings in Stately Rooms. While people may not use this design often, you can add an air of sophistication to a living room by incorporating an octagonal design. It adds an intriguing element that guests will remember.
A Touch of Rustic in the Kitchen. By adding lighter wood as a coffered ceiling, you can create a rustic appearance in a kitchen. The large square pattern also separates the kitchen/island/breakfast nook from a larger formal dining area.
Defining the Island in Large Kitchens. For country appeal, add a coffered ceiling in a large kitchen. This style involves leaving a border (can be any shape) and elevating the rest of the ceiling in this area. A lighter wood can outline the raised area, adding depth, and you can add a cut-out above an island for added appeal.

Two-tone Large Square Design in the Dining Room. This design has a large, coffered square with pendant lighting centered in the room. It is lower than the other areas, which overlap the square design and are more elevated. The trim is painted white with a bluish-grey center, perfect with hardwood floors and large windows.
Add Dimension to Narrow Foyers or Halls. This type of ceiling works very well on high ceilings–especially in foyers. A narrow rectangular shape provides a gorgeous cathedral appearance and is a beautiful compliment to arched windows.
Multi-dimension Square Coffer for Modern Appeal. This look is perfect in a modern formal living space. It has a square grid of a more traditional coffered ceiling, but it also has smaller squares within the squares. The smaller squares are more recessed into the larger and complemented by a square glass/brass pendant light.
Go Bold With Glass Panels on a Second Story. When most people think of a coffered ceiling, they envision an actual ceiling. To add grandeur to a second-story staircase, consider adding a coffered ceiling with glass panels. It will provide additional light and expand the look of the room.
Wood Hexagonal Pieces in a Bedroom. This look is perfect for a sea-themed room. The ceiling is a series of medium-dark wood hexagonal areas joined with the odd square piece. Thicker crown molding joins the wall to the ceiling, drawing up the eye.
For a Traditional Look, Add Square Coffered Ceiling Panels with Pot Lights. This look is perfect in a room with a variety of brown hues. The border of the ceiling is painted white with a chocolate brown rimming the inside border. The ceiling panel is a medium shade of beige to add the illusion of height and depth.
These are the most notable styles that you can incorporate in any home. Many variations will allow you to change it according to your style.
There are many unique ways to incorporate a coffered ceiling to highlight an area or add dimension to a space. The only caveat to using this design is that the ceiling height must be higher than eight feet. It is not suitable for rooms with lower ceilings.