Posted by Milan Jara on 24th Jun 2021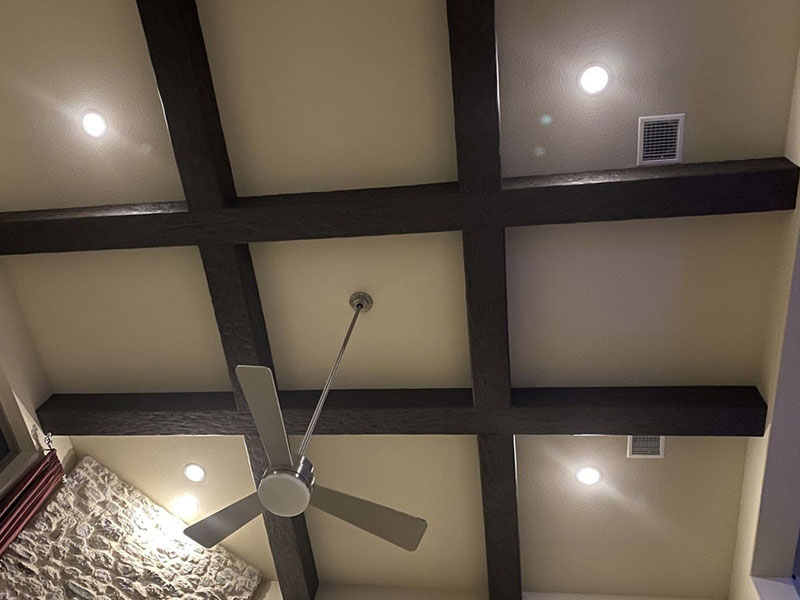 When it comes to adding a wooden or rustic decor theme to a room or a whole house, people tend to weigh up which is the better option: real beams vs faux beams? There are arguments for each of these materials. Usually, faux wood beams do come out on top, and there are many reasons for this. If you're considering wood ceiling beams but are not sure which one is best for you and your home, then this article will help you see how you can benefit by using faux wood beams.
The reasons why you should opt for faux beams instead of real wood include:
Less maintenance
One of the best aspects of using a faux beam is that it does not need to be stained or painted. As soon as you receive your order of faux wood, you'll notice that they'll already retain the look of natural wood without any modification.
Easy to Install
With real wood beams, there is no escaping how difficult they are to install. They're extremely heavy, and getting them attached to your ceiling will bring complications, especially if you're deciding to fit them yourself. No professional decorator will suggest you fit real wood beams as a DIY project. More often than not, a professional will need to install real wood beams for a customer.
Moreover, as solid or reclaimed wood beams are heavy, you will need a ceiling that will be able to hold the weight them. If this is the case for you, then you'll need extra support beams to hold that enormous weight. This is no simple task, as this could require opening up walls, depending on the structure of your home.
When it comes to faux wood beams, you can eradicate all these problems. Faux beams are simpler to install, which means you can do the installation as a DIY project. They are much lighter in weight, and that's why only one person can carry out the task of fitting them to a ceiling. If this applies to you, check our guide on how to install faux wood beams to your ceiling.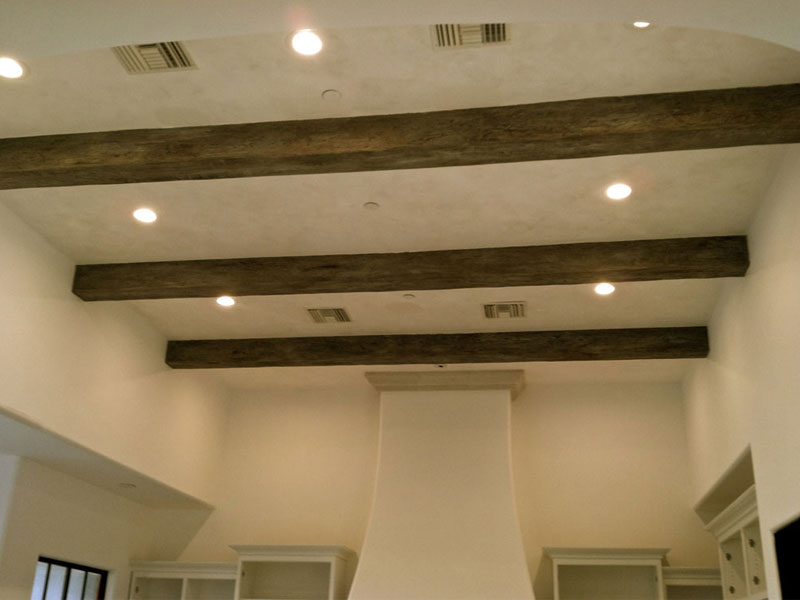 They're Durable
A valuable feature of faux wood beams is their durability which is another area where they exceed real wood beams. They can outlive real wood beams as they will not rot, chip, or split over time. When you purchase real wood beams, these are issues you'll have to contend with.
In addition, using real wood can bring on further issues, like becoming a breeding ground for pests that may find their way into your home. Termites are a common pest that infests real wood beams, and over time, will destroy them. If your beams are high up on the ceiling, then you may not realize before it's too late.
With faux wood beams, your need to pay out tons of money on repair work is slim. Since faux wood uses polyurethane, it can block elements that can destroy real wood beams. For instance, moisture isn't an issue, and pests aren't attracted to it.
Ultimately, you'll save plenty of time and money if you decide on investing in faux wood beams rather than real wood.
Custom Finish Options
If you decide on ordering faux wood beams, give yourself the chance to customize them as you please. You can pick out the right color as well as the texture, allowing you to purchase wooden beams that can match your interior theme.
Of course, you can stain a real wood beam, but this comes as a time-consuming project that's also incredibly messy. You will already have to spend so much time on the installation process, so why would you want to spend even more time on staining the wood as well?
Investing in faux wood beams makes this whole process so much simpler. All you have to do is choose the color and texture you want – which will save you money because you won't have to purchase extra supplies to stain the wood.
Functional
Faux wood beams are more than just a nice-looking piece of fake wood. They come as very functional objects that can be practical as well as being eye-catching pleasing.
From an aesthetic point of view, they are a great option to match faux wood flooring or make white ceilings stand out. However, from a functional point of view, you can use them for situations like:
Covering cracks
Hiding wires
Hiding pipes
Covering popcorn ceilings that may be uneven
Therefore, if you're looking at a particular space on your ceiling and seeing unsightly cracks, wiring, or even pipes, then do know that faux beams can cover up these outcomes since they're hollow objects.
After reading this guide on faux wooden beams, you should better understand how they can be more valuable to you than real wooden beams. There is no denying that faux beams come with many benefits for you to take advantage of. However, just so that you can weigh up your options as thoroughly as you can, it's important to address a couple of cons relating to faux beams.
For instance, they do not provide you with structural support. If you are looking for beams that will hold something up heavy, then faux wood beams are not the best solution. Another con is that they may not be appropriate within historic homes. If this applies to you, then you may want to reconsider the real wooden beams instead.
Ultimately, if you are looking to install wooden beams on a budget and want them installed as quickly and as easily as you can, then investing in faux beams is the way to go.