Natural wooden beams in a home inspire a rustic, earthy, warm atmosphere. Something about old wood brings with it a history and individual story. If your home is built from modern materials, or if you live in an urban dwelling, then you probably don't have any real wooden exposed ceiling beams.
Luckily, faux wood ceiling beams provide all of the natural aesthetic as real or reclaimed wood at a fraction of the weight and cost. This article tells you where to buy faux wood ceiling beams and why they are a modern trend.
---
What are Faux Wood Ceiling Beams?
Faux wood ceiling beams are specially designed and manufactured decorative structures that mount onto your ceiling. Though they are made to look identical to a wide range of woods, faux wood ceiling beams are made of high-density polyurethane (HDP). The HDP is molded by machinery to mimic real wood's exact grain, color, and texture. But, it is light enough to be installed by one or two people.
Some faux wood beams may also be made from styrofoam, but these beams are not nearly as durable or strong as their polyurethane counterparts. Polyurethane beams are light and water-resistant, and resistant to other extreme weather conditions, making this a suitable material for outdoor applications.
Faux wood beams are designed to span the length of the ceiling of a room from end to end. The faux beam is hollow, with three solid sides. The fourth side is left exposed to accommodate exposed infrastructure. It fits over piping, wiring, and other exposed infrastructural eyesores on the ceiling.
---
How are They Used?
An exposed ceiling beam draws the eye up and creates an illusion of greater ceiling height. Traditionally, exposed beams signified high ceilings. Faux beams are used to create the same effect.
A wooden ceiling beam can be installed to hide infrastructure or purely aesthetic reasons. True aged wooden beams are prohibitively expensive to purchase, ship, and install. The labor is intensive since the beams can weigh nearly 1000 pounds. DIY faux wood beams offer all of the aesthetic value of a real wood beam and much more convenience.
---
Faux Wood Beams for Ceiling & Other Applications
Adding a natural wood element to your ceiling will enhance the atmosphere and enjoyability of a room. There are three options for adding timbers to your ceiling. They can be combined or used exclusively.
The choices are:
Classic Faux Wood Beams
Classic faux wood ceiling beams are the standard ceiling beams described above. They are used to hide exposed piping, wires, and more to enhance the aesthetic and sophistication of a room. They are made of high-density polyurethane molded to resemble the color, texture, and grain of natural wood. A faux wood beam is perfect for foyers, entryways, and spanning large rooms.
Faux Wood Planks
If you are looking to cover the entirety of your ceiling with wood, faux wood planks are the way to go. They are perfect to use in combination with classic faux wood beams, trusses, and brackets. Together, faux wood planks create the atmosphere of an old, rustic, elegant castle.
Used on their own, these planks can provide an earthy atmosphere without becoming the center of attention. They are also great for rooms with ceilings too low to accommodate beams, trusses, and brackets.
Faux Wood Trusses
Faux wood truss systems are a great way to mimic the earthiness of a farmhouse in your urban dwelling. These units are large and surprisingly lightweight. Unlike the real thing, faux wood ceiling trusses are not intended to bear the weight of a structure, but no one will ever know. They look exactly like the real thing, and you don't need a crew of workers to install them.
Faux wood trusses are perfect for homes with two-story ceilings. The truss spans the width of a room. It comes down to the top of where the room's vertical wall stops and extends to the point in the ceiling.
They add an instant rustic charm to your home and an additional spark to the interior. Your design can incorporate faux wood beams and trusses across your home, giving the entire structure a down-to-earth and elegant makeover.
Any open floor plan with a vaulted ceiling is a great opportunity to install these decorative ceiling beams. They are much lighter in weight than a solid wood beam made of real or reclaimed wood, are easy to install, and can completely transform any living space. They are also a natural accompaniment that works well with the flowing layout of a vaulted ceiling.
Faux Wood Mantles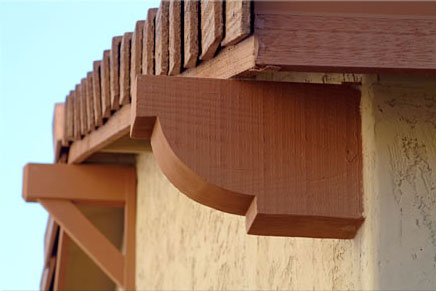 Faux wood mantels are a beautiful, eye-catching centerpiece for above a fireplace mantel or to display personal artifacts. Made from high-density polyurethane, faux wood mantels imitate a wood beam section without the need to hold hundreds of pounds up to mount it. These lightweight, attractive units come in thousands of color, wood, and texture variations.
Faux Wood Ceiling Brackets
Faux wood ceiling brackets are designed to be mounted between the wall and the ceiling. They give off the impression of taking weight from the above structure. However, the faux brackets are not weight-bearing. These units are a lovely accompaniment to a large room sporting a faux wood truss system.
---
Ceiling Beams Used as Wall Decor
Did you know you can also use faux wood ceiling beams as wall décor in the home? These beams can be used vertically and horizontally, making them a versatile choice for your home. You can use faux wood beams to create an accent wall in the home, or they can be used to make a more seamless transition from the exposed ceiling beams already installed to the wall application.
You can discuss the specifics with your contractor to see how you can really make your walls stand out with your new ceiling beams.
Have a fireplace in your living room? Try using faux beams around your fireplace mantel or above it, as we mentioned before, or even cut down as a floating shelf for your office. The possibilities really are almost endless when it comes to using wooden ceiling beams in the home.
---
Decorative Beams as Exterior Decor
Additionally, faux wood beams can also be used on the home's exterior. You are not resigned to the use of decorative beams for interior design only. Wooden ceiling beams can be used to decorate your porch, outdoor kitchen area, or simply create more of a style for your exterior walls.
---
Add Lighting to Your Faux Beams
Want even more style and character for your living space? Install your lighting on the faux wood beam. This trick works great for faux beams installed in the kitchen or above the dining room table.
---
Who Are Faux Wood Beams Best For?
If you are a fan of the exposed wood beams you often see displayed in magazines and on the home improvement sites you have been frequenting lately, then faux wood beams may be the right choice for you. Some homeowners brush away the idea thinking decorative ceiling beams will cost too much or because the installation seems too complicated.
While this may be the case with real wood beams, you will find that faux ceiling beams will not break the bank and are relatively easy for you to install. With faux wood beams, you also don't have to worry that your beams will begin to crack, warp, or rot as you may experience with real wood beams.
---
Where to Buy Faux Wood Ceiling Beams
You can find hundreds of style, color, and texture variations to choose from. Beams can be manufactured to your exact specifications. But, for the avid DIYer, faux wood ceiling beams are available to be stained and custom fitted by you. However hands-on you want to be, there are dozens of ceiling beam options from which to choose.
---
Final Thoughts
You don't have to rip out your existing structural support to add the aesthetic of old wood beams to your home. Faux wood ceiling beams, along with a truss system, faux wood planks, faux wood mantels, and faux wood brackets, transform the interior of your home into an elegant rustic escape.
If you found this article about faux wood ceiling beams useful, feel free to share it on social media with your friends and family. And, don't forget to sign up for our newsletter to get all the most recent postings and news updates. Thanks for reading!