Posted by Milan Jara on 13th Apr 2021
Wooden beams are beautiful and elegant. They bring a rustic feel and charm to your home while creating a sense of space by drawing attention to a room's structural elements.
But before you implement wooden beams to your ceiling, you need to consider whether you should choose faux wood or real wood beams.
Faux Wood Beams vs. Real Wood Beams
The main appeal of faux wood beams is that they're lighter and cheaper to install than their authentic counterparts. But faux wood has other merits beyond affordability.
Faux Wood Beams Pros
Low maintenance: They can retain the look of natural wood without being stained or painted.
Pest-free: Faux wood, unlike real wood, doesn't offer a home for pests that can damage your infrastructure.
Lightweight: Installing a faux wood beam is comparatively easy because, as alluded to above, it's very light.In fact, most decorators can lift these beams by themselves.
Useful: Their hollow interior allows you to install light fixtures and hide any unsightly wiring.
Customizable: A faux beam can come in various colors and patterns, from light unfinished wood to dark walnut. Their versatility can help you match any decorative theme.
However, despite the many pros of faux wood beams, they're not perfect.
Faux Wood Beams Cons
Provide poor structural support: Faux wood beams aren't designed to hold up a home. They're intended for decorative purposes, not structural support.
Possibly inappropriate for historic homes: A faux beam is hard to match with historic homes, which tend to have an older and even more rustic appearance.
Real wood beams are another option for your home. Below, we'll weigh their pros and cons.
Real Wood Beams Pros:
Provide Structural Support: Solid wood beams provide optimal structural support, as mentioned above. They're important if you need a solid infrastructure.
Natural Beauty: Although faux wood beams effectively mimic the appearance of real wood, they still can't match the true character of real wood.
Real Wood Beams Cons:
Difficult to install: The installation process can be too difficult for one person. It usually requires a professional contractor.
Vulnerable to wood-eating pests
Costly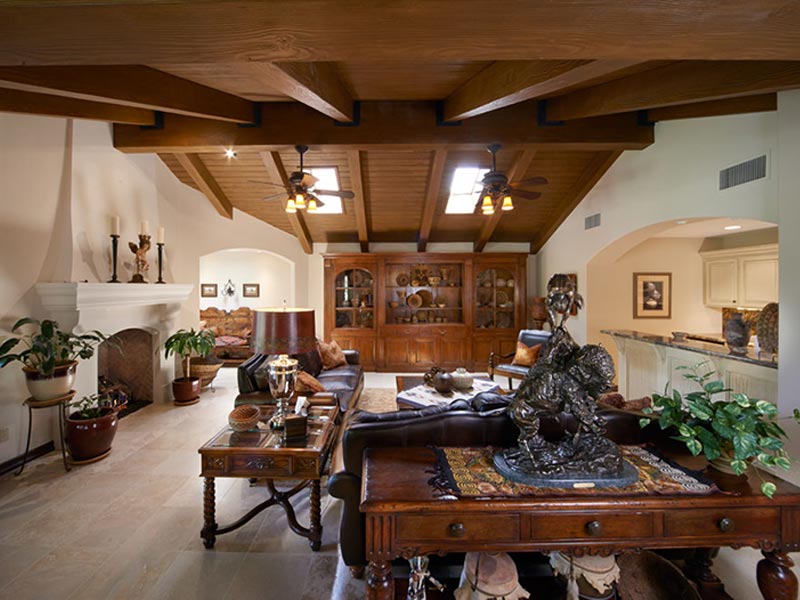 Who Should Consider Faux Wood Beams?
Anyone who's looking to install wooden beams without a lot of maintenance work. Plus, there tends to be no real need for structural wood in contemporary structures as opposed to older homes.
Other Ways to Add Faux Wood to Your Home
Faux Wood Planks: A plank is a great option if you're looking to cover the whole ceiling. This option creates the atmosphere of an old, rustic, elegant castle.
Faux Wood Trusses: This is an effective way to mimic the rustic feel of a farmhouse in an urban abode. These are a great fit for two-story ceilings.
Faux Wood Ceiling Brackets: These purely decorative brackets are designed to be mounted between the wall and ceiling.
If you're interested in faux wood beams and want to look over a range of possibilities, consider these options.