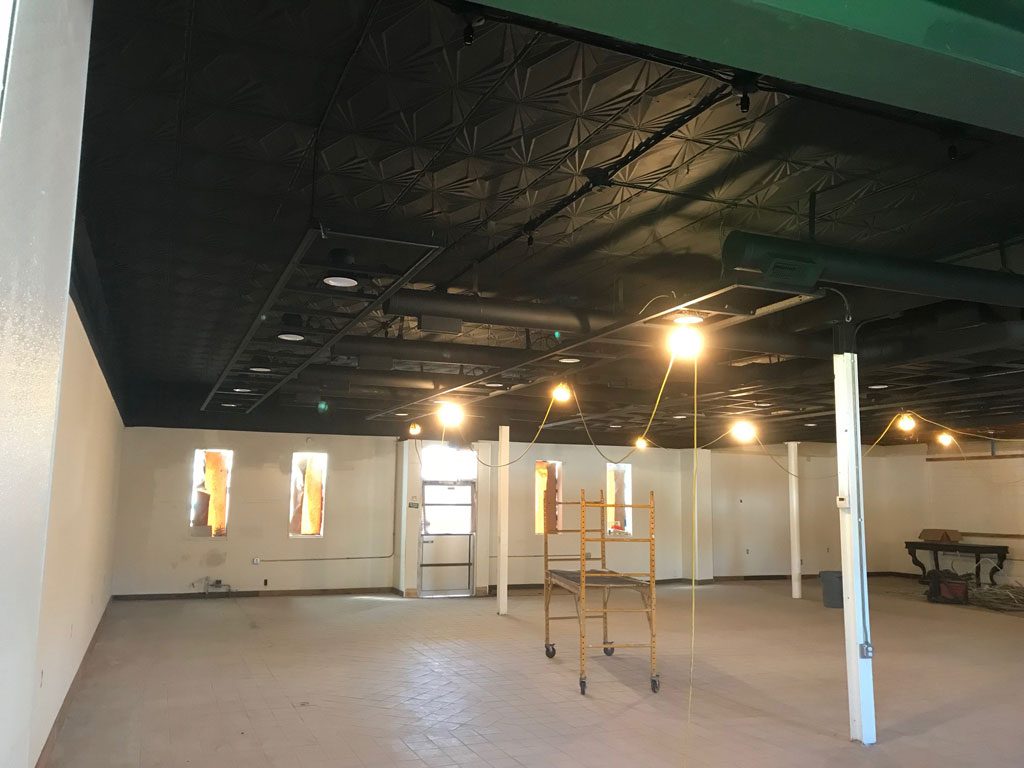 A popular color for ceiling tiles in the current market is black. That may raise some eyebrows, but you'll be amazed with the sleek, modern, and stunning presence a set of black ceiling tiles can generate. However, despite this ability, you must always be careful before you jump in and purchase a set of black ceiling tiles. It's very easy to overwhelm yourself if you go overboard with the design.
This guide is here to help, though. Here, you'll find out why black ceiling tiles are a great option and how to go about selecting the right ones for your home.
---
The Benefits of Black Ceiling Tiles
The first aspect worth mentioning is that black ceiling tiles work well with warm colors. This makes the process of installing them much simpler as you won't have to complete a full renovation just to fit them in. Moreover, when you use black décor, it's like you're making a statement. It's dominating, and it takes huge risk to apply it inside your home.
Another benefit of choosing black ceiling tiles is their ability to make other colors and features stand out. If you have a warmer color implemented into your design, then using shades of black is going to make that warmer color stand out. For instance, you'll notice this if you experiment with a white sheet of paper and place it on a white bed sheet. It would blend in, right? However, if you use a black sheet of paper instead, the paper would stand out and be apparent.
Homeowners consider the color black is helpful with opening up a room. It could make your ceiling appear taller, especially if you have substantial lighting. Having this option would be best inside smaller areas and your hallways.
---
Black Metal Ceiling Tiles
Using black metal ceiling tiles is a great way to implement the color black into your décor. When it comes to metal ceiling tiles, they are incredibly versatile, and they can be used in any room inside your home. Not only can you place them on your ceiling, but they also work on your walls as an alternative to wallpaper. If you opt for this, then you'll be adding texture and character to your room.
One decorative tip to consider if you're thinking about adding metal tiles to your home is to have them placed in your kitchen. Your kitchen is where the most dirt and crumbs will appear, and metal ceiling tiles are easy to clean. All you'll have to do is wipe them down with a damp rag. If you're the lazier type, then installing black metal tiles would be the way to go as opposed to white. With white tiles, the grease would be a lot more visible than if you had black tiles. The black tiles will do a better job hiding your spillages.
---
The Perfect Match for a Games/Theatre Room
As you could imagine, black is an excellent way to boost the ambience of a games room or a home theatre. Therefore, adding black ceiling tiles is a great way to achieve this. Black is a popular color for these types of settings due to its connection with the lighting. For instance, with a black ceiling, it reduces the light reflected from a flat-panel TV and works wonders with low-light levels. What this does is creates the feel of a real movie theatre – so seriously consider this option if you are designing a room that involves any form of media. A further tip worth mentioning is that you should purchase a product that will help reduce noise. So, while you're relishing optimal sound quality in the comfort of your home, the sound within a room or traveling from room to room is reduced.
How to increase the atmosphere of your game's room/theatre? By adding a spectacular black coffer ceiling – especially if you are designing a brand-new game's room. If you are designing a game's room that includes a pool table, a flat-panel TV, a video game console, and among many other features, why not have all this under a stunning black coffer ceiling? With black coffer tiles, they add depth, dimension, and character – creating excitement for you and for those who are fortunate enough to experience it with you. In addition, they are incredibly durable and straightforward to install – so if you're working on the room yourself, this is a project you could certainly do.
---
Reasons Why You Shouldn't Invest in Black Ceiling Tiles
With black ceiling tiles, it's important to mention the drawbacks surrounding them – especially when you consider the reasons why. The drawbacks are:
Making a room feel cramped: This is something you may not be able to afford, especially if you are already having doubts about the size of the room you wish to decorate. If the ceiling is low, then adding black will make the ceiling feel even lower, and that's something you may not want or need.
Looking less organized and a lot grimier than warmer colors: This is important to consider, especially if you plan to do a lot of work inside the room you're having decorated. So, having black ceiling tiles is not ideal for workspaces, like art studios or offices.
Ultimately, there are a list of reasons why having black ceiling tiles are a great fit for your home. As established, black ceiling tiles are effective when it comes to home theatres, games rooms, and kitchens. However, with the right, and careful planning, you can create a spectacular design in any room by using black ceiling tiles. Ceilings don't actually have to be white or any light color as a matter of fact. Implementing any dark color like black tiles is a great way to achieve that bold look that many decorators find rewarding.