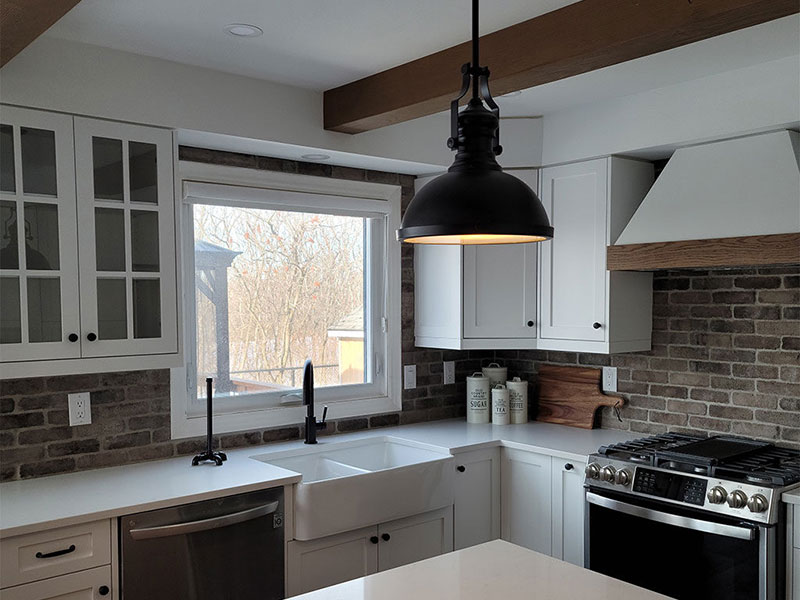 Looking to add some character to a room. Look up-- faux wood beams might just be what you're missing.
Exposed solid beams are a look that continue to gain popularity, and it's easy to see why. An exposed ceiling beam can give you higher ceilings and add a cozy feel to any room.
However, a wooden beam can be quite high maintenance, especially as it's harder to access as a ceiling beam. For this reason, faux wood ceiling beams make a great alternative to add to your home.
Faux wood beams let you achieve that warm cozy look that wood provides without the additional maintenance that a solid wood beam would have. With a number of colors, textures, and sizes to choose from, you can easily find faux beams that match your current home decor or line up with your home renovation plans.
Keep reading to learn everything you need to know about faux wood beams and find out how you can add them to your home to create a warm and inviting atmosphere.
Why Use Faux Wood Beams?
As you'll learn, faux wood beams are a great choice for almost any homeowner who wants to add character and warmth to their home, but without the hassle that comes along with a real wood beam.
Before we dive into the benefits of faux wood beams, let's first talk about why traditional wood beams may not be the best option for your home.
Wood Beams vs. Faux Wood Beams
Although everyone loves the look, feel, and even smell of a solid wood finish, wood is definitely not easy to maintain. Wood is heavy, making it difficult to install in your ceiling, and it's prone to warping. Not to mention how expensive wood can get.
Faux beams will give you that warmth and rustic look that you're looking for, without the stress or worry that comes with maintenance.
Benefits of Faux Wood Beams
There are a number of benefits to using faux beams, especially over real wood beams. Some of these benefits include:
Looks just like the real thing: Add just as much character and warmth as wood beams.
Widely obtainable and available in a variety of styles: With faux beams, you don't have to worry about finding the right type of wood (and enough of it) to finish your project.
Lightweight: Since faux beams don't weigh as much as wood beams, they are easier to lift and maneuver around to install.
Easier to install: Overall installation of faux wood beams is not too complicated. You only need a few installation accessories that are easy to find.
Inexpensive: Wood can get expensive, especially if it isn't in wide supply. Faux wood is a great inexpensive alternative.
Using faux wood beams in your home will give it a rustic look that you can play around with and make it suit your overall decor. You can even install relatively easily yourself, if you're looking for a new DIY project.
If you do undertake installing faux wood beams as a DIY project, there are a few accessories you may want to add.
Faux Wood Beam Accessories
Although faux wood beams can be simply installed as is, there are a number of accessories available that will hide gaps and can enhance the overall look of your faux beams. Even getting the right nuts and bolts can bring your faux wood beams to the next level.
Here are some key accessories that you should consider adding to your faux wood beams to complete the look.
Straps
Flexible urethane straps are designed to hide gaps and accent your faux wood beams. Each strap has bolt heads on one side and but heads on the other. They're available in a variety of lengths and are produced to be longer than needed so that you can trim it to your required length.
Our straps are meant to be used with Volterra's faux wood beams, but they can be used on other faux wood beams or even real wood beams.
Hangers
Hangers are used to add detail to your faux beams while simultaneously hiding seams and gaps. Flexible urethane hangers are available in a variety of widths, heights and pitches. Note that you need nuts and bolts to attach the hangers to the faux beam.
Our hangers are designed for rafter to ridge beam connection on Volterra faux wood beams or real wood beams. As with the straps, they are also produced longer than needed so that you can trim when installing.
Plates
Flexible urethane T-plates are meant to accent intersecting faux beams with the look of forged iron, perfect for a room with an industrial feel.
These plates are meant for Volterra faux wood beams, but can be used for other faux beams or real wood beams as well.
Conclusion
To recap, you should choose to add faux wood beams to your home because:
They're inexpensive
They're lightweight.
They're easy to install.
They look just like the real thing.
If you feel like something is missing in your decor, look up. A ceiling does more to a room than you might think, so it's worth the effort to make them look more interesting.
Faux wood beams are a great way to make a plain ceiling stand out. You have a variety of options to choose from, making it easy to find the set of beams that blend in with your decor.
Read here for more information on how to install faux wood beams.