Styrofoam ceiling tiles are a great choice if you're looking for an easy-to-install ceiling that can brighten up your room. Styrofoam is a type of polystyrene that's incredibly popular among home ceilings. Here, we'll focus on the pros and cons for having Styrofoam ceiling tiles in your home and provide some good-looking designs for any kind of room.
The Pros of Styrofoam Ceiling Tiles
It's important to focus on the strengths and flaws of these kind of tiles to determine whether they're right for your home. These strengths include: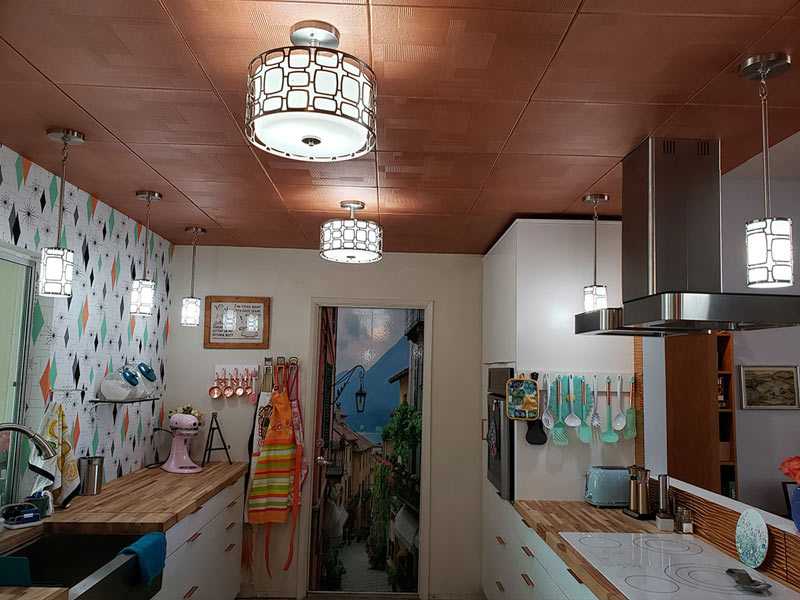 Their attractiveness regardless of the surrounding area.
They're often more effective with insulation than most other ceiling tiles, including metal and pressed paper. These tiles can maintain the temperature of a room, whether they're keeping cool air in during hotter months and warm air during cooler months that are cold. With this said, they are a great fit for spaces such as kitchens and bathrooms.
Styrofoam ceiling tiles also provide noise insulation.
The easy installation process is a key reason why many decorators choose these tiles.
These tiles are lightweight and can be installed for many types of ceilings, including popcorn and stucco. Any DIY decorator can easily install this kind of ceiling.
They come in many different styles and are readily available at any home improvement store or website.
The Cons of Styrofoam Ceiling Tiles
As for the flaws of Styrofoam ceiling tiles, they include:
They're relatively difficult to maintain, as they tend to absorb stains more than other types of tiles, especially metal. Polystyrene is also typically fragile, so Styrofoam tiles need to be cleaned carefully. (You can do this with mild detergent and water, or with acrylic emulsion paint.)
These tiles aren't fire-resistant and can even emit dangerous fumes while burning.
Styrofoam Ideas and Designs:
Styrofoam Crown Moldings- Adding crown moldings to a newly installed ceiling is like putting icing on a cake - it just gives it that extra taste. They're also lightweight and easy to cut, making for an easy installation process. However, they can be expensive. Luckily, we come provide you with an affordable crown molding that will brighten up any room.
What Styrofoam tile designs do we recommend? Firstly, here's a list of Styrofoam tiles that are affordable, easy to install, and popular among our customers.

The Line Art Glue-Up Styrofoam Ceiling Tile: This option is popular as it's simple, beautiful, stable, and trustworthy. This tile may look relatively plain, but it possesses subtle square borders of varying widths and depths. These are easy to install and require no expensive tools for the installation process.

You can cover these tiles over a popcorn ceiling, among many other ceiling surfaces. Plus, as mentioned above, these tiles can provide you with excellent thermal or noise insulation.

Diamond Wreath Glue-Up Styrofoam Ceiling Tile: This is a great option if you want a patterned design. The Diamond Wreath is one of our more popular designs, as the central circular feather surrounded by a double-lined diamond makes for a great look. It can suit all kinds of rooms as it's durable, lightweight, and airy.
Check out the rest of the list to see if there's a right design for you and your home.