Posted by Milan Jara on 27th Mar 2020
If you're considering Styrofoam ceiling tiles, you'll be glad to know that they come with several benefits. First, this style makes your ceiling eye-catching and extremely appealing. It's important to take your time when considering your options for Styrofoam ceiling tiles to make sure you choose the right design for your home, office, or studio.
We're going to tell you what you need to know to choose the right tiles for your home and to show you why Styrofoam ceiling tiles are such a popular choice.
---
What is Styrofoam Ceiling Tiles?
These tiles are actually considered polystyrene as they are manufactured from extruded polystyrene. You have a few options with these tiles. You can laminate them or even leave them plain if you choose. If you're thinking about using this design in your kitchen or bathroom, though, laminating them with a protective film is highly recommended to protect them from the heat and humidity.
Benefits: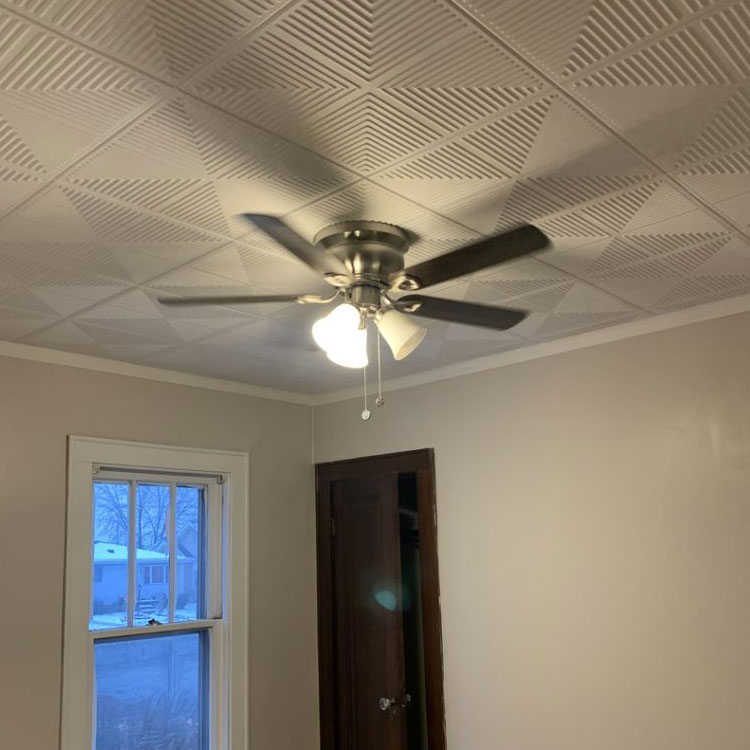 Insulation: Styrofoam ceiling tiles are an effective insulator so you might enjoy a reduction of your heating bill.
With more insulation, your home will not only be kept warmer in the winter, but it will also be cooler in the summer. It's important to understand that you should not rely solely on these tiles to insulate your property but they do help the overall insulation.
In comparison to other materials, like metal and pressed paper, Styrofoam ceiling tiles offer the best material to insulate your room. They can affect the temperature in the room but that's not where the insulation stops. Have you ever needed to drown out a particular noise? Then you'll be glad to know that Styrofoam tiles provide noise insulation, too.
Quick Installation: Because they are so lightweight, installation does not take very long and can make an easy DIY project. If you want to find a project you can do on your own to change the look of your home or business, installing Styrofoam tiles is a great way to do it.
In addition, try not to worry about how the Styrofoam tiles feel. They may feel a little flimsy but they are ultra-thin which is what makes them easy to work with.
Add Value: These tiles can add value to your property and impress those who visit. Fitting Styrofoam tiles automatically increases the value so this is something to think about when you're deciding whether to purchase this material for your ceiling. It's why homeowners opt for these designs before putting their homes on the market. It increases their asking price – significantly more than the cost of fitting the tiles.
They stand out: They can bring a sense of integrity to the room and sometimes become the focal point of the interior design.

Cost-effective: These tiles are one of the cheapest ways to transform your ceiling and they're very easy to clean and maintain.
Extremely versatile: You can paint them to match the color scheme of your room and they can be installed over most types of ceilings – including stucco, plaster, and cement. These tiles are a great way to hide imperfections.
The popcorn ceiling makeover: As mentioned, installing Styrofoam ceiling tiles are a great way to cover up other types of ceiling - including that most unsightly type of ceiling, the popcorn ceiling. The process is simple. All you have to do is glue the ceiling tiles directly over the popcorn.
Styrofoam can cover up other types of unwanted ceilings, too, although they are mainly suited to solid flat surfaces like plywood, concrete, and drywall.
It is important to note that these tiles cannot be used as a drop ceiling tile and it's not generally not recommended for use on your walls as a wall panel because the material is so soft.
Excellent installation process for a DIYer: If you're reading this, you might be an ambitious DIYer or planning a project for the first time. Either way, installing these tiles is incredibly straightforward. There is no need to pay for a professional service but if that's what you intend to do, at least you'll know that they'll do a great job.
Installation Tips
If you do plan to complete the job yourself, here are some installation tips to help you decide whether the work can be done without professional service. These tips are for those looking to cover up an awful looking popcorn ceiling or other smooth surfaces.
Prepare the surface: Remove any loose plaster, paint, or wallpaper and draw a chalk line in the middle of the room.
Apply the adhesive: There are different adhesive brands on the market but one that we recommend is Styro Pro. Installing the tiles over a popcorn ceiling requires more adhesive than over plywood or plain drywall ceilings. So, bear this in mind as adjust according to your materials.
Install the first row using the chalk line as a guide: This step needs to be done carefully and should be as straight as possible. For this, join the tiles side-by-side.
Work your way to the sides : Install the whole tiles first then cut the rest of the tiles to size and install them last.
Are you filling the joints? Use paintable silicone so you can paint them in the future.
Now that you have the list of advantages and know a little more about installation, you can decide whether or not these tiles are for you. They're a smart investment that provides installation and is extremely cost-effective.
If you know you want to install Styrofoam tiles but are haven't decided on a design, check out our list of products and gain some inspiration for your home or business.