Paintable Ceiling Tiles
Paintable ceiling tiles are one of the easiest ways to drastically change the look of a space for an affordable price. It also takes a great deal of the work, out of hand painting the ceiling. More and more people are investing in paintable foam ceiling tiles as a way to decorate spaces of all sizes, including basements and other interiors.
The downside of painting ceiling tiles yourself is it can be a lengthy process – it usually takes an afternoon, especially if you are removing existing ones. If you are painting them and need to install a frame for the same, you'll probably want to stretch the project out for two days.
Despite it being a bit time-consuming, it's still a simple DIY and one that a lot of people would prefer. This is especially true in smaller spaces because painting and installing will take far less time when there are fewer tiles. Doing the work yourself also saves a great deal of money, making it one of the most affordable drastic upgrades you can make in a space.
If you have ever considered a painted ceiling or you want to learn more about paintable ceiling tiles, read on how to find out what you need to know about this affordable and functional design element for your space.
---
Painting Foam Ceiling Tiles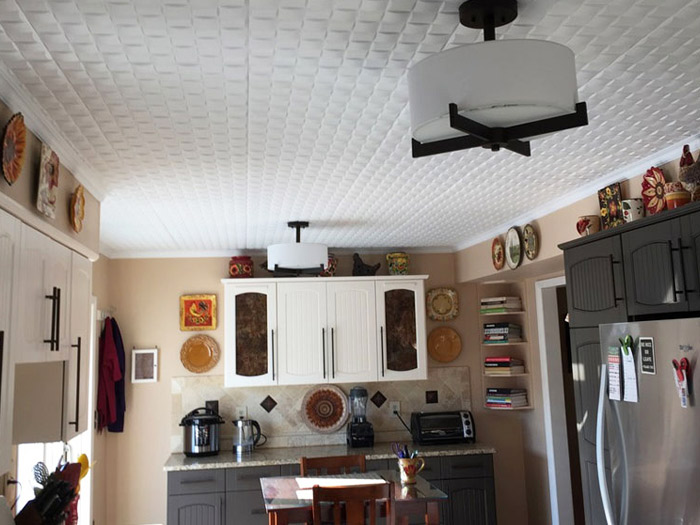 Painting foam ceiling tiles is an easy way to create a drastic change. It's important to make sure you are using the right materials, but overall, it's a simple process. All you'll need is water-based paint in a color of your choice, and a brush, roller, or high-volume but low-pressure sprayer. There's a great deal of flexibility, which means you can get exactly the look and style you want in a manner that makes you feel more comfortable with the project.
You can paint the ceiling tiles before or after installation. Paintable ceiling tiles are easy to work with and allow you to customize the project to your own needs. This means if you have existing ones, there's no need to feel like painting isn't an option anymore. There are pros and cons to either method, so you'll need to brush up on a few tips before getting started.
For instance, if you are painting the tiles before you install them, you'll want to have a large area to work and to allow the tiles to dry for a couple of hours. For most people, this would be considered as an unfinished basement, garage, or large covered patio. If you choose to work on the tile painting project in an uncovered area, be sure to check the weather forecast before getting started.
---
Tinted Caulk
Keep in mind if you are painting tiles before installation, you'll want to invest in tinted caulk. Otherwise, you'll need to paint the caulk by hand once the tiles are hung. It might be easier just to install the tiles and paint everything at the same time. On the other hand, then you'll be painting a ceiling, so if that is a project you want to avoid, tint your caulk with a bit of your tile paint and water before caulking the seams.
Additionally, you can install a ceiling grid that can even be textured to reduce your workload. While some corners can't be cut, anything non-essential that will make it easier to place your decorative ceiling tiles should be done.
Finally, you'll want to consider priming the paintable ceiling tiles before painting. This isn't necessary, but it tends to work better if you will be using metallic paints. In most cases, if you are painting your ceiling tiles white, you won't need to prime.
---
How To Paint Ceiling Tiles
Here's a quick run-down of the tile painting process:
Step 1: Cover your work surface with a drop cloth or old newspapers. If you are removing the tiles to paint them, this is the time to complete that step.
Step 2: Dust off the ceiling tiles if they are already in use. If you're painting new ceiling tiles, they'll likely be fairly clean, but you might want to wipe them down with a dry cloth just in case there is any loose debris.
Step 3: Smooth out any rough edges or chipped areas with a fine-grit sandpaper. You'll need to repeat step 2 if you want to sand any of the tiles. Most brand new tiles are smooth without rough edges, but it's important to check before painting, just in case.
Step 4: Stir your paint, pour it into a paint tray (if it's not spray-paint), and begin painting. If you choose to apply primer first, begin with that and then once it's dry, apply paint. If you need to apply a second coat, do so after the first coat is completely dry, which typically takes a couple of hours.
---
Tips for Painting Ceiling Tiles
It's a good idea to dust off the framework while you are waiting for the painted tiles to dry. This way, you aren't putting freshly painted tiles back onto a dusty or dirty frame. Not only will the dirt stand out as much if the paint is still tacky, but it will stick to it.
Some people add even more interest to their ceiling tiles by applying a slightly different color of paint on the raised areas and gently whipping it off with a rag. This creates the appearance of depth and interest and can be a creative way to make tiles look vintage or worn. This technique works especially well with metallic tiles when you apply black to the raised areas and wipe it away.
Keep in mind that thickly painted ceiling might experience a change in sound dampening ability. It's always better to use thinner coats of paint whenever possible.
Paintable ceiling tiles are a great way to change a space drastically. You can start with the ceiling tiles you have and paint them for a fresh upgrade, or you can install a drop ceiling, also called a suspended ceiling, and paint brand new tiles. Either way, you are making a difference to the space that can completely switch the style of the room. Best of all, it's an affordable upgrade and easy DIY project which most people would like the end result.