Posted by Milan Jara on 13th May 2020
Do you want to say goodbye to your plain white ceiling? Then you're not alone. These days, many decorators and professionals are adamant that decorating your ceiling is just as important than the walls below. There is no limit to what you can do with your ceiling, as there are a countless number of ideas you can do with it. If you spend valuable time in planning the ceiling design, the chances are you'll end up with an awe-inspiring space that will impress your guests within an instance.
This guide aims to give you some of the best ways to spruce up your ceiling. When you discover the perfect match for your home, you'll then be on your way to having an eye-catching ceiling you'll be proud of.
Here are a number of ceiling design ideas that you can apply to different ceilings in your home.
Here are several ideas for selecting a style right for you.
---
Tray Ceilings
A tray ceiling has the ability to become a true focal point to any room it's installed in. Commonly, this design is seen in rooms such as kitchens, living rooms and bedrooms, but their versatility means that you'll get away with installing them in any room you wish to.
They work best in large rooms with higher ceilings. This way, they can keep a room appearing spacious by developing visual depth in a room. With this, it's the center point of the tray ceiling (the higher section) which provides the focal point of the room, especially if you decide to add an element like a chandelier or a ceiling fan to give it that extra appeal.
Here are several ideas for selecting a style right for you.
---
Ceiling Tiles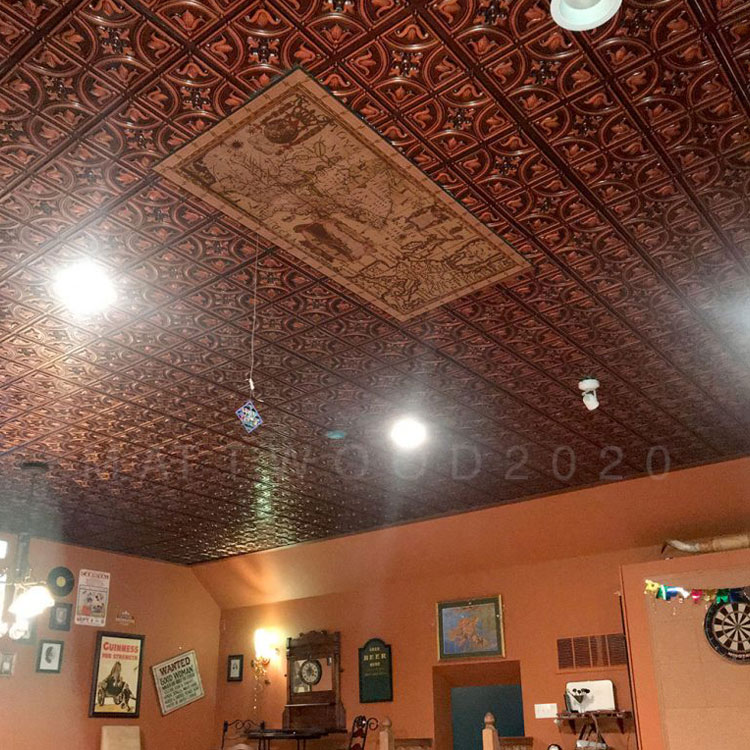 Ceiling tiles have grown in popularity during the last decade as they have the ability to make your room look rich and elegant. By opting for this decorative idea, you'll have mainly two choices for materials, which are metal or plastic.
If you decide on going with plastic, or more specifically PVC, then you'll have to choose a ceiling tile that is extremely durable and mold resistant. Moreover, they are lightweight and won't even sag. If you invest in this option, you'll end up with a rich design and perhaps a transformation of a ceiling that's an elegant work of art. The best part about this is that you won't have to spend a fortune to get the look you desire. PVC tiles are cost-effective, and they are not complicating to install.
If you are one of those who wish for metal ceiling tiles, you'll join the side of people who are looking for a classy living space. When it comes to choosing metal ceiling tiles for your home, tin is the more popular option as it's the cheapest and provides a seamless appearance which can be attached to any surface.
Despite being fairly more difficult to install than plastic tiles, they can still be fitted by most homeowners, so give yourself a chance if you are quite confident of doing the job. However, you should know that if you scratch or dent a panel, it can be repaired using auto body repair compound and sculpting.
Here are several ideas for selecting a style right for you.
---
Panelled or Wood Planked Ceiling?
Probably the biggest reason why people decide to go with a panelled ceiling is that they are made to last a long time. They are similar in final appearance to beadboard or a wooden floor, and they end up looking classical without all the work of fitting individual boards.
Fortunately, they are available in a variety of different finishes and decor styles, and they tend to be rigid or flexible. If you invest in the latter, then it will allow you to panel archways and other curved surfaces.
Another advantage to using panelling is their ability to attach panels directly to the support beams, which costs minimal height degradation. Ultimately, if you're looking for an option that creates a unique feel that will just about fit any theme, then wood panelling may be the best ceiling decoration idea for you.
A wood planked ceiling is made up of planks that are lightweight and sturdy. They can be an excellent looking type of decoration, especially if you add paint or stain them for the desired effect. As an added incentive, it's slightly cheaper than beadboard, and it's an easy DIY project compared to many other ceiling types – so if you like the appearance this ceiling decoration generates and you're looking for a cheap and easy installation, a wood planked ceiling may be your home's perfect match.
Here are several ideas for selecting a style right for you.
---
Wallpaper
This may be a less common way to decorate your ceiling, but the effect can be enormous if you put the effort into planning and executing. It may be called wallpaper, but that doesn't mean it cannot work on a flat surface like a ceiling. The only downside is that it's a little trickier to apply the paper.
Wallpaper on the ceiling can add character, visually improve a room's proportions or bring pattern into challenging spaces. With any project, having all the tools necessary to get the job done correctly is essential to its success.
Here are several ideas for selecting a style right for you.
---
Decorative Ideas for a Tall Ceiling
Having high ceilings means having a fair amount of unused space over the traditional height of a room. Although they can make a room feel grand and luxurious, they can also make a room feel cold and empty. In fact, a room with high ceilings can look quite terrible if they aren't taken care of. To prevent this scenario, you need to blend the upper and lower areas by drawing the eye upwards.
Furthermore, there are ways to tackle this problem, and these ways involve the inclusion of certain decorative systems that will help your high ceiling look spectacular and completely necessary. Ways to decorate your tall ceiling include:
Faux Wood Trusses: These can be a focal point to any room, and they are an effective solution to a tall ceiling. When it comes to Faux Wood Trusses, more and more builders and architects are opting for this design over natural trusses as they look just like natural wood, but are less costly and much easier to install.
Faux Wood Beams: Exposed ceiling beams are an architectural feature that allows rooms to have higher ceilings or a decorative element that adds charm. With Faux Wood Beams, they are a simple and affordable way to highlight ceilings and enhance interior décor with the look and feel of wood.