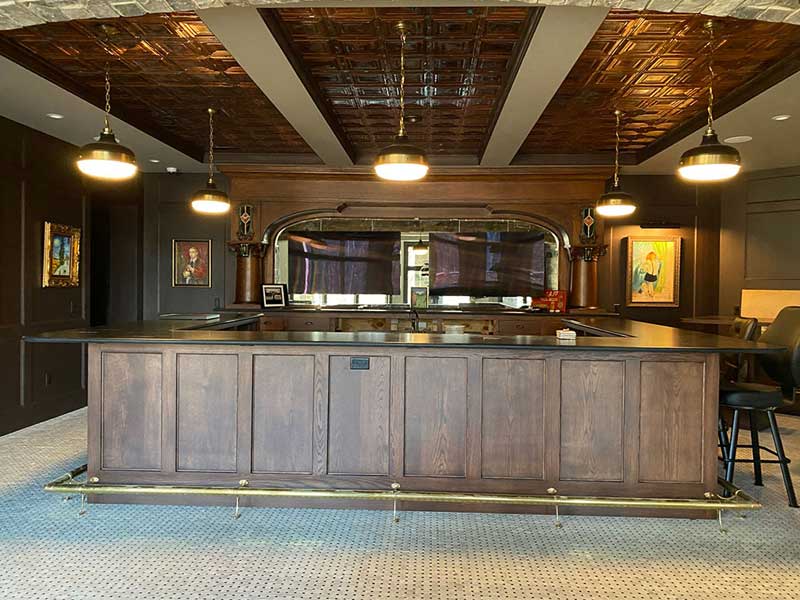 A basement is a space that tends to be overlooked when it comes to a renovation project, and the reason for that is because many homeowners leave it as a place to store belongings. However, if you are keen on transforming this space into another bedroom, a home office, theater, or a man cave, then there are lots of ways you can decorate.
One of the main features to look at is the ceiling, as there are many reasons to replace a basement ceiling. Whether it's using drywall or choosing a particular ceiling tile, renovating a basement ceiling is a worthwhile investment.
If you are searching for different basement ceiling options, this guide will aid in your decision.
Suspended Ceiling
This option is perhaps the most popular for a basement ceiling. As suspended ceilings are dropped lower than the existing ceiling, it's ideal for a basement as it can cover unsightly wiring and pipes that may be located below the beams.
With suspended ceilings, they provide long-term savings. If a tile becomes damaged, it's simple enough to lift it out of the frame and place a new panel. It prevents you from having to replace the whole ceiling. Moreover, if you're keen on having lighting fixtures, do know that these are also easy to fit into the frame. It will provide ample light without protruding into the room.
There are more reasons to consider having this type of ceiling for your basement. For instance, they offer superior noise dampening capabilities. If your project is for a home office or theater, selecting a noise dampening option can help.
Corrugated Metal
It is another popular ceiling option for a basement, especially if you're looking to create a man cave, which tends to be one of the common reasons behind a basement renovation.
Corrugated metal is for basements for various reasons. Usually, when a man cave is a primary reason behind a renovation, creating a farmhouse theme tends to be a common aspect and a corrugated metal ceiling enhances this specific look.
Not only is a corrugated metal ceiling a great aesthetically pleasing option, but they also have a more functional purpose. For instance, they can reflect light, which makes them ideal for normal height and lower ceilings.
Furthermore, if you opt to obtain a corrugated metal sheet in a lighter color, this will immediately brighten up the space. It decreases the amount of light you'll need, which helps you reduce the power you'll use.
Drywall
Drywall is perhaps the cheapest option you can use for your basement ceiling. This reason is also why it's such a widespread choice for this project. Despite its low cost, drywall can provide a smooth, attractive living space.
Another reason why a drywall ceiling is so cheap is because of the incredibly straightforward installation process. Once you have it installed, apply a coat of primer, as well as a coat of your favorite paint color, and you'll end up with an extraordinary, finished look.
Sadly, it's not all perfect when it comes to using drywall for your ceiling. Termite and ant infestations can occur, and a drywall ceiling can also be damaged by moisture. Keep these factors in mind before deciding on this investment.
PVC Tiles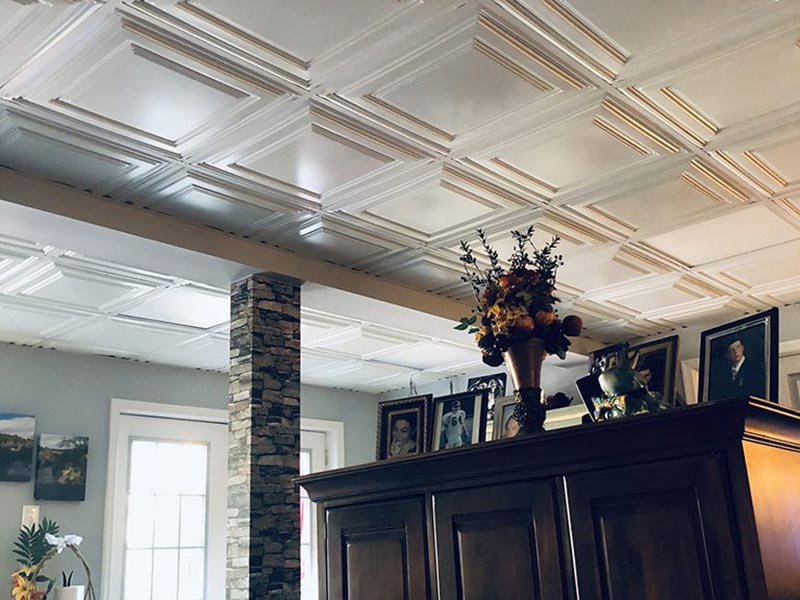 PVC tiles are a common tile material that has many purposes. Firstly, these durable vinyl tiles are often used to imitate other materials, like tin or copper. PVC is usually picked for having a range of benefits, like being extremely durable, mildew and mold resistant, lightweight, and being able not to sag.
PVC tiles are usually designed for being used with a suspension frame, although you can purchase tiles that can be attached directly to a plywood or drywall surface. You will need the latter if your basement ceiling is already low.
Tin Tiles
Tin ceiling tiles are hardly a new idea, but people forget their incredible ability when applied to ceilings. If you're looking to create a classy, classic space inside your basement, then applying tin tiles is the way to go.
It may cost you a lot more money compared to other ceiling options, but after you see the overall finish these tiles can generate, you'll soon forget about the investment cost.
When it comes to tin tiles, there are usually three common coating options. These include the traditional nail-up tiles, which require a plywood base. There's a snap-together version that can provide a seamless look and can be attached to most surfaces.
Lastly, there is an available copper tile. However, the cost for this material is much higher than others, and sometimes the extra investment cost may not be worth it.
Ultimately, these types of tiles for a basement ceiling idea are perhaps the most ideal choice, depending on the project you're planning to create. From man caves, theaters, or even home offices, tin ceiling tiles can work, especially from an aesthetic viewpoint.
Tin tiles are a charming decorative element that reflects light and sound, making an intimate space feel vibrant and exciting.
Wood Paneling
Wooden panels are excellent for finished basement ceilings as it provides a classic look without all the hard work of fitting single boards. Available in a range of finishes and styles, these panels can come as either rigid or flexible, with the latter allowing you to panel archways or any other curved surface.
One reason why wood paneling is a great ceiling idea is due to its ability to attach to the support beams and wood beams. It will cost you very minimal height degradation. The large variety of design preferences also make it straight forward to generate a unique feel that will fit just about any type of decor theme.
These are various types of ceiling ideas that are available to you. While there are many pros and cons to each one, you need to consider which is the best choice for your home.
What type of ceiling will you chose for your basement? The decision is ultimately yours!