Drop ceilings are one of the most popular solutions to revamp your room and your home.They're both attractive and cost-effective.
Many homeowners like to install drop ceilings to make their old homes feel warmer and cozier. However,drop ceilings are best suited within a basement as they allow you to cover up any unsightly pipes and wiring.
Why Choose a Drop Ceiling for Your Basement?
Firstly, drop ceilings provide long-term savings. You can easily remove a damaged tilefrom the frame and install a new panel as opposed to fixing the entire ceiling. Plus, you can add lighting fixtures that fit into the frame to provide sufficient light without limiting the room's space.
Other reasons to place a drop ceiling in your basement include:
You want a great-looking ceiling: Dropceiling panels offer excellent styles and a lot of variety, especially compared to the much older, once-popular white square blocks. They let you consider how to combine the ceiling's lines and patterns with the right tile to achieve a great look.
Noise suppression: If you've converted your basement into a home theater or music studio, a drop ceiling can help dampen the noise levels.
Lighting: Installing lighting fixtures – we recommend LED disk lights - and changing lighting is far easier with a drop ceiling. Additionally, dropceiling tiles are interchangeable, allowing you to move them around and create a better lighting setup.
Now that you can see some advantages of having a drop ceiling in your basement, it's now time However, drop ceilings have some disadvantages that you need to consider determining if they'rethe ideal solution for your basement.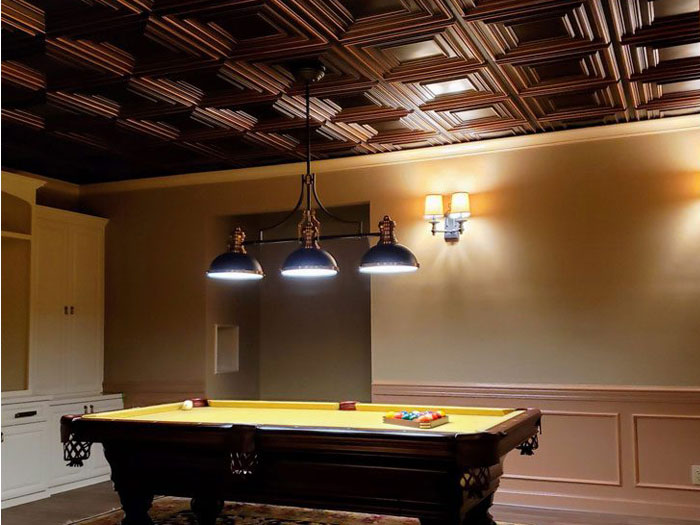 Why not go for a Drop Ceiling in Your Basement?
Aesthetically, some people prefer a smooth-looking ceiling, which you won't get with a drop ceiling.
Other reasons why a drop ceiling may not be ideal for your basement include:
Loss of Height: Drop ceilings tend to require four-to-six inches below the floor joists. Those few inches will make a huge difference to your space if you already have a low basement ceiling.
Cost: Although installing a drop ceiling can be affordable, the price gradually increases if you're looking to set up a movie room or something else that requires noise suppression.

However, it's possible to affordably convert your basement into this type of environment if you're a DIYer, as labor costs are the biggest obstacle.
Tools that You'll Need for a Drop Ceiling
Here's a list of the materials and tools you'll need if you're planning to install a drop ceiling yourself:
Wire and wire-hanging eyelets
Tin snips
Screws
Cordless drill
Drill eyelet adapter
Utility knife
Four-foot cross Ts, T channel, l channel, and two-foot cross Ts
What kind of Ceiling Tile Works with a Drop Ceiling?
There's a huge range of ceiling tiles that can work with drop ceilings.It depends on your choice of style, your decorative theme, or your functional needs. Some ceiling tiles that work well with a drop ceiling, which are available in our store, include: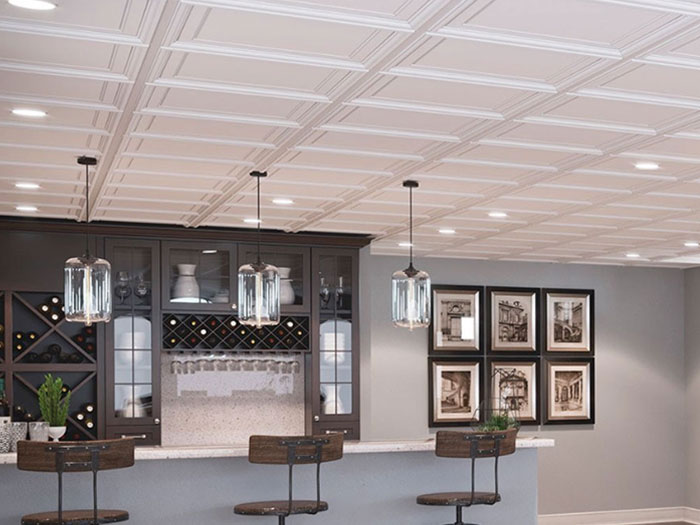 Tin-plated Steel - Tin drop-in ceiling tiles come in more than 100 patterns to fit just about any interior design, and they can be painted before installation.
Aluminum - Prefinished aluminum drop-in ceiling tiles are a good alternative for painted ceiling tiles. They're also available in many patterns and colors.
Faux Tin - Faux-tin ceiling tiles are your best option if your only concern is easy installation. The tiles look like metal but are composed from tough, durable PVC,which is also lightweight and can easily be cut with a pair of scissors.
Copper - Copper ceiling tiles are available for your drop ceiling if you're only looking for the best form of tile. They're more costly than their metal counterparts, but their higher price point is reflective in their beauty and elegance.
Styrofoam - For a lot of decorators, installing Styrofoam tiles for a drop ceiling is a great way to create a shorter ceiling. As it creates less area in the room, it instantly makes it easier to keep it insulated.