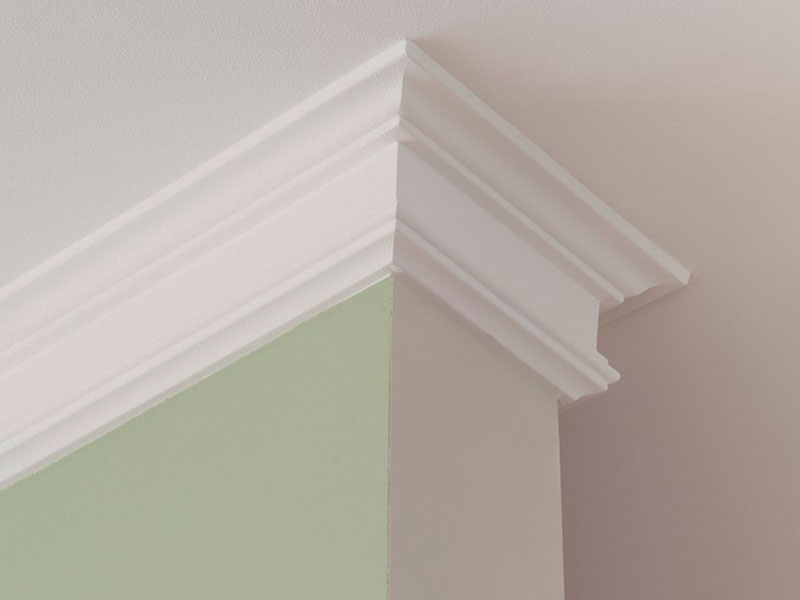 Have you ever considered adding crown molding to your bathroom? Here are 7 ideas to inspire you and increase the character and value of your home.
Historically, people were drawn to putting decorative trim in their living rooms or around the kitchen cabinets, but they shied away from using crown molding in a bathroom. There were two reasons for this: the moisture from the shower or bath could warp the crown molding, and bathrooms were considered ordinary, uninspired rooms. Opinions have changed, though, and now you can incorporate crown molding into a bathroom design to create a stately appearance.
When installing crown molding into a bathroom, the first challenge you will face is moisture. Bathrooms have more moisture than any other room in the house, so you need to ensure the crown molding doesn't warp or disintegrate in your bathroom.
Advantages / Disadvantages of Bathroom Crown Molding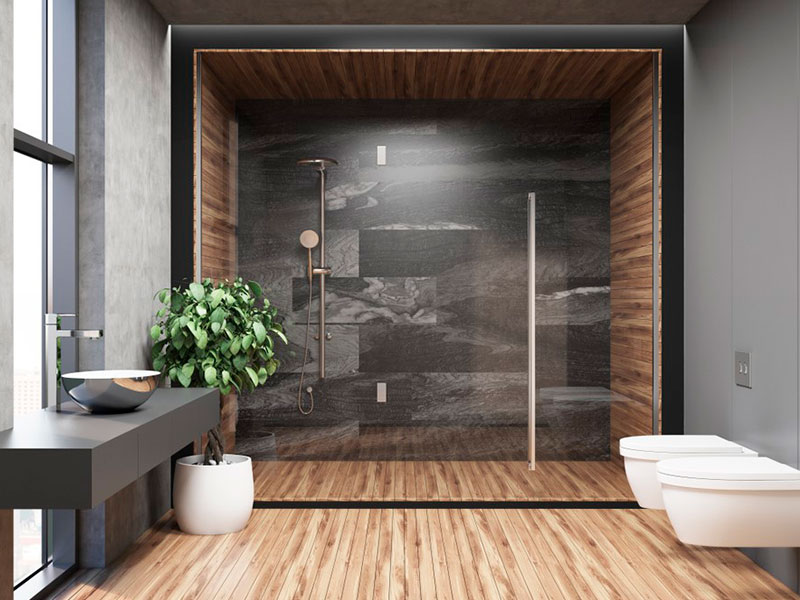 Crown molding installation has several advantages. Crown molding can make uninspiring bathrooms appear more elegant, making your bathroom feel more upscale, and it can add height to a room by making the ceilings appear taller.
Since this feature is rare in bathrooms, only a proper install and nice design will add to your home's value. Another benefit is it can hide imperfections in your bathroom where walls and ceilings meet. It acts as a great concealer.
Adding this feature can be wonderful, but it has some disadvantages, too. Crown molding is easily damaged by high humidity. It is best to install crown molding treated with waterproofing (wood) or use molding that resists moisture. While alternative wood choices may not appear as luxurious, they tend to be more functional.
Why is Bathroom Crown Molding Trending?
Bathrooms traditionally were dank, dingy, small rooms that people didn't spend much time in. They weren't visually appealing, nor were they decorated well. People just did their business and left. They were functional rather than aesthetically pleasing. Today, bathrooms have become more spa-like and luxurious. They often serve as a retreat at the end of a hard day.
Now, homeowners want home decor that is more sophisticated to match fixtures that are becoming more technologically advanced over time. Bathrooms are becoming more regal. As such, people want to incorporate decorative crown molding into their look for two reasons: increasing the resale value and increasing the aesthetic value of the home.
In a remodeled bathroom, adding crown molding improves appraisal value. Yet it needs to be professionally installed and not added to boost ROI (Return on Investment). When installed properly, crown molding is rare and may increase a potential buyer's interest because it is so unusual.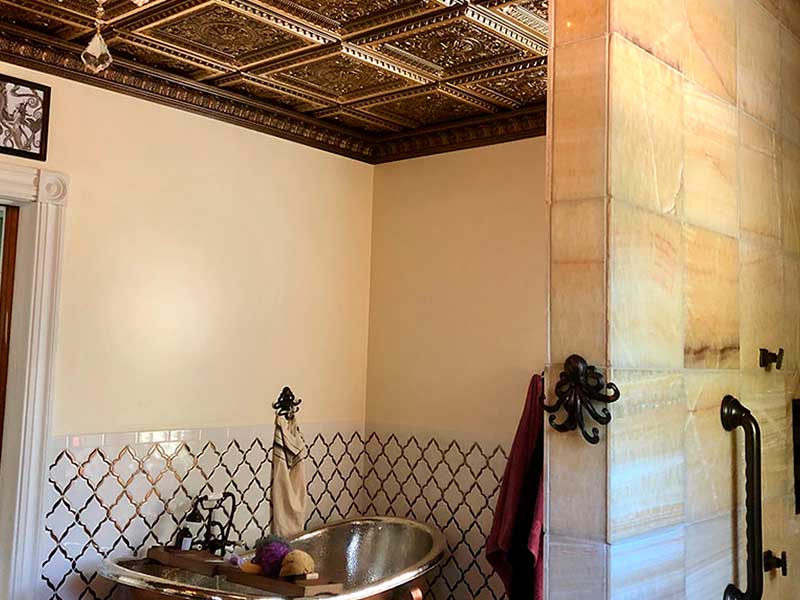 Crown molding tends to go around bathroom ceilings. However, there are other locations where you can place it. Some homeowners use it to decorate closets and cabinets, and others even add it to vanity mirrors or as a chair rail with wallpaper above. If you don't want to install it all over the bathroom, you can place it strategically in these areas to boost appeal.
Types of Crown Molding
The most common type available is wood. Wood crown molding works well in areas with good ventilation, but it is not always advisable to install this in a bathroom due to the moisture. The moisture generated from showers or hot baths can lead to warping and mold, especially if you use pine wood crown molding.
Even if you cannot see the damage, it can appear between the molding, the walls, and the ceiling seams. Fortunately, there are better alternatives to combat this moisture-rich area and prevent mold from forming.
Plaster Crown Molding
Plaster is a type of crown molding that is currently trending because it can be formed into any shape you desire. The downsides to this type of trim are that it is prone to cracking over time and can be weighty.
Polystyrene Crown Molding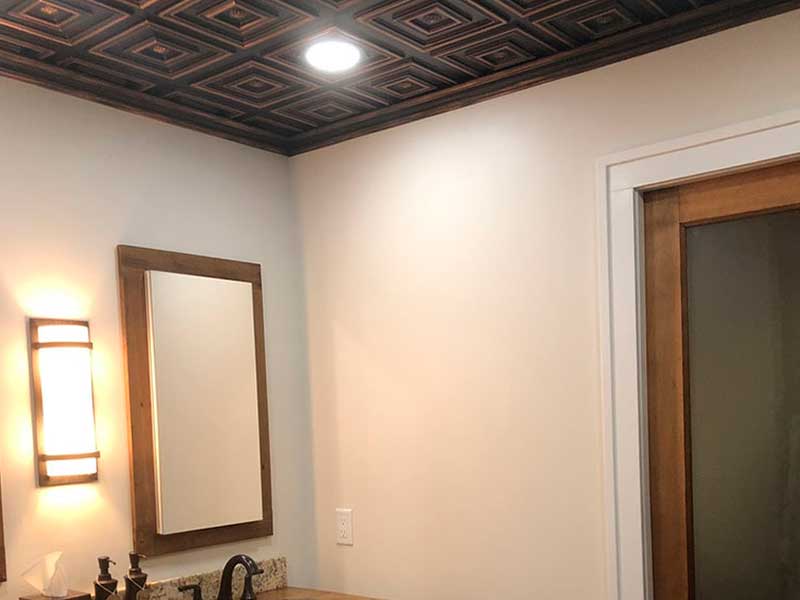 This crown molding style looks like styrofoam. It is easy to shape, cut, and install. However, the downside is that it can appear cheaper than other types of crown molding. The cheap appearance of this material may be counterintuitive when attempting to design a luxurious space.
Polyvinyl Chloride (PVC) Crown Molding
Polyvinyl molding is a plastic polymer that works well in areas that have a great deal of moisture. It is another type of plastic crown molding that resists rot yet may be more susceptible to damage than wood.
Flex Crown Molding
This type of trim is easy to shape into ornate designs. Since it is a rubbery substance, it is extremely flexible.
For the best type, your crown molding needs to be moisture resistant. Therefore, your best choices will be polyurethane, flex, and PVC. Plaster can additionally be used, yet it may frequently chip, and maintenance can be challenging.
7 Ways to Use Crown Molding
When incorporating crown molding in a bathroom, keep in mind your bathroom's style of decor. It needs to be consistent with the rest of the house. You also need to consider the size of the room and the height of the ceilings.
In a small space, emphasize the slanted or top edge of a room to make the room appear larger.
For a modern/minimalist design, look for crown molding with a sleek look with straight lines to complement the existing lines in the room. Furthermore, if you have incorporated brick wall panels, the curvature of a traditional crown molding will add dimension to the room and make it look larger height-wise.
Do a half-and-half decor. Incorporate a light-colored tiling on the bottom three-quarters of the wall with contrasting dark paint on the remainder. Purchase crown molding that matches the paint color and makes a bold statement. Then, paint the ceiling the same color as your tiling. Paint a windowsill if there is one in the same dark color for a pop.
You can add crown molding to the outside corner of a shower stall. One design has a shower stall that is one-third white horizontal wainscotting with a clean, vertical crown molding to provide a border to the area. The remainder is glass stretching up to the ceiling.
Use it to frame closet or bathroom doors. It can be the same color as the wall, but for an added wow factor, paint the door and the molding a complementary color.
Place crown molding on high ceilings to create a more luxurious, spacious appeal to the bathroom. This works best in areas that use two-tone colors.
Use decorative trim to create large rectangular areas in a room. It creates the illusion of height, and when surrounding a window, it adds a nice visual appeal.
Homeowners have the freedom to install crown molding anywhere in the bathroom in any design. Your choices aren't limited to just ceilings. The only place it does not do well is in showers due to moisture. You can, however, use it as wall decor outside of a shower stall for added interest.
Did you know that some people refer to crown molding as wall molding?