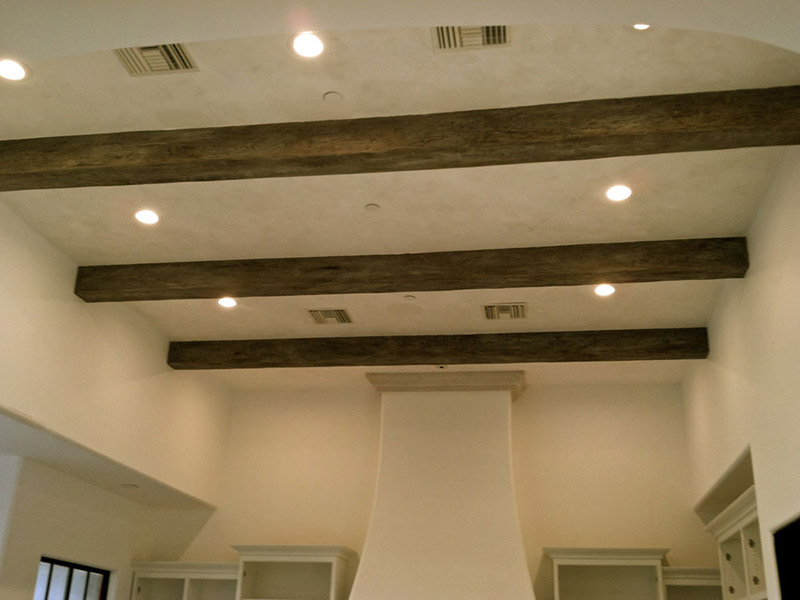 Whether you're looking to add a rustic style or imbed the look of natural wood to your home, installing faux wood beams can give you that warm, inviting element. Investing in top-quality faux wood beams also gives you an excellent alternative to real wood, which is very expensive, extremely heavy, and requires a lot of maintenance. Faux beams imitate the look of real wood yet come far cheaper and require far less maintenance work than their counterpart.
When it comes to faux beams, they are highly regarded in the decorative world as there are so many benefits to using them. If the sound of installing faux beams seems right for you and your home, then here are five ideas to consider:
Faux Beams for Vaulted Ceilings

If your home has a vaulted ceiling, then you may be glad to know that this is an ideal space to add faux beams. Although vaulted ceilings look great, the addition of faux beams can help create a visual appeal to make the room feel more welcoming.

If you have a vaulted ceiling, and your living room is under this type of structure, then you have the opportunity to create an enthralling living space. If your living room also comes with a fireplace, then adding a range of faux beams can insert character and enhance the visual aspects of this room.

To achieve the most effective result, you will need to obtain faux wood trusses. When it comes to vaulted ceilings, faux wood trusses fill this type of structure. Their ability to arch within spaces makes them a worthwhile match for vaulted ceilings, so with careful planning, you may create an entire structure that's not only an excellent match but one that gives your space a down-to-earth and elegant makeover.

Create a Rustic Feel

The rustic look is perhaps one of the main reasons why many decorators opt for faux beams. Implementing rustic visuals generates charm, character, and a classical environment that's both warming and inviting.

A particular space that this works well in is inside a kitchen. This look can be deemed a farmhouse-styled kitchen, which is extremely popular among homeowners. When you add rustic faux beams to your kitchen ceiling, consider white-washed walls and natural design elements, and you'll have a kitchen that feels airy and welcoming. If you then hang your pots and pans on the wall, then you'll have a completed rustic look for your kitchen.

Elegant Master Bedroom

Faux beams are versatile, so there isn't space where they shouldn't be able to work. However, they do work best in rooms that contain a lot of space. If your master bedroom is spacious, this could also be a great place to fit faux beams.

When it comes to your master bedroom, you need it to make you feel relaxed whenever you enter it to gain some rest. By embedding a faux beam along the center of the ceiling, you will automatically create a sense of warmth and coziness. This installation may seem simple, but the effects are nothing less than impactful. If you match this change with neutral-colored linens and pillows, then you'll finish with a timeless look.

Timeless Entryway

One common area people forget when planning a home makeover is an entryway. Despite being such a forgetful part of the decorative planning, entryways can make a huge difference if you spend time giving it a deserved makeover.

With faux wood, there are ways you can give an entryway an enhanced look. One style that gives your entryway a thick and solid look is using darker-toned faux wood to frame openings in a beam, column duo type structure. Ensure the beams are stained before they are nailed up (by the tone that best matches your décor theme), but the darker the tone, the more timeless your entryway will look.

This specific style for your entryway is another way to give your home a more charming appeal and character. Since its main function is to invite people into another room or space, having such a style is a great way to make your guests feel warm and welcome when they step through your home.

Tray Ceiling Using Faux Beams

Tray ceilings are a common method for an enhanced ceiling makeover. They are typically an inverted ceiling that features a center section that is several inches higher than the areas around the perimeter.

With that said, faux beams can help master a unique yet warm and cozy environment you're looking to change up. A faux beam tray ceiling works in several rooms, including bedrooms, living rooms, and even kitchens. If you already have a farmhouse or coastal decorative theme for your home, adding a faux beam tray ceiling is a spectacular way to carry on these specific themes.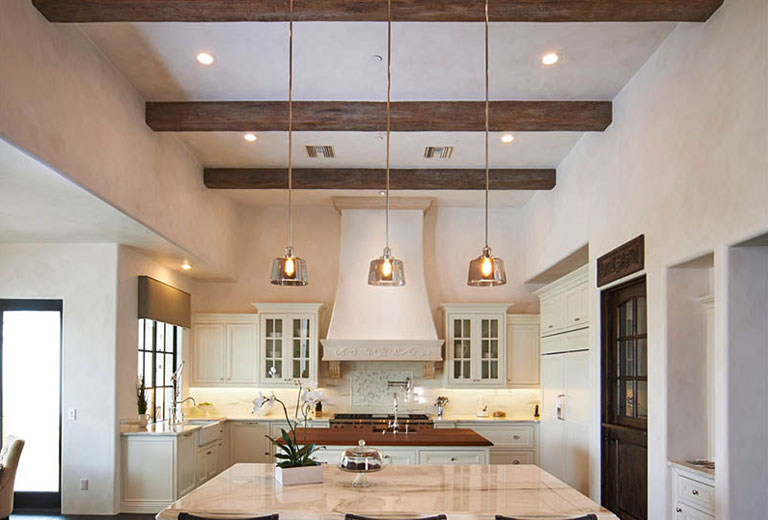 As mentioned, faux beams offer much better value if you compare them to real wood beams. You don't have to worry about rotting or wood-boring insects, like ants, termites, or bark beetles with faux beams, though these are common issues when it comes to real wood. By using faux wood, which is typically made of plastic to mimic the look of wood, you'll avoid these issues and have faux beams that will last a lifetime.
Moreover, by using faux wood, your chances of carrying out the installation by yourself are much greater, as you won't have the enormous weight of real wooden beams to try and fit your ceiling. With real wood beams, it's highly recommended that you hire a professional team to fit them for you.
Ultimately, faux beams are an excellent decorative material to use for a variety of spaces inside your home. If you spend a sufficient amount of time getting to know about faux beams and what they can do, you'll be able to create a stunning yet highly welcoming space you and your house deserve.