Posted by Milan Jara on 27th Mar 2020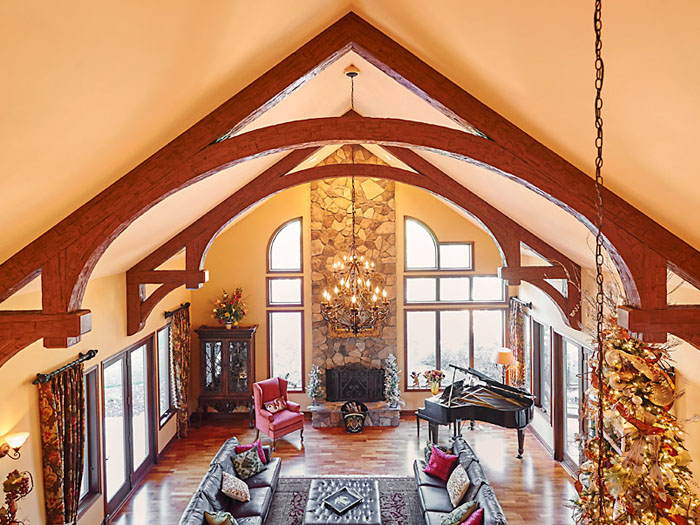 Having high ceilings means having a fair amount of unused space at the height of your room. Although high ceilings can make a room feel grand and luxurious, in the wrong space, they can also feel cold and empty. Actually, a room with high ceilings looks terrible if it's not handled properly. To prevent this, you need to blend the upper and lower areas of the space by drawing the eye upwards.
There are a lot of ways to tackle the problem of ceiling height. One of the most effective decorating ideas helps your high ceiling look spectacular and leaves you with a lot of wall space.
---
Faux Wood Trusses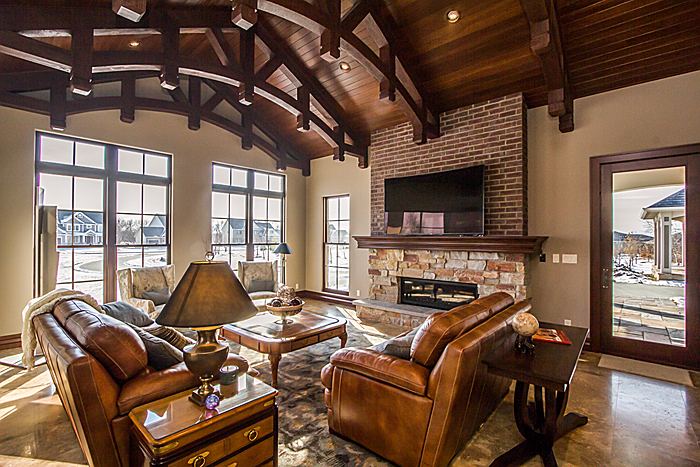 Trusses make an amazing focal point in the right room and are an effective solution to make the most of a high ceiling. You have many choices when it comes to ceiling trusses – whether you want something that's more subtle with arches close to the ceiling or perhaps a dramatic look with varying king posts, queen posts, arches, and beams.
Faux wood trusses are made of a lightweight polyurethane foam material so they are easy to install and much less expensive than fitting natural wooden beams and posts. And they add an insane amout of character, bringing warmth, beauty, and style to create a unique look and feel to your space.
Further benefits include:
Endless design possibilities
Completely maintenance-free
Resistant to insects and climate
A variety of shapes, sizes, and styles.
You can simply add electrical fixtures through the beams
Easily and cost-effectively create an elegant, luxurious look
When it comes to faux wood trusses, more and more builders and architects are opting for them over natural trusses because they look just like natural wood but are more affordable and much easier to install.
If you're in the process of planning a faux wood truss system for a particular room, the first step is deciding which style is right for your taste and the architecture of the room.
Here are the styles that are on offer:
Huntsman
Sawtooth
Wasatch
Braddock
Cascade
Aspen
Catskill
Hawkeye
Oxford
Now that you've chosen a style, the next thing to do is decide on the color and texture. Here are the textures available:
Doug Fir
Tuscany
Sand Blast
Rough Sawn
Hand Hewn
And the available colors:
Dark Walnut
Light Walnut
Espresso
Mahogany
Oak
Primed
---
Faux Wood Beams
Exposed ceiling beams are an architectural feature that gives the room the look of higher ceilings as well as a decorative element that adds charm. Faux wood beams are a simple and affordable way to highlight ceilings and enhance interior décor with the look and feel of wood.
Traditionally, these elements are seen inside cathedrals but they are also a great addition to barn beams, fireplace mantels, floating mantels, and other applications.
If you are just trying to get the look of exposed beams and don't need the support, installing faux wood beams is the way to go.
Additional benefits of faux wood beams include:
Durability – Faux wood beams are durable and can withstand a lot of time and use. If you opt for real wood, you increase the chances of the beam getting split, rotting, or chipping while faux wood beams last significantly longer if properly cared for.
Versatility – Faux wood beams can be installed in any room and placed in various different ways, horizontally or even crisscrossed to achieve a complex look and style.
More Ways to Decorate Rooms with High Ceilings
Create a feature wall: A feature wall from floor to ceiling helps connect the two parts of the room. It doesn't have to be expensive, you can do it with only a can of paint. Or, choose something more extravagant. If there's a fireplace in your room, consider extending it above with more tile, brick, or stone. Another option is to add a wood pallet so it doesn't overwhelm the space.
Using wallpaper is another effective method on a feature wall. It's important to understand that this should be done by a professional. Completing work at cathedral-ceiling heights can be very dangerous so it's always smart to leave this kind of work to somebody who has the experience, training, and proper tools.
Be creative with shelves: When it comes to rooms with higher ceilings, there's too much space to fill. Tall bookcases can help solve this issue but if the room is particularly tall, you may need to plan accordingly.

Ultimately, shelving is a great way to decorate any room with a high ceiling. You may want to consider being more creative. For instance, think about the option of hanging some floating shelves at various heights on the wall. This idea, if done correctly, looks artistic and is very pleasant to look at.

A hanging feature: Hanging something on a tall wall is an ideal way to connect the upper and lower parts of the room. To do this, think about hanging things in the center of the room, ideally above a coffee table. When deciding on your options, choose something that's large but not so heavy. A perfect example is a crystal chandelier. This feature can certainly be a stunning and elegant option for your room.

It's incredibly common for people to have rooms in their homes with high ceilings and not know what to do with that space between the floor and the ceiling.

As we mentioned, two popular choices on the market today are faux wood trusses and faux wood beams. These features are tailormade for making your home feel warm and cozy as well as appearing vintage in a modernized way.

We added a few other details to help you decide what's best for you and your room. There is nothing wrong with blending two or more of these ideas as long as you don't go completely overboard with your planning.