Posted by Milan Jara on 9th Aug 2018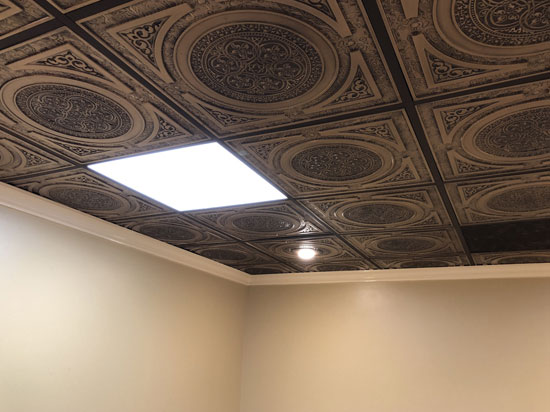 Drop ceilings are a hugely popular choice for commercial and residential properties across the country. Having wires and piping running around your rooms can be unsightly and, at worst, hazardous. That's why the drop ceiling tiles, also known as drop-in ceiling tiles, are such a popular solution, as they are tidy, practical, and can be customized to any ceiling style you want. However, just because one solution is widely used, doesn't always mean it's the best solution for you. If you're not keen on the idea of clinical and mundane plain white tiles then fear not, as we have drop ceiling alternatives that will make you reimagine your whole home.
---
What Exactly Is a Drop in Ceiling?
A dropceiling is essentially a 'fake' ceiling, which is recreated below your true ceiling. It is often referred to as a suspended ceiling and uses drop ceiling tiles. In between the two structures is an open space, which can be used to hide wires, cables, and plumbing—great for light fittings, smoke detectors, and sprinklers. What is particularly useful about drop ceilings is that each tile can be individually removed, allowing you to access to any of the hidden wires or pipes immediately for repair or inspection. Then, once the work is complete, the tile is easily replaced and there is no damage to your ceiling.
Drop in ceiling tiles can also be used in the home to hide an unloved ceiling, structural damage such as cracks, and stains. Instead of reconstructing it from scratch, a drop-in system can be installed just a couple of inches lower and your ceiling appears as good as new. This could be anything from a basement ceiling to a popcorn ceiling.
---
How Does It Work?
With a drop ceiling, you have two main components, the tiles,and the grid. The grid is made up of a number of T-shaped hangers, which connect together from the center of the ceiling and span out to the edges on the room until the grid covers the whole ceiling. Then, the drop-in tiles are slotted directly into the square-shaped spaces that have been created in the grid. This final part is quick, easy and takes just a few seconds to install each tile. No glue or nails are required to keep the tiles in place, which means they can be easily removed and replaced to access the space above.
---
Sounds Great! Why Might You Want an Alternative?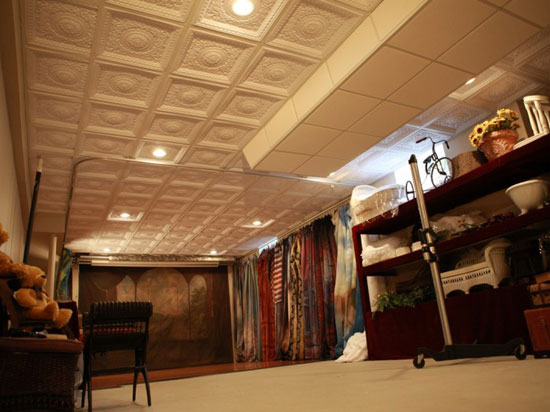 It's common to associate drop ceilings with drab, gray office blocks that lack any personality and have polystyrene crumbling from the ceiling. The idea of installing a similar system into your home seems understandably unappealing. Therefore, it would come as no surprise to us if you thought 'nope, that's not for me'. However, here at Decorative Ceiling Tiles we're experts on beautiful ceilings and are here to provide the solutions and alternatives to make your ugly ceiling headache a thing of the past and, who knows, we might be able to convert you to a drop ceiling after all.
---
Drop Ceiling Alternatives
Relearn Your Definition of Drop Ceiling
That's right, forget what you think you know about drop ceilings and let us you to a range of drop-in ceiling tiles that are so beautifully designed that you won't want anything else for your home. At Decorative Ceiling Tiles, our drop-in tiles aren't the dreary, characterless styles that you're used to or have spent hours gazing at in the workplace wondering what those strange looking stains are. Our tiles are modern, elegant, stylish, and make a statement.
Take this Antique Gold, My Beautiful Damaris Faux Tin Ceiling Tile , for example:
This exquisitely decorated ceiling tile comes in 17 different colors and will not only help you fall in love with your home again but will leave everyone that visits impressed at how you've created such a spectacular ceiling, without having torn your home apart during construction!
If simplicity is your thing and you're after an understated yet elegant design, then take a look at this beautiful drop-in tile, which is perfectly refined in White Matte color:
The carved ridges of the tile suggest careful craftsmanship and woodwork, and the neutral color makes this tile perfect for use around the home, whether it's in the lounge, bedroom, or bathroom.
If you fancy yourself a dab hand at painting and decorating, then another great solution to create the ceiling of your dreams is to order metal ceiling tiles and then paint them any color you like to tie in with your existing décor. Just like a normal ceiling, these tiles can be repainted over and over again, but to make it easier you can remove them first and save your floor from unwanted drips.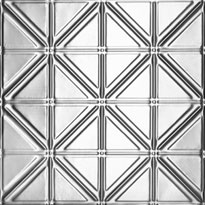 This striking Jazz Age Aluminum Ceiling Tile's modern pattern will give any room a playful and contemporary feel, you can go bold with bright colors such as yellow or green, or keep it muted with off-white or light gray.
Faux Wood Ceiling Beams
If you're happy with your existing ceiling, but want a way to breathe new life into your home while also hiding unsightly wires and pipes, then faux wood ceiling beams offer a great drop ceiling alternative solution. Designed to look exactly like traditional solid beams, these high-density foam replicas are an interior decorator's best friend. As well as being affordable, incredibly lightand easy to install, these beams are also hollow, which makes them perfect for strategically hiding any unwanted pipes or cables.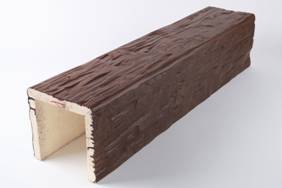 What's more, you can even install light fittings, speakers, and sprinklers directly onto the beams, giving you the same benefits that you would get with a drop ceiling. The beams, however, help you keep all of your original ceiling height and draw the eye upwards to make your room seem even larger than it is.
At Decorative Ceiling Tiles, we have a whole host of faux wood ceiling beam options available, with different sizes, finishes, and colors to choose from. We also have an optional cap and corbel ends available, which help pull the whole design together and create a convincingly traditional looking, cozy home.