Did you know that your shower ceiling is the perfect spot area to make a bold statement? Find out how with these fun shower ceiling ideas.
Have you ever looked up while taking a shower and thought that the space above your shower has a lot of potential? It may seem like a trivial area, but you may be surprised to learn that there are ways to add some character to your shower or bathroom ceiling.
The ceiling design in your space, even a small bathroom space, can be transformed with the right bathroom ceiling tile. Keep reading to find out some shower ceiling ideas to implement in your bathroom or shower enclosure, and give you more to look at.
What Can I Put In My Shower Ceiling?
The right material will protect your shower ceiling from mold, bacteria, and fire. Nonetheless, the high amount of condensation makes bathroom design quite tricky, and you have to be careful what material you choose to put on your shower ceiling.
Some common materials and bathroom tile that you can use in your shower area include:
Acrylic.
Fiberglass.
Cement board.
Tile.
Metal.
In contrast, you want to stay away from materials that can't handle a lot of moisture. One material to stay away from is rustic steel, which isn't able to handle the condensation and temperatures of your shower. A wood ceiling would have a similar result, and doesn't make for ideal bathroom ceiling design.
Now that you have an idea of what materials you can use for your shower ceiling, let's take a look at some of the best shower ceiling ideas to get you started on your remodeling.
Top shower ceiling ideas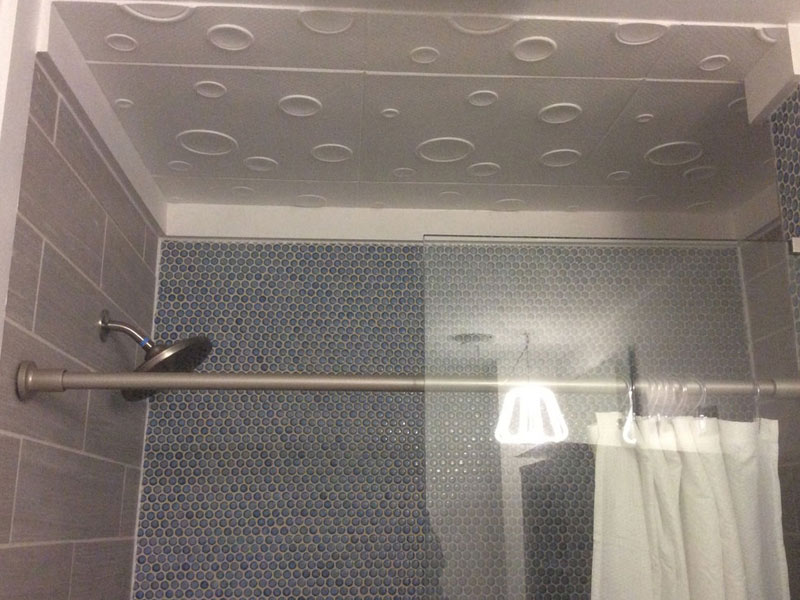 Choosing a new ceiling for your shower area is exciting, but with so many different options, it can easily end up being overwhelming.
Since not many people have thought about their shower ceiling in detail, here are some shower ceiling ideas to give you a push in the right direction.
Metal Ceiling Tiles
Metal ceiling tiles are already a known practical bathroom material, which makes it a great shower ceiling idea. They have a classic quality to them that can turn any bathroom into a statement. If you don't want to have metal tiles throughout your bathroom's ceiling, adding it only to the area above your shower creates a unique focal point.
Metal is a practical shower ceiling material because it is durable and easy to clean. All you have to do is polish it to get a beautiful shiny surface that is sure to be the focal point of your bathroom.
The other benefits of metal ceiling tiles include:
Relatively affordable.
Quick and easy to install.
Easy to care for.
These tiles come in a variety of embossed designs for you to choose from. They work great to hide pipes and wires that you don't want visible.
There are several types of metal ceiling tiles that you can use to bring your shower ceiling ideas to life, such as:
Copper.
Aluminum.
Brass.
Tin.
The last advantage to metal ceiling tiles is that if one of the tiles is damaged, all you have to do is replace that one tile, as opposed to other shower ceiling options that would require that the whole ceiling be replaced or redone.
PVC or Faux Tin Tiles
If for any reason you don't want metal on your shower ceiling but you still like the look and designs of metal ceiling tiles, then there's still another option you can use.
PVC or faux tin ceiling tiles are an excellent shower ceiling idea because of their waterproof quality. Many contemporary PVC even look indistinguishable from regular metal tiles, so you can achieve that same look above your shower.
Some additional benefits of using PVC as shower ceiling tiles include:
Lightweight.
Inexpensive.
Durable
Versatile.
Paint
If you just want to jazz up your shower ceiling a little bit and would rather keep the redecorating simple, painting is a great option. However, painting may not be the best option if you're looking for a longer-term shower ceiling idea.
Nonetheless, there are many benefits to pointing your shower ceiling, including:
Affordability: You can paint it yourself and possibly already have all of the tools you need.
It's quick: Don't need more than an afternoon.
Variety: You can choose any color you want and technically paint anything you want! Because of how quick it is, you can also repaint your ceiling as often as you want.
Beware that you'll probably need to repaint your shower ceiling often since paint does not withstand condensation very well, and that it requires extra maintenance. Painted bathroom ceilings are prone to mold and peeling. The effects aren't as bad if you have proper ventilation or a window in your bathroom.
If you plan to paint your shower ceiling, make sure that you use a paint that is at least a little moisture resistant. Non-moisture resistant paints such as flat paint are difficult to clean. Try to use semi-gloss paint as it is partially moisture resistant, but beware that you may not be able to get your eyes off of the glare.
Do you like the look of metal ceiling tiles but want your shower ceiling to be a specific color? Here's a pro-tip: If you want to use metal ceiling tiles and paint, you can have the best of both worlds by painting over your tiles. This is a great way to mix and match ideas.
Mix and Match
There isn't a lot to lose when it comes to your shower ceiling, so don't be afraid to get a little creative. There are several ways that you can mix and match ideas to create the perfect shower ceiling for your bathroom.
Firstly, if you use metal ceiling tiles, you don't have to use tiles with the same design throughout. Create an interesting art piece for you to gaze at every time you shower by mixing different designs, colors, and even sizes.
The same thing goes for painting your shower ceiling. You don't have to be strapped down to a single color. Have fun with different colors and designs. After all, you can always repaint!
Conclusion
Shower ceilings are often a forgotten area in the bathroom, but there's a lot of potential in this space to do something creative that brings life into your bathroom and makes your showers more interesting.
Test out some of these shower ceiling ideas for yourself and find out what you can do to add character to your bathroom.