Posted by Milan Jara on 21st Jun 2018
Everybody wants a guest bathroom that shines, don't they?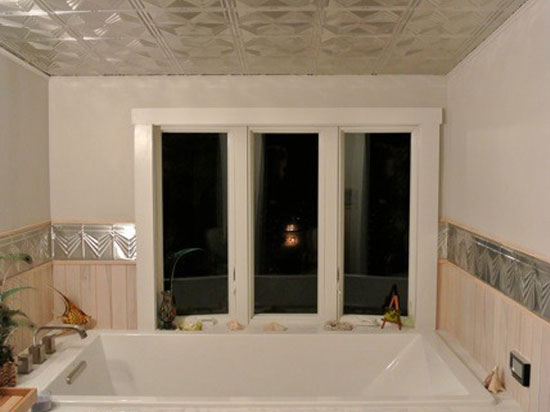 There are simple ways to get this task done. Are all the colors in the bathroom or 'powder room' color coordinated? Check. Is the space in the bathroom being utilized as much as possible? Check. Have you added some new art or items to the bathroom to make it look more fresh and original? Check.
Even if you've done everything a good interior designer does to make their guest bathroom the best it can absolutely be, you can still feel like something might be missing. Sometimes, bathrooms need a change even a small bathroom will need a big change from time to time.
One way to bring about this much-needed change is to add some ceiling tiles. Not only will this make your whole guest bath look that much different and probably much more original, each ceramic tile used will also bring about an interior style that you really felt like your guest bathroom was missing.
The great thing about working with ceiling tiles is they can be used in a variety of different ways, not just on the ceiling. Whether it's on the walls, on the ceilings, as a backsplash or as a unique art piece, ceiling tiles are the key ingredient to making your guest bathroom look that much more stylish. And we're here to show you the ways you can do this!
Match your ceiling tiles to your bathroom tiles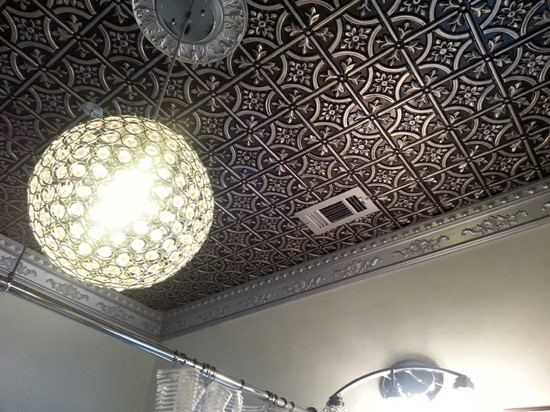 Chances are, the ceiling isn't the only place in your bathroom that you have some tiles. Even if it is (in that case, cool!), you really should make sure that the ceiling tiles you choose are going to match and look great with any other tile in the bathroom.
One main way to do this? Make sure the ceiling tiles you choose to hang up in your bathroom are color coordinated, at the very least, with the rest of your bathroom's coloring. Whether you're going for a modern, vintage, or classic look, this part of the process needsto be done right. The last thing you want to do is add some ceiling tiles that just don't compliment your bathroom at all!
Don't add tiles to your whole bathroom ceiling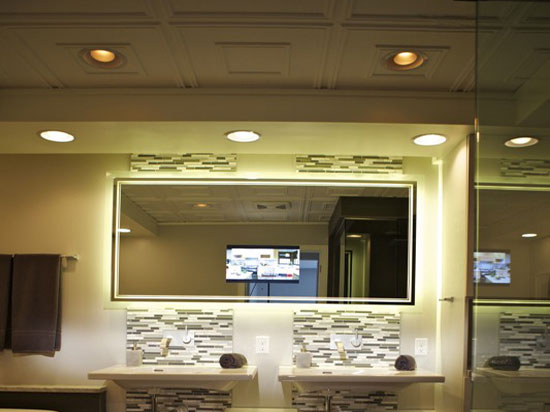 Do you have quite a big bathroom? Maybe the best way to bring about that transformation you've been wishing for is by not applying ceiling tiles to every inch of your bathroom ceiling. Instead, use it sparingly.
A great way to do this is by applying ceiling tiles around light fixtures that might hang from the ceiling. Apply a square of ceiling tiles around these light fixtures for a new sense of design in your guest bath! This is a simple way of using bathroom ceiling tiles in a very effective way and it really is an adorable style!
Use the tiles as a backsplash instead!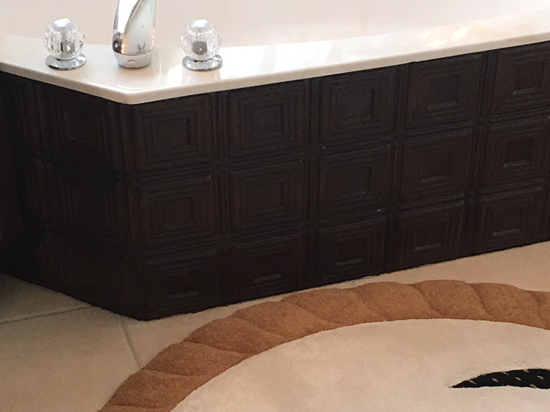 If you really don't know where to start with the ceiling tiles and are looking for another way to use them, why not create a backsplash behind your bathroom sink? This is a great way to use the lovely designs that these ceiling tiles come in, while also achieving that new guest bath transformation that you set out to complete!
Ceiling tiles don't have to be used just on the ceiling. In fact, there are tons of ways you can use ceiling tiles in your bathroom. Creating a backsplash is the easiest, most stylish, and most efficient idea to complete if you don't want to add ceiling tiles to your actual ceiling.
The best ceiling tiles for bathrooms
You've probably come to the conclusion that there really are a ton of different ceiling tile materials out there and there are! There are so many ceiling tile materials that there are a few that just aren't good for bathrooms. We've made sure to only talk about the materials we think are the best for your new guest bath!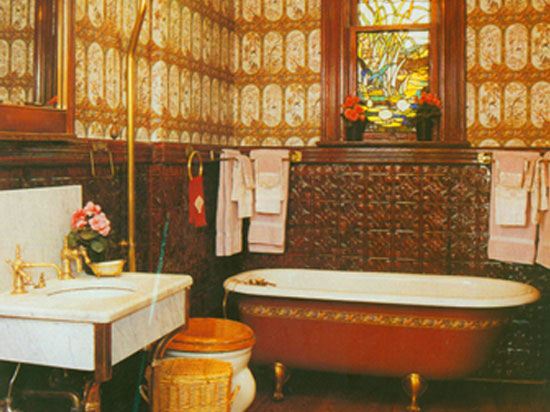 There are tin ceiling tiles that can add a modern feel to any bathroom. However, we also sell tin ceiling tiles that have designs on them that make them feel just a bit more classic and vintage than the average modern tin ceiling tile! You really can't go wrong with a good tin ceiling. It's a beautiful way to bring some style to your guest bathroom.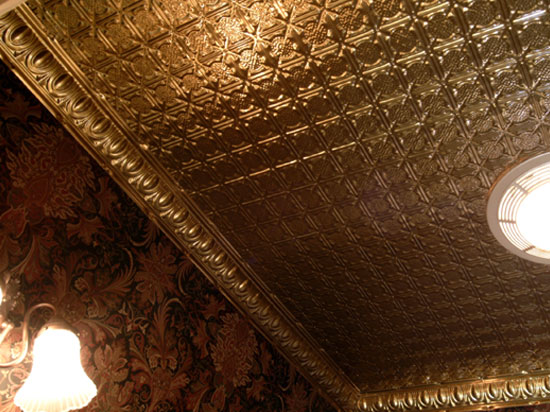 Aluminum ceiling tiles are another one of those materials that you just can't go wrong with. These types of tiles are great if you're shooting for a pristine white bathroom or if you realize you desperately need a way to brighten up the bathroom that you have! Aluminum just has a way of really brightening up a room. Because these ceiling tiles are on the ceiling (duh!), it's an understated way of naturally bringing some more light into the room.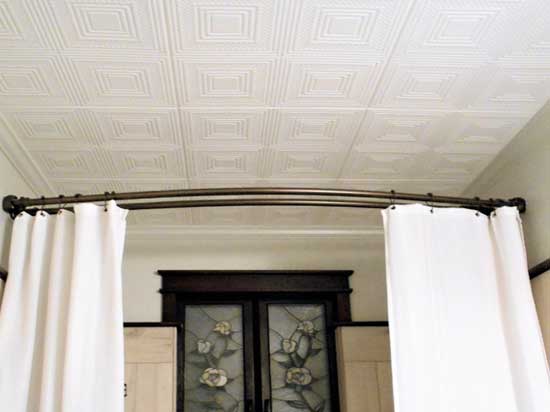 Styrofoam ceiling tiles are best when they look nothing like Styrofoam and our products just so happen to have this quality. A lot of times, people mistake Styrofoam ceilings as some type of metal. Styrofoam ceiling tiles is a great and easy way to bring an artistic presence into your guest bath.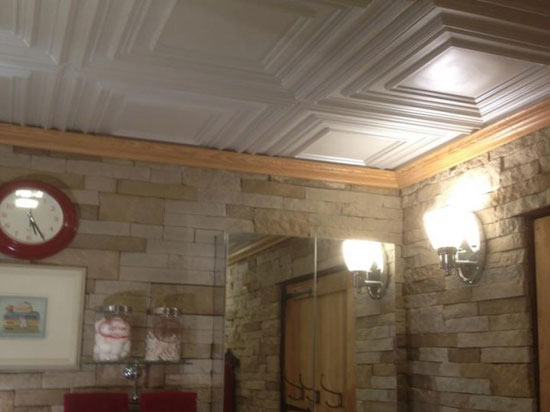 Faux tin/PVC ceiling tiles are, finally, the last great material you can use on your bathroom ceiling (though there are plenty more out there!). This material looks like metal but is easily installed like plastic. With faux tin, you can really bring a high-quality sense of design to your bathroom in an incredibly cost-effective way!
Regardless of what type of material you use on your new bathroom ceiling, it'll look fantastic! That's the thing with ceiling tiles they just always look great. It's a fantastic way to bring some beautiful designs into a bathroom (and really any part of your house) in a very subtle, yet elegant, way. Whether you opt for tin or faux tin, aluminum or Styrofoam, your bathroom is sure to look much better than it was when you first started out renovating it!
And, who knows? Maybe you'll jump on the ceiling tile bandwagon and renovate your whole house! Here's to the power of beautiful ceiling designs.