Posted by Milan Jara on 26th Oct 2021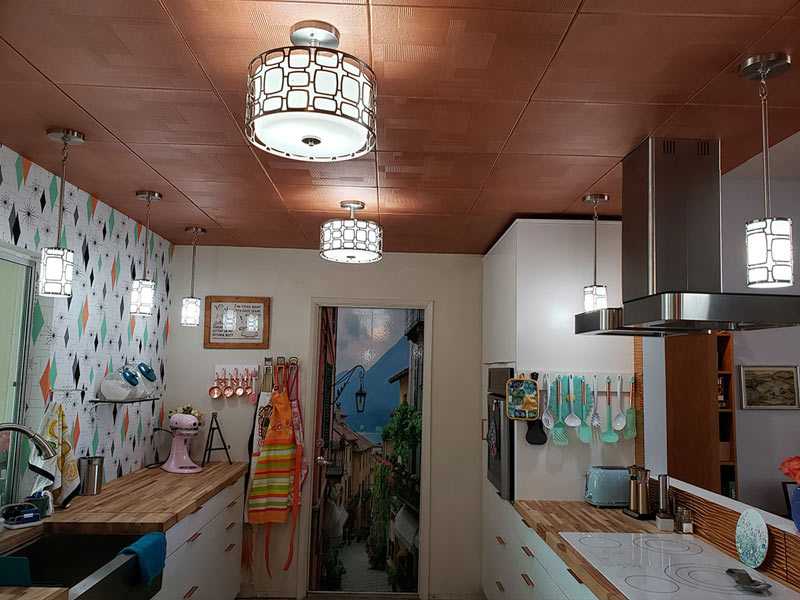 Thinking of remodeling your kitchen? Don't forget the ceiling! Here are some kitchen ceiling ideas to make every corner of your kitchen pop out.
Let's be honest. The kitchen is the most important room of the home. It's where you prepare food for your family, where you gather with friends, and it's one of the rooms you spend the most time designing.
If it's time to remodel your kitchen design, the obvious elements such as your counters and cabinets may come to mind first. However, if you want a fully thought-out kitchen, it's time to think about ceiling design ideas.
There are a number of ways that you can make your kitchen and dining room more special by adding ceiling designs to enhance the look of your kitchen. From ceiling planks, ceiling tiles, wooden beams, to other kinds of ceiling decoration, there's tons of ideas to spruce up your modern kitchen design. Keep reading to learn about the best kitchen ceiling ideas that you should consider for your next kitchen remodel.
Best Kitchen Ceiling Ideas
You may be surprised to hear that when it comes to your kitchen ceiling, there's so much that you can do. It could be difficult to decide where to start.
Well, to help you out, here are some kitchen ceiling ideas to inspire you to upgrade your kitchen and dining room.
Tin tiles
Tin tiles make a great addition to a kitchen ceiling. This Victorian tradition has been making its way into contemporary kitchens. Depending on the material, finish, and color, ceiling tiles can add an upscale and modern look to your kitchen.
If you don't feel like applying tin to your entire ceiling, you can make a smaller statement and only apply it to one area. For the best look, make sure that this area is a focal point in your kitchen, such as the area over your island.
If you want to extend your tin tile ceiling to other parts of your kitchen, a tin ceiling backsplash can add that extra bit of personality that you're looking for. Not only are they easy to install and easy to clean, but they are also versatile and come in several different designs. With so many options, you'll be able to create a backsplash that pairs well with your ceiling.
If tin isn't your thing, you can choose from a variety of other materials for your kitchen ceiling, including:
Aluminum
Copper
PVC (faux tin)
Steel
Check out our selection of tin tiles to give you an idea of what your new kitchen ceiling could look like.
Faux beams
Exposed beams are a look that have increased in popularity and it's easy to see why. These beams allow you to have higher ceilings and add an extra level of charm to any room. Faux wood beams let you achieve that look without the maintenance, making them a great kitchen ceiling idea.
We have a number of colors, textures, and sizes to choose from so that you can easily find faux beams that will line up with your vision for your new kitchen.
There are a number of benefits to using faux beams:
Look just like the real thing
Widely obtainable and available in a variety of styles
Lightweight and easier to install
Using faux beams in your kitchen will give it a rustic look that you can play around with and make it suit your overall decor. You can even install relatively easily yourself, if you're looking for a new DIY project.
For more faux beam kitchen ceiling ideas, check out our current selection of faux beams.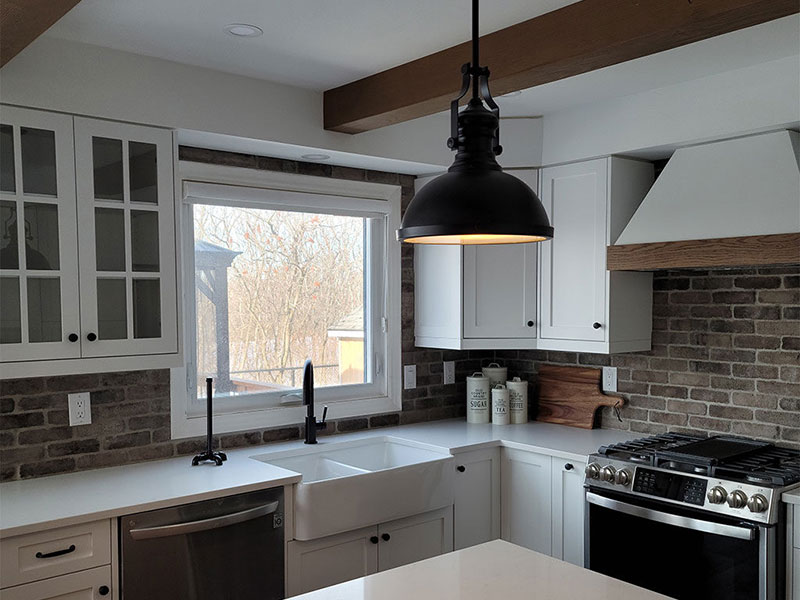 Crown molding around cabinets
Crown molding are those pieces added to the top of the room, usually where the walls and ceiling or cabinets and ceiling meet.
Crown molding is a primarily decorative element, meaning you don't have to be restricted when choosing the right type for your kitchen ceiling and cabinets. It's a great way to add an extra design element to your cabinets in particular. Unless you replace them, cabinets are often forgotten in the design process. Crown molding is a simple way to update your cabinets along with the rest of your kitchen.
Quality crown molding on its own can give your kitchen an updated look as it allows you to customize your home no matter the style. There are several types of crown molding to choose from:
Traditional crown molding: The standard in most homes. Works best with classic style homes.
Stacked crown molding: Made with several stacked pieces. Great for homes with high ceilings. Great for the gap between the ceiling and your cabinets.
Edge molding: Can be added to almost every part of the cabinet, but usually to the outside edge or border of the cabinet.
Interior crown molding: Placed around the interior of your kitchen's ceiling. Typically found above kitchen cabinets to fill the gap between the cabinets and the ceiling.
Styrofoam crown molding: Gives the same beautiful look of traditional crown molding, but without the hassle of wood.
Looking to install crown molding to your kitchen as a DIY project? Check out these instructions to give you some guidance.
Ceiling domes
Ceiling domes add beauty to any room, making them a great kitchen ceiling idea to add to your remodeling plans. They can be used as a focal point over your dining table or your island.
Ceiling domes are not only great decor, they can also open up an interior space and make it feel bigger. They are becoming increasingly popular as they are seen as a way to inexpensively add luxury to any room.
You'll be happy to know that ceiling domes don't have to be a hassle to install. We have a large variety of ceiling domes to choose from that you can use to add more depth to your kitchen ceiling.
Conclusion
Your kitchen ceiling should never be forgotten. There are a number of kitchen ceiling ideas that you can implement without a lot of effort, but that give your kitchen a brand new look.
Your kitchen ceiling can completely change the look and feel of the room, so next time you think about remodeling your kitchen, consider starting from the top down.