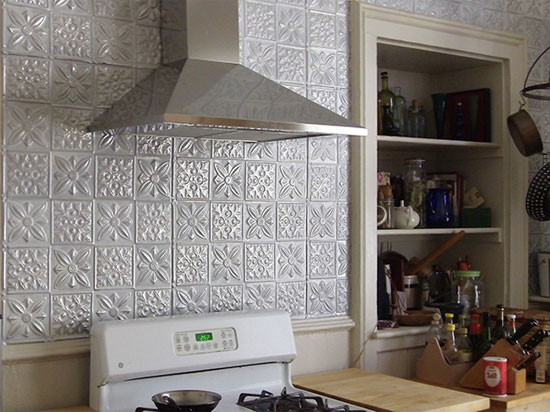 When it comes to home décor, there are those that overhaul every other inch of the house and leave the kitchen as an afterthought. And then there are folks who spend big bucks making sure that the kitchen is in tip-top shape down to the tiniest of details. If you are the latter person, forget kitchen lightings and wall decorations, you can completely transform your otherwise dull looking kitchen just by simply switching up the ceiling.
Here's the thing;
Although ceilings barely receive as much attention as the other aspects of home décor, they enhance the room just as much or even more than the walls and furniture. So even if every other room in your house looks its best, you can't possibly achieve real stunning beauty without doing some touch-ups to the kitchen space. Plus if you think about it, all those years of bustle and activity coupled with the immense amount of smoke produced every day when cooking is bound to take a toll on your kitchen ceiling. Or even worse leave it looking out of sorts. And as the heart of the home, your kitchen also deserves fine quality and style appeal. Or even better.
At decorativeceilingtiles.net, we have an extensive collection of fine ceiling designs and ideas to choose from. From the luxurious coffered components to more simplistic designs and ideas that will give your ceiling a subtle yet elegant look. Continue reading on!
---
Kitchen Ceiling Ideas Reviewed
Faux Tin Ceiling Tile (24*24)
You can't go wrong with the Milan Faux Tin Ceiling Tiles. Featuring an ornate repeating visual reminiscent of retro creation, this ceiling tile offers antique patterns and a spicy modern look that gives your home a vintage charm with an upbeat old world flair. They are also quite easy to install, look great and are resilient enough to hold up for years of use and abuse.
Diamond Wreath Glue-Up Styrofoam Ceiling Tile (20*20)
There is something effortlessly stylish about simple visually interesting patterns like the ones on the Diamond Wreath ceiling tiles. Even the way you arrange the tiles becomes part of the design. We love that it has a light airy chic look that gives the kitchen an elegant plush look and when complemented by amazing wall colors, Diamond Wreath tiles really shine and make your kitchen space look effortlessly beautiful. And the best part, you don't have to break the bank to buy these tiles.
Tuscan Glory Copper Ceiling Tile (24*24)
If you are looking to embrace a more romantic finish, the Tuscan Glory Copper ceiling tile is your best shot. There's just something delicately beautiful about this coffered panel and coupled with some sturdy, rustic, antique furniture, you'll not only achieve a royal; modern look but a classic retro style that makes you feel like you are on vacation without having to leave your house.
Delicate Daisies Aluminum Backsplash Tiles
We absolutely love the way the Backsplash tiles look as ceiling decors. They offer a brilliant appeal that alters the kitchen's visual impression to give it a modern contemporary twist. Plus they come in a variety of colors, designs, and cornices to compliment any kind of kitchen décor or furniture. Not to mention, you can easily install these tiles yourself.
Fleur De Lis 3 Pattern Faux Tin Backsplash Roll
It turns out that the Faux Tin Backsplash Roll is one of the iconic symbols of aristocratic opulence when it comes to transforming the kitchen space. Available in a wide variety of hues, the Faux Tin Backsplash roll has a beautiful Fleur de Lis design embossed into it to give it that modern flair that fits seamlessly with a French Country styled kitchen and a gorgeous delicate 3D embossed design that gives the kitchen space a rustic yet welcoming delight. And the best thing is it is light, affordable and does not rust.
Lover's Knot Faux Tin Ceiling Tile
If you want to evoke an alluring summer ambiance, the Lover's Knot ceiling tile is your best bet. Highly decorative and bursting with bulbs, these tiles epitomize a Dutch tulip field bursting with orange, yellow, red and pink buds during spring.There's no shortage of summer charm with these tiles and the realisticness of these tiles is beyond clever.
Vines Garden Fad Hand Painted Ceiling Medallion
This is another great kitchen ceiling idea that we absolutely love. Fully hand painted by a professional artist, this decorative ceiling medallion finished in bronze, copper, and gold can be used to give a new charm to ceiling fixtures and evoke a royal elegance throughout your kitchen.
---
Factors to Consider When Choosing the Best Kitchen Ceiling Décor
Price
Although money is no object when it comes to getting your house in tip-top shape, you needn't break the bank to get our hands on a decent set of decorative ceiling tiles for your needs. As long as the price matches your budget and the worthiness of the ceiling you are getting then it makes perfect sense to invest no matter how much it costs.
Ease of Installation
Repairing tardy ceilings can take a toll on you. Not only financially but also in terms of time too. Not to mention the mere inconvenienceof the whole ordeal. Check to see that the ceiling tiles you are going for are easy to install and better yet if you can do the installation yourself. It might take you a little longer to install than if you contracted professionals to do the job but it will save you money.
Ease of Maintenance
It goes without saying that the kind of ceiling you go for should be easy to maintain. Should anything happen to the ceiling, you want to be able to do maintenance easily.
---
Wrapping It Up
When most of us think about ceiling ideas, the first thing that comes to mind is a white flat boring board. However, there have been numerous strides in as far as designing and decorating the ceiling goes. And with so many ceiling ideas to choose from, it has never been easier to elevate your otherwise dull looking kitchen ceiling into a masterpiece.