When you look up, there is a fairly good chance you see a white ceiling. That is because when it comes to choosing a ceiling surface, very few people stray from a coat of white paint or, at best, a paler version of their wall paint. While covering your ceiling with a plain shade of paint is a safe option, it is also a really boring one.
Believe it or not, black ceilings can look amazing in your home or commercial space. While the idea of a black ceiling might seem a little strange at first, there are a number of advantages to choosing this less conventional ceiling color.
For starters, a black ceiling sets your space apart from the rest and has a lasting impression on your guests. Black is a bold color and it is sure to have a dramatic impact on the appearance of your room. Black ceilings also add balance to your room if your space has darker floors and furniture.
While a coat of black paint looks impressive when done correctly, if you want to really add sophistication to your ceiling and ensure that your space stands out, you take a look at black ceiling tiles.
---
What Are the Advantages of Using Black Ceiling Tiles?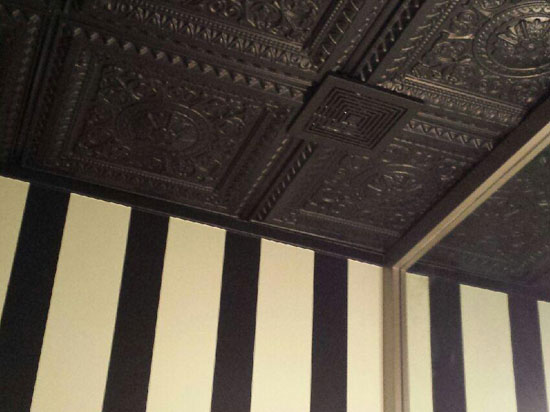 Truth be told, a painted ceiling is boring. While painting your ceiling black might seem like a simple way to give your space a new look, it can be a hassle and won't look as impressive or attractive as a ceiling covered in decorative ceiling tiles.
Black ceiling tiles give your space a sophisticated look that you can't replicate with a paint roller. Choose from a variety of intricate designs and patterns that will have you and your guests looking up. Our black ceiling tiles are designed to complement almost every type of décor. Whether you want a ceiling tile that perfectly replicates traditional patterns or one that's more contemporary and adheres to modern design elements, there's a black ceiling tile for the job.
Like all of our ceiling tiles, our black ceiling tiles are both affordable and easy to install. Due to the variety of tiles available and our low order quantities, you can find the perfect black ceiling tile to suit your budget.
Painting a ceiling can be difficult. Paint drips as it is rolled on and painting ceiling corners can be a nightmare. But when it comes to putting up black ceiling tiles, installation is a breeze.
If you have an existing suspended grid network, simply remove your previous tiles and drop in your new ones. If you do not have a suspended ceiling grid, you can choose your tiles in a glue-up or nail-in configuration. All you have to do is nail or glue your new tiles into your existing ceiling. They are so simple to install that you won't need to employ the services of a professional contractor.
Most of our black ceiling tiles are easily cut using scissors so you can easily make alterations to the tiles so they fit any need. They are also very lightweight, which helps with installation and keeps shipping costs low.
Where a painted ceiling is unimaginative and susceptible to chipping and paint bubbles, our black ceiling tiles are designed to last. Despite their stunning metallic finishes, they will not rust or decay with time.
---
Three Reasons Why You Should Choose Black Ceiling Tiles For Your Space
1. Black Ceiling Tiles Add Drama to a Room
Black ceiling tiles naturally encourage people to look up and make the entire room seem more interesting and memorable. This is especially true if the ceiling tiles compliment your other décor.
You can create a cohesive look in a room by installing a black version of our Lilies and Swirls Faux Tin Ceiling Tile. The tile uses a simple floral pattern that looks great in almost any room. If you have a green thumb and like the look of houseplants and floral prints in your space, this is a perfect choice for your ceilings.
Find the Lilies and Swirls black ceiling tile HERE.
2. Define an Area With Black Ceiling Tiles
If you have an open concept home, it can be difficult to distinguish one space from another. Black ceiling tiles can easily accomplish this goal without cluttering your space with room dividers or bulky furniture.
Our Jackson Square Aluminum Ceiling Tile is available in black and could easily be used to separate one space within an open floor plan. Its subtle design and bold color make the space below stand out without overwhelming the room.
Find the Jackson Square black ceiling tile HERE.
3. Emphasize Your Trim With Black Ceiling Tiles
If you have invested time and effort into making sure your space has impressive trim work, the last thing you want is for it to blend in with your walls and ceiling. Painting your trim a light color then covering your ceiling with black ceiling tiles gives the room a sophisticated look while simultaneously making sure your trim stands out.
Our Edgerton Square Aluminum Ceiling Tile looks amazing in black and its concentric square design is sure to compliment the trim in your space. This ceiling tile uses a design that is meant to create a feeling of simplicity and cohesiveness. The design has stood the test of time and is sure to add style and a great finishing touch to your place.
Find the Edgerton Square black ceiling tile HERE.
4. Give Your Finished Basement a Bold Look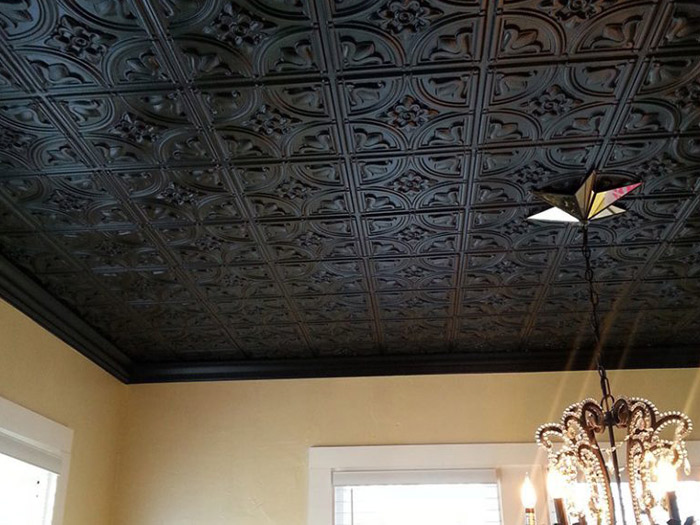 A basement can feel like a claustrophobic space. Not only are you underground, but the ceilings also tend to be lower than in rooms on the main floor. Luckily, black ceilings tend to make a space seem larger.
Choose a black ceiling tile to give your basement a much larger look and feel. As an added bonus, you can also use your black ceiling tiles to conceal unappealing ductwork and pipes. Opt for a suspended grid network and use our black ceiling tiles to transform your basement into a welcoming space.