Posted by Milan Jara on 16th Oct 2019
Black ceiling tiles work in a lot of different spaces but you can't just slap black paint on your ceiling and call it a day. Think of it like wearing red lipstick or a stunning pair of high heels. Both would look silly with no other makeup and in otherwise dingy clothing. A black ceiling needs to make sense in a space. Impact and drama do not equal gaudy and foolish.
Start with the lighting. In a room where you're going to add black ceiling tiles, the lighting needs to be just right. Black pulls light from a space so you need to make sure you have well-placed lighting. Use lamps and overhead lighting to add brightness. Bring in natural light, too, if appropriate. Of course, if you're putting together a theater room, you'll want to be able to dim the space, too, but it shouldn't always be dark.
Make sure the black ceiling tiles don't stand out in the wrong way in the space. There should be other design elements that complement the ceiling. You might bring in other black features or you choose your way to say, "this black ceiling was an intentional design choice, not something I resorted to cover stains or flaws."
In addition to the color of the ceiling tiles, consider the finish. Matte black tiles have a totally different look than black metal tiles. Consider the overall style of the room and how the finish fits in. Modern designs tend to look better with a black sheen tile but this isn't always the case. If you're going for a country look in a kitchen with black ceiling tiles, chances are matte is a better option.
If you opt for black ceiling tiles and black walls, bring color into the space in other ways. The important thing is that you create interest and contrast in the space. As hard as it might be to believe, black can be boring when done wrong. Remember how important it is to create contrast in design and make sure you are putting together a space that feels finished.
---
Are You Ready to Take the Plunge?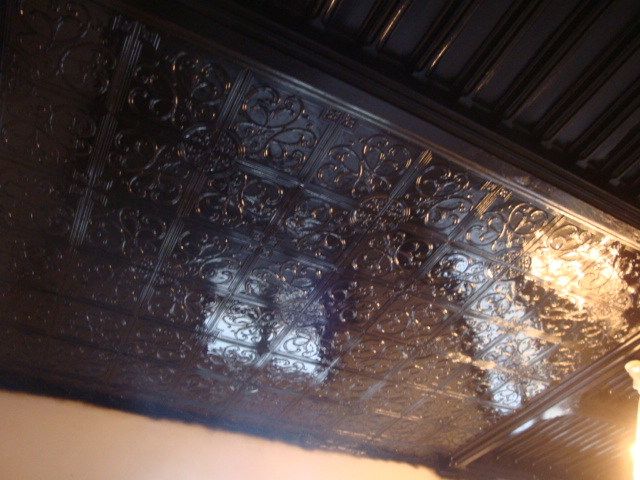 If you've decided black ceiling tiles are for you, there are a few things you should know and do before moving forward with your design plans.
If possible, it's a good idea to give your idea a test run. Of course, installing black tiles or painting the ceiling black before finishing the project isn't much of a test. You need something that's not the same level of commitment. Consider this: get a black sheet or piece of fabric that's close to the dimension of the ceiling. Tack it up for a few days and see how you feel about it. It's not a replica but it gives you a general idea of how a black ceiling will feel in the space.
During the test run, make sure you measure carefully and a few times. This test run will be great for helping you make sure your measurements are correct so when you order your tiles you'll know you are getting the right amount. Black or not, this is a great tip any time you are installing ceiling tiles. As the experts say, "Measure twice, cut once."
Next, make sure the surface is appropriate for the tiles you're installing. With all of the focus on the color, you don't want to forget the general advice about installing ceiling tiles, black or not. They should be installed on a clean surface if you're using adhesive and you should make sure you have all of the needed supplies if you'll be installing tracks or clips for the tiles.
It might also be a good idea to paint the ceiling black before installing the tiles. This isn't necessary, but here's why it helps: If you're a first time DIY, there's a chance the installation won't go as smoothly as you'd hoped. Chances are a bit of the original ceiling will show through. If it's painted black, it will be completely unnoticeable. Ideally, your tiles will line up perfectly but, just in case, this will save you looking like there's a blunder. And it's one last-ditch attempt to make sure you want a black ceiling before installing the tiles.
---
Bringing It All Together
There's a debate in the design world about how to create a room. Should you work on the large aspects of the design first and then choose accessories or is it okay to use one small accessory as inspiration for the entire space? Should you buy everything you need in one go or finish the walls, ceiling, and flooring before investing in anything else?
How you proceed is ultimately up to you but many people find when they are making a design choice as bold as black ceiling tiles that they prefer to get the ceiling in place and go from there. This is because it is so dramatic. You might find that all of the little things you buy for the room are just overkill once the ceiling is done.
By installing the ceiling and then focusing on the walls and floors, you'll create a great foundation for pulling together the entire room. You'll be able to see how light works in the space with the darker ceiling and use that information to guide your other design choices. For instance, once the ceiling is in place, you might realize that lighter furniture will work better in the room than you thought. Or you might need more lighting than you originally planned. Whatever the case, you can create a foundation from which to build that starts with the major drama in the room and go from there.
Black ceiling tiles could be the best design decision you've ever made for your home. If you're thinking about adding drama and you want something that offers a major impact, black ceiling tiles are a great option for any room.