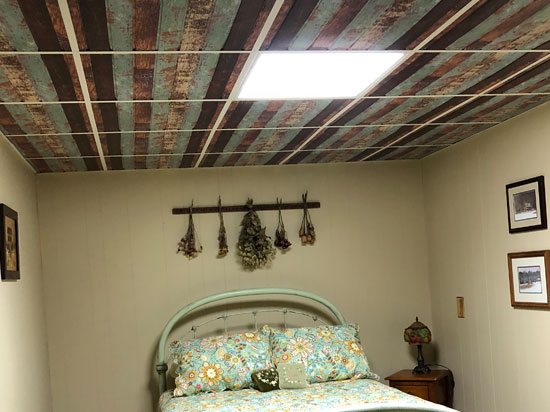 Are you bored of your ugly ceiling but don't want to lose room height to a standard drop ceiling? You're not alone. However, over time, even the highest quality plaster ceilings can warp, crack, stain, and become dull. Many of us live with that ugly popcorn ceiling, dull drywall ceiling, or cracked basement ceiling pattern that we'd love to banish from sight but can't find a suitable, affordable, and stylish solution that won't compromise on the height and feel of the room. If you have found yourself in this situation, then the good news is that you have come to the right place.
At decorativeceilingtiles.net, we have an extensive range of drop ceiling alternatives, also known as the suspended ceiling, as well as some beautifully designed drop ceiling tiles that might even just change your mind about a drop ceiling write-off altogether. We're specialists in transforming your ceiling quickly and easily, with high-quality and beautifully designed products, all while working to a budget. Our traditional and modern materials allow us to offer a wide range of solutions, leaving you wondering why you put up with an unsightly ceiling for as long as you did.
Explore some of our most popular drop ceiling alternatives below and be inspired to transform your home and reclaim your space in the blink of an eye.
---
Nail Up Ceiling Tiles
Unlike a drop ceiling tile solution, where a grid is constructed a few inches below your existing ceiling and the ceiling tile alternatives are dropped into place within the grid system, nail up ceiling tiles are simply installed directly on to your existing ceiling—so long as it provides a flat, solid surface for them to be attached to.
This traditional method was first made popular during the 19th century and only fell away during World War II, during which metal was rationed and house builders were encouraged to use cheaper, more readily available materials and save metal for machinery. If it hadn't been for this reason, it is likely that metal nail up ceiling tiles would still be a common feature in homes today, thanks to their versatility, durability, and exquisite effect.
At decorativeceilingtiles.net, we have over 200 patterns and 75 finishes of ceiling panels available to choose from, made from copper, aluminum, or tin coated-steel to make almost all ceiling ideas possible. Here are some of our top picks from each category.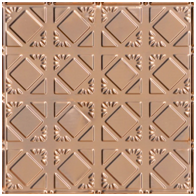 This modern, yet refined design, is a perfect match for the high-quality effect given by traditional copper tiles. Depending on what type of look you're after, you may decide to keep the natural copper color of this tile or it can easily be painted using standard paint to match the rest of your interior color scheme.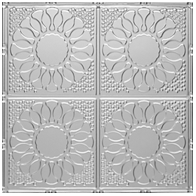 Unlike the traditional copper nail up ceiling tiles, aluminum tiles have a modern, brightening appearance, thanks to their silver color. These tiles are particularly popular in kitchens and other workspaces that may have stainless steel countertops; however, they can also be customized with different colors to match your home. This Kaleidoscope design is fun and playful, yet not overpowering in any room.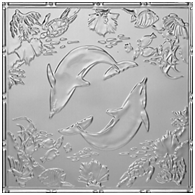 Who said that traditional ceiling tiles had to have traditional patterns? We love this beautiful dolphin design, which would work perfectly in any bathroom or even in a child's bedroom to fuel their imagination and lead them on undersea adventures as they dream.
---
Glue Up Ceiling Tiles
As well as traditional nail up ceiling tiles, at decorativeceilingtiles.net we also provide a modern alternative for those who want the same effect but with a simpler, lighter, and more affordable solution, in line with the needs of the modern homeowner. Our glue up ceiling tiles are made from alternative materials including PVC/faux tin, styrene, and Styrofoam. These strong but durable materials are perfect for molded ceiling tilesand help make your home transformation as quick and easy as possible.
Similar to nail up ceiling tiles, glue up tiles only need a flat, solid surface for installation, and your whole ceiling can be complete in a few hours. What makes them even easier to use, however, is that these tiles can be preordered in a huge range of different color options so that you can choose the color best suited to your home and don't even have to look at a paintbrush. If you're not as confident with DIY, then these are a perfect hassle-free solution.
If this sounds like the product you've been waiting for, then take a look at some of our favorite design ideas for inspiration on how to get started.
This stunning PVC wrought iron design comes in 17 different color options, including Antique Gold, Dark Cherry,and River Stone. We love this White Pearl option, as it helps to open up your room, adding light and the illusion of space with its fresh, clean color. The intricacy of the pattern is not lost, but is subtler and takes on a different purpose when it is accompanied by an understated color palette.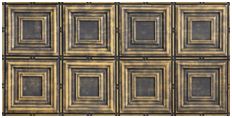 If you're looking for a romantic, traditional, and elegant finish in your home, then it will be hard not to fall in love with this hand painted, black copper faux tin styrene ceiling panel design. Your ceiling will look as though it's been lifted straight from the 1800s and visitors will wonder how you were lucky enough to acquire such a high-quality, vintage ceiling without remortgaging your whole home!
With hundreds more designs to choose from on our website, you are guaranteed to find something that you love and transform your home in a way that you never dreamt possible. With all of the above options, you can say goodbye to your old unloved ceiling—without any construction work, minimal DIY skills, and,most importantly, all within your budget. Avoiding a drop ceiling has never been easier and our nail up ceiling tiles and glue up ceiling tiles are sure to be your new best friend.