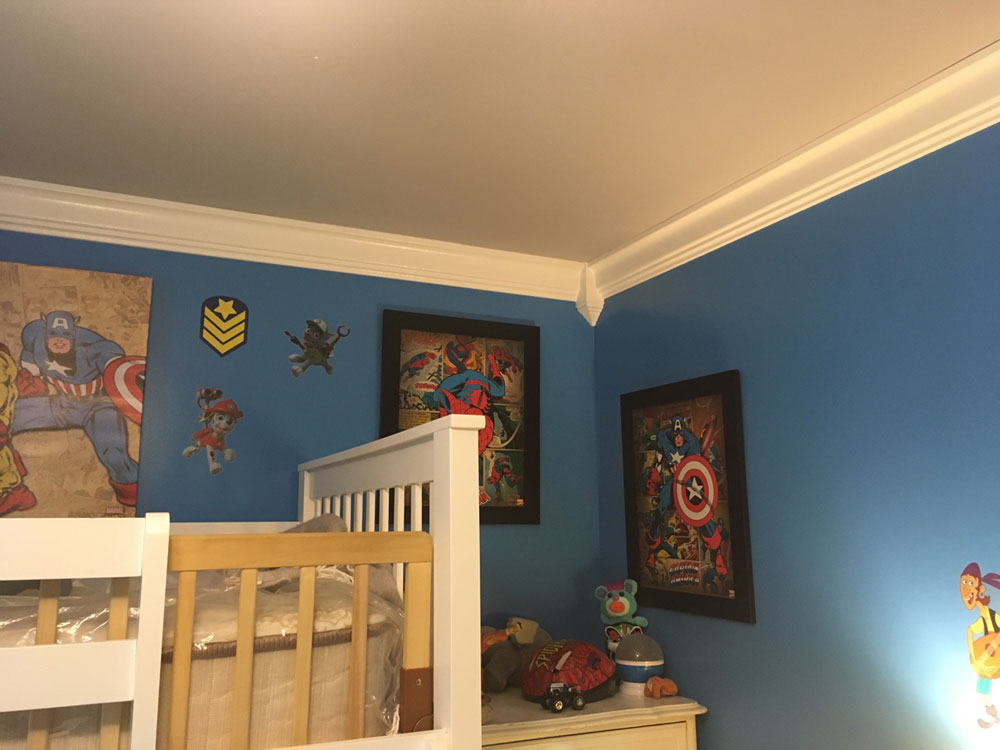 Crown moldings are a popular feature in interior design and are often used to trim around windows, doors, and ceilings. Despite this popularity, crown molding isn't necessarily something many of us think about when planning our home decor. This guide will show you what crown molding is and what it's used for, as well as showing you some worthwhile options to consider.
Do Crown Moldings Serve a Functional Purpose, or Are They Purely Decorative?
Crown moldings were first introduced for practical reasons; only later did they become a desired decorative element to a room. That said, crown molding does still serve a useful purpose as it can cover gaps where different building materials come together. There's always space where walls and ceilings connect; therefore, a crown molding exists to cover any potential gaps.
Over time, crown moldings have become more elegant and are available to fill any gaps you may have. They are also commonly paired with wainscoting and base moldings or used around a fireplace mantel or kitchen cabinets.
---
Why Consider Crown Moldings?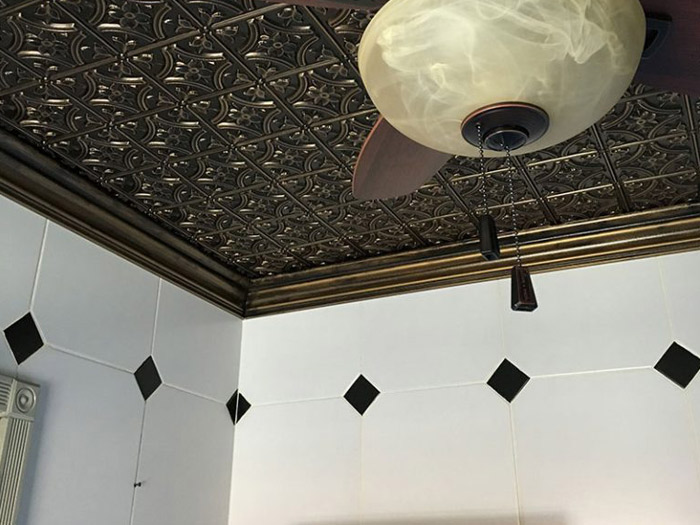 Set the Tone to Any Room
People like to add crown molding because it contributes to the tone of a room. Say you want tin crown molding for the walls inside your dining room. Adding this type of crown molding gives your dining room a shimmering feature and an extra dose of elegance.
Easy Installation
If you're a beginning DIYer, we have plenty of options for easy to install crown molding. If you prefer to let another person take on the project, hiring a professional is a great alternative, but the install should still be pretty quick, saving you on cost.
Add Appeal to Any Space
You can install crown moldings in either residential settings or commercial settings. If you aren't looking to add them to your home but are looking for a way to spruce up your business, like a restaurant or a pub, crown molding is a suitable option.
---
Inspirational Ideas
Foam Crown Moldings
When you've applied or installed your new ceiling, adding a crown molding gives it a more polished look. A lot of homeowners consider crown moldings to be rather expensive, but we provide our customers with prices that are fair and affordable.
Our foam products look just like the real thing, but they make installation and maintenance far easier. The beauty of using our foam crown moldings is that you can use them indoors or outdoors, and you can paint them any color you wish.
If you're looking for a way to have crown molding that emulates the real thing, our Styrofoam options may be the best decorative investment you will ever make. Not only will your room have an elegant finish, but the installation process is simple. Our foam crown moldings are lightweight, which makes them easy to cut. The installation process is a project that you can do all by yourself, and it shouldn't take a long time to complete.
Styrofoam crown moldings will not warp or shrink like wood. They install using only caulking, so you don't need a bunch of tools to get a good outcome. You can paint them any color that suits your decor. Just apply one coat, and there is no need for primer. With our Styrofoam crown molding, you can achieve the look you want without the cost and time needed for wood crown moldings.
Urethane Crown Moldings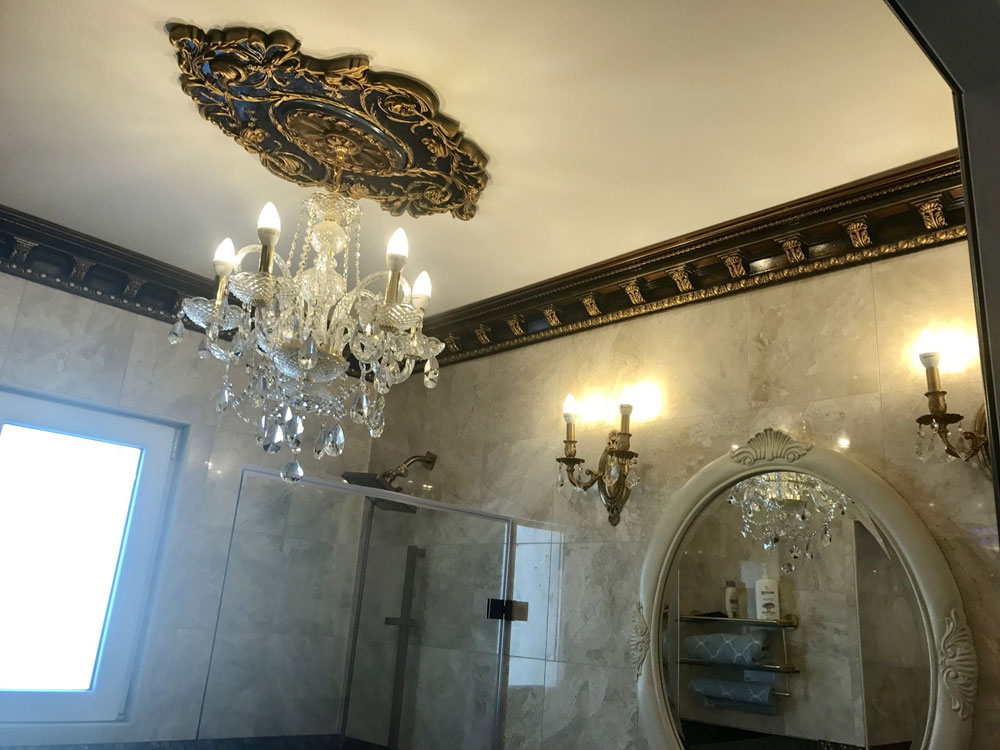 Urethane is one of the best materials to use for crown moldings. Often mistaken for polystyrene or Styrofoam, urethane is a synthetic substance that has a higher heat insulation factor than Styrofoam. Like Styrofoam, urethane is a thick foam-like material, and it offers all the benefits of wood. Like wood, it doesn't rot, crack, or splinter – making it exceptionally suited to replace wood crown moldings.
Another advantage of using urethane crown moldings is that they are durable. The material has a longer lifespan than wood or MDF, so our crown moldings last a very long time. Furthermore, urethane crown moldings are lightweight, pre-primed, and ready to be painted.
Before fitting your urethane crown molding, decide whether you want something plain or ornate. To get the best result, consider the style of your room and furnishings. If you are surrounded by contemporary architecture, go for a simple crown molding, without ornamentation or an intricate pattern. Consider ornate crown molding for more classic designs that contain a lot of detail. You'll see such crown moldings inside grand halls, hotels, and luxurious homes.
Consider a Room's Purpose
When planning crown molding, consider how you use the room. For instance, if you use the room as a private space, like a bedroom, it's always best to have smaller, less detailed crown molding. In contrast, for larger spaces like living rooms, foyers, and other public areas, opt for a more elaborate design.
We designed our urethane crown molding selection to work for both interior and exterior applications, and you can install them using glue, screws, or nails.
---
Conclusion
Adding beautiful crown moldings is a great way to define each room and give each space a unique character. Our lightweight urethane moldings give the same rich detail of the crown molding it's imitating at a fraction of the cost.
When you decide whether to go for wood or another material like urethane, consider the practical side of each one. With urethane crown moldings, you won't experience rotting, cracks, and insect manifestations like you would with real wood, which allows you to place them inside or outside of your home.
Furthermore, the installation process is straightforward, and they can be cut and drilled, then glued, screwed, or nailed into place. They're a good fit for a high ceiling, low ceiling, or any ceiling height in between. We deliver our crown moldings factory-primed and ready to paint or faux finish.