Cheap ceiling tiles can be one of the smartest design investments you'll ever make. Ceiling tiles are a great way to get a high end look in any space, even if you aren't spending a lot of money on the actual tiles themselves. Cheap tiles can still make a room look pulled together and expensive.
If you're thinking about installing ceiling tiles in your home and you want to do it affordably, cheap ceiling tiles are the way to go.
What should you know before you invest in ceiling tiles and update your room with this stylish and versatile addition?
---
When it comes to installing cheap ceiling tiles, you have plenty of options. You can buy from different vendors and manufacturers, opt for different styles of tiles, and use them in different rooms of your home. Best of all, it's possible to get exactly what you want for an affordable price. And you can save even more when adding ceiling tiles to a space by doing the installation yourself.
---
What Are the Different Types of Cheap Ceiling Tiles Available?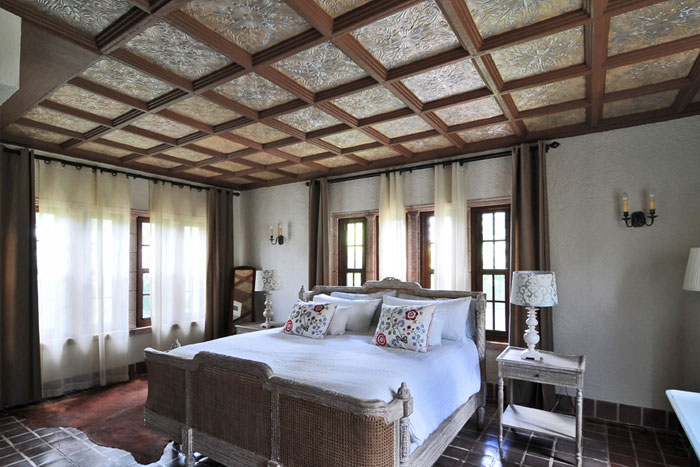 Cheap Styrofoam Ceiling Tiles
One of the least expensive and most common options for ceiling tiles is Styrofoam tiles. Styrofoam is lightweight, which makes it an ideal choice for the ceiling. They are functional and offer benefits like coming in a variety of sizes and providing acoustical improvement to a room. And today's modern Styrofoam tiles are far more stylish than the looks you might imagine from decades ago. There are plenty of different styles of Styrofoam ceiling tiles that are great looking and affordable.
Cheap Tin Ceiling Tiles
Another option is tin tiles. Have you always loved the idea of a tin ceiling because it seems romantic and stylish? It's entirely possible with tin ceiling tiles. They don't work in every home design, but if you've got the style to support a tin ceiling, cheap tin tiles are a great way to go. You can even get copies of old antique tin designs that were in Victorian and other old homes. If you're in the process of restoring an older home and you want something that looks authentic and true to the original design, tin ceiling tiles can help you achieve your design goal. There are also faux tin options that give you the look you want without the weight or the price.
Cheap Urethane Heritage Tiles
Urethane heritage tiles are a great option if you want an ornate option without the ornate price. They create a feeling of luxury in a space and can give you a high-end look even if you're on a budget. Urethane tiles are lightweight, durable, easy to install and work indoors or out. They are cheaper than their plaster counterparts but give you exactly the ornate look you want without the hassle and expense.
If you're trying to decide what type of cheap ceiling tile is going to work in your home, you must consider a few important factors. You need to understand what's going to work from a functional standpoint. Not every type of ceiling tile can be used in every space, so make sure you understand a bit about installation and construction before you begin shopping for cheap ceiling tiles. It's also important to consider your budget and the style of your space. All of these factors should play a role in the tile decision you ultimately make.
---
Choosing the Specific type of Tile
Now that you've narrowed down your basic selection, it's time to consider the exact style tile you want. You can get different styles in different categories of tiles. For example, Styrofoam tiles can be designed to look like any style of tile. You can get a Styrofoam tile designed to look like metal or wood or marble.
This allows you to get the look you want no matter what type of tile you need to put in a room from a functional standpoint and a price standpoint.
Cheap ceiling tile options include:
Two other options you have are more about the function and less about the specific style. Drop ceiling style is one of the most popular cheap ceiling style choices because of the multitude of ceiling sins they hid. They are great for covering up an old, damaged ceiling that can't be repaired and they are an economical choice for many homeowners.
Acoustic ceiling tiles are designed to absorb noise and make a home more private noise-wise. Many people use them in a movie or music room, but they work in any room. This is especially true if you live in a home where people like to turn up the music or the TV louder than others would prefer.