Posted by Milan Jara on 10th Aug 2018
There's no question that a backsplash, when done well, can make a kitchen pop. Used for a variety of reasons, homeowners opt for backsplashes to bring high-end looks and practicality to their everyday cooking space.
Though the ceramic backsplash tile has been popular for years, as many kitchen design experts will tell you, one of the leading backsplash materials on the market is metal. These metal backsplash designs give cooks the functionality and pristine design they always wanted right in their own home.
Of course, it is known that metal backsplash materials, such as stainless steel and hammered metals, are top of the list for their easy-to-clean convenience and aesthetically pleasing appearance.
Many homeowners choose the metal kitchen backsplash due to their ability to stand out amongst the other design elements that can sometimes crowd a kitchen. This type of decorative backsplash brings charm, durability, and functionality to the heart and soul of every home around the world.
Benefits of Metal Backsplashes
Of course, you may already know some of the obvious benefits of having a metal backsplash in your kitchen.Incase you don't, here are some of the key benefits:
They're easy to keep clean.
They are durable and will withstand high temperatures from the stove/oven.
The different designs give you the ability to make the backsplash unique to you.
They come in a variety of colors with aluminum and bronze as the top two choices.
They add charm to an often-forgotten area of the house.
Drawbacks of Metal Backsplashes
They scratch easily, which makes flat metal backsplash designs easier to deface.
Not all faux metal products are created equally so keep an eye on out while shopping.
Some designs are more expensive than other materials such as ceramic, glass, etc.
Here are the top 5 best metal backsplash ideas for 2018 and how you can achieve the same look in your home without breaking the bank.
---
Kitchens Only?
Installing a metal backsplash doesn't only have to be confined to the walls of your kitchen. In fact, many homeowners are branching out and taking their metal backsplash ideas to the bathroom.
Bathrooms seem to get left behind in the design phase of many homes leaving them with less-than-desirable in the area of aesthetics. But, with the rise of DIY projects bringing projects such as metal backsplashes into the homes of millions with a reasonable budget, the bathrooms are no longer left out.
If a metal backsplash is what you're aiming for in your bathroom, check out this unconventional use of a backsplash in the loo.
Notice the placement of the corrugated metal on the bottom half of the wall inside the half bath. This unique use of a metal backsplash brings character to the small space and allows bathroom users to feel like their escaping to another place when they're using it!
You could even use this in your kitchen instead of the bathroom! This metal backsplash is highly versatile and functional.
---
Does 'faux' mean a waste of money?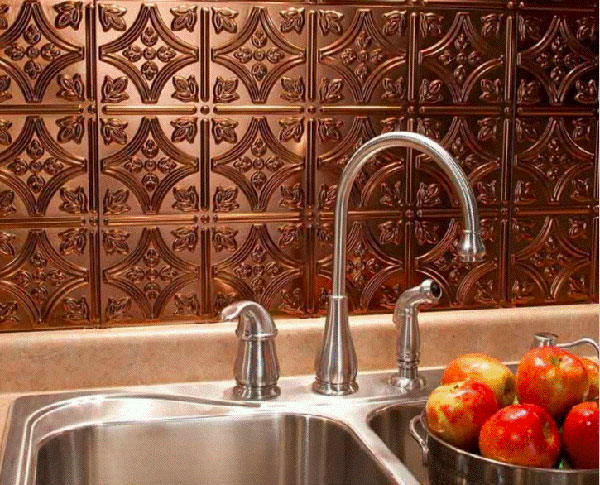 If you're ready to tackle a big project like adding a backsplash to your kitchen wall, you may also be preparing yourself to spend a great deal of money. The good thing about a metal backsplash is that you can actually go with a faux product rather than a real metal.
This will save you money all around and still give you the same seamless look you were hoping for.
On the market, you will find many different faux metal materials, but one of the best faux metals for kitchen backsplashes is faux tin. These products look just like the real thing and give you high-end looks on a lower-end budget.
You can also get this same design (and other faux tin designs) in the aluminum color. The bronze color will run you a bit more on the budget end of things, regardless of whether it is faux or not. Keep that in mind when shopping for your faux tin!
Shop the different faux tin looks here!
---
A Penny for Your Thoughts
One of the most popular metal backsplash designs is the penny look. These metal backsplashes are made to resemble pennies laid flat and stuck on the wall. They come in a variety of colors from aluminum to bronze, which gives you the ability to customize your pennies to match your home's décor.
This is an example of a stainless-steel penny-inspired metal backsplash that is sure to leave your guests speechless. It is timeless, striking, and durable wrapped into one backsplash. You will have a backsplash that will last for many years to come with this metal backsplash choice!
---
Bringing Back the Basics
There is nothing wrong with bringing back the basics when it comes to design and décor, especially in a kitchen.
Back before DIY backsplash installations were actually a "thing" in our culture, industrial kitchens such as the ones in restaurants, schools, and other large facilities used large sheets of stainless steel as their backsplash.
Why is this such a popular metal backsplash idea? Because this style is not only durable and flame-resistant, it is also easy to clean. Homeowners decided to bring into the home many years ago and the idea has stuck around.
The reason for the enormous sheets of stainless steel sticking around in the kitchen décor department is two-fold: homeowners enjoy an easy-to-clean material and they like to keep their budgets low. Because this material is flat and straightforward, homeowners do not have to pay extra for the design work as seen in other metal backsplash designs.
---
Subway Tiles Coming Your Way
Kitchen backsplashes and bathroom backsplashes alike have both become synonymous in the world of mainstream media with subway tiles. Many homeowners think of the subway tile design when they think of a backsplash.
For many years, this was the go-to backsplash design. It was easy to install and it looked elegant. There was no question that anyone with this type of backsplash was high-end.
Since the rise of the subway tiles popularity, companies started making these tiles in the stainless-steel material. This made them great for the kitchen—easy to clean, highly durable, and exceptionally pleasing to the eye.
You can now have your own stainless-steel subway tiles as your new metal backsplash design! Your kitchen will certainly thank you.
As you can see your options are endless when it comes to finding a metal backsplash that fits both your design and functionality needs. Take your kitchen to the next level with a new metal backsplash!