Whether you are planning to breathe new life into your home with a renovation project or want to give a commercial space a memorable new look, ceiling tiles are an affordable, practical, and attractive solution.
Chances are that where you are currently sitting has a boring, plain white ceiling. This is because ceilings are almost always neglected when people are decorating or designing a room. When you acknowledge that ceilings cover just as much surface space as floors, it really is surprising how rarely they are considered.
We spend so much time thinking about flooring options and determining the best ways to decorate our walls while ignoring the potential of our ceilings. Below, we're going to explain how giving your ceiling some much-needed attention improves the overall look of your home or business. We will also highlight one of the most effective products you can use to make your ceilings stand out – faux tin ceiling tiles.
---
What Are Faux Tin Ceiling Tiles?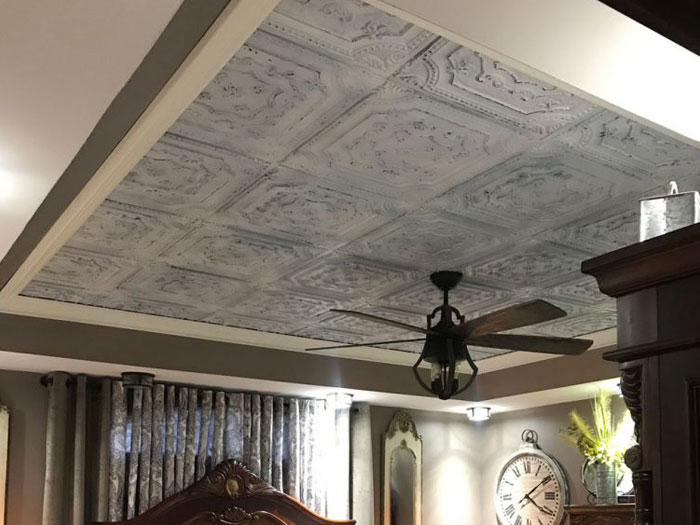 Essentially, faux tin ceiling tiles are high-quality decorative ceiling tiles that replicate the luster and appeal of real tin using more affordable materials. Tin ceilings have been around since the late 19 th century and their appeal has really stood the test of time.
Tin ceilings were originally introduced as an alternative to the expensive decorative plaster ceilings found in luxurious European homes. During the 19 th century, most homeowners could not afford to hire a professional craftsman to create customized and complex patterns on their ceilings. As a result, tin ceilings were developed and proved to be an attractive alternative.
Thin sheets of rolled tin could be imprinted with decorative designs and then painted white to resemble hand-carved plaster. Tin ceiling tiles went from a cheap substitute for real plaster to a popular ceiling surface in their own right. Not only did the tin ceiling tiles have trendy reflective properties that were beautiful to look at, but they were also durable, lightweight, and fireproof.
Over 100 years later, tin ceiling tiles remain a beautiful option for ceiling décor but, today, real tin is rather expensive. This is where faux tin ceiling tiles come in. They allow you to recreate the vintage aesthetic of a real tin ceiling, affordably and hassle-free.
---
What Are The Advantages of Choosing Faux Tin Tiles Over Real Metal?
There are a number of reasons why you should choose faux tin ceiling tiles over those that are made of real metal.
Affordability: As mentioned, faux tin ceiling tiles are much cheaper than those made of real tin. This is because the materials used to make faux tin ceiling tiles are cheaper. You get a high-quality ceiling tile that is almost indistinguishable from real tin at a much lower cost.
Faux Tin Does Not Echo: Because faux tin is more sound-absorbent than metal, you do not have to worry about sound waves bouncing down from your ceilings. While beautiful, real metal ceilings alter the acoustics in a room. With faux tin ceilings, you get all of the beauty without having to worry about how sounds are impacted in your space.
Ease of Installation: Faux tin ceiling tiles are designed to be extremely easy to install. They can be dropped into an existing suspended grid network or directly glued or nailed into any ceiling. Unlike real tin, faux tin ceiling tiles are also easy to cut so it's easy to alter their size while on the job.
Lightweight: These tiles are also much lighter than real metal tiles. The PVC and styrene material that faux tin ceiling tiles are made out of is much lighter and easier to work with than tiles made of real tin, aluminum, or copper.
They Are Fire Rated: Much like real tin ceiling tiles, faux tin tiles have fire-resistant properties. Having a class A fire rating means that faux tin ceiling tiles are safe for homes and approved for commercial installation.
---
So, How Can You Make Use of Faux Tin Ceiling Tiles?
Faux tin ceiling tiles are much more versatile than you might think. You have the option to completely cover your ceiling with attractive faux tin tiles to give your space a uniform look or you can use them to highlight a specific ceiling space. We often see our faux tin ceiling tiles used above a bar or kitchen island to draw attention to that particular part of the room.
Of course, these tiles can be used to give any room a stunning and memorable ceiling but you should also consider using our faux tin ceiling tiles to create an eye-catching accent wall. The reflective properties of our faux tin can easily direct focus and highlight a particular wall. Since you can choose to install our faux tin ceiling tiles using either an adhesive or with nails, they can easily be added to your walls.
Because the intricate designs of the tiles and their reflective glow naturally draws the eye, they can be used to create a vintage-looking backsplash in a kitchen or behind a bar. This works great in restaurants and bars where you want your space to have a memorable atmosphere that will encourage your guests to return.
---
Get Inspired And Browse Your Options
We invite you to visit our online shop and find the specific faux tin ceiling tile that fits your particular space. There are so many options to choose from. We offer a variety of patterns that range from vintage to contemporary. If you want to give your space a more traditional look, choose a faux tin ceiling tile in one of our many classic patterns. If you prefer a more modern aesthetic, there are plenty of faux tin ceiling tiles available in more subtle patterns.
Do not overlook the potential of your ceilings. Unlock the beauty of the "sixth wall" and make your space stand out by choosing one of our many beautiful faux tin ceiling tiles!