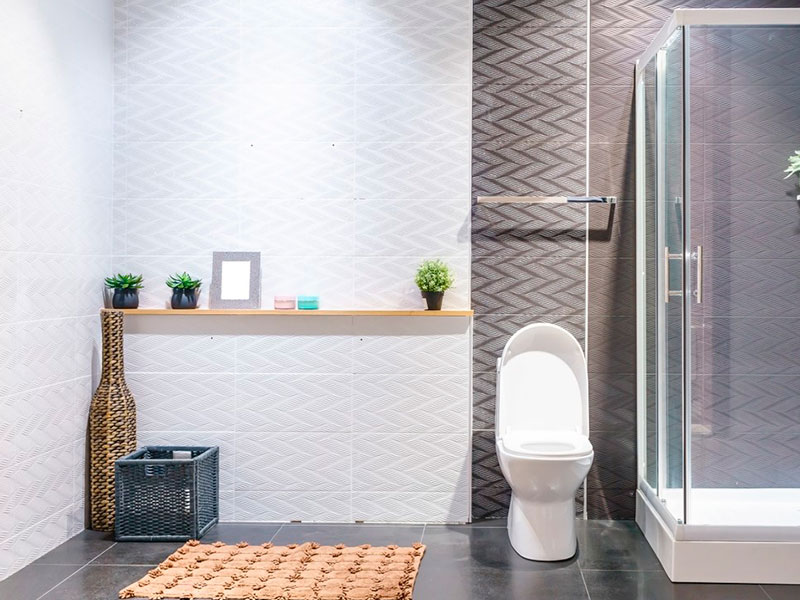 Want to upgrade the look of your bathroom? Consider shower wall panels. They are easy to install, don't require grouting, and offer eye-catching 3D designs.
When you want to invest money into your house, you should start with the bathroom. According to Zillow.com, homeowners can expect to see an increase of USD 1.71 for every dollar spent in a bathroom. You can add different window treatments or swap out the vanity top, but for a simple way to increase value, consider installing shower wall panels.
Things to Consider
The biggest factor in choosing shower wall panels is waterproofing. You must ensure that you seal the shower enclosure panels where they join to prevent water from coming through. You can use regular sealant or sealing strips to keep everything watertight.
For joints and trims, ensure they come directly from the manufacturer. This will guarantee they fit properly and work as designed. Shower wall panels cannot be over-sealed. Every joint and corner need to be done properly.
Format and Size
You can purchase these bathroom wall panels in either panels or strips. Both are extremely easy to install. If your bathroom has smaller areas, you may want to consider strips rather than paneling. The average width for paneling is generally 1,000 mm. However, the range can be 600 to 1,300 mm, depending on the manufacturer.
Height ranges from 2,000 to 2,400 mm, which is the standard height of a bathroom. Taller panels can be custom-made. If you are doing only the shower area, you will only need two to three panels with the joining trim.
Finishes and Style
There is a large variety when it comes to the style and design of shower wall material. Even if you purchase a more economical brand, there will still be a vast selection.
Currently, brick and monochrome shower and tub wall panels are gaining popularity. However, what you choose will come down to personal taste. Many homeowners opt for bold, bright, vibrant colors that make a statement in their space.
Brick/Tile Wall Panels
These types of panels add dimension to the shower. Therefore, this style has gained popularity. It creates the illusion of brick tiling that is alluring for this type of space.
Shower Wall Panels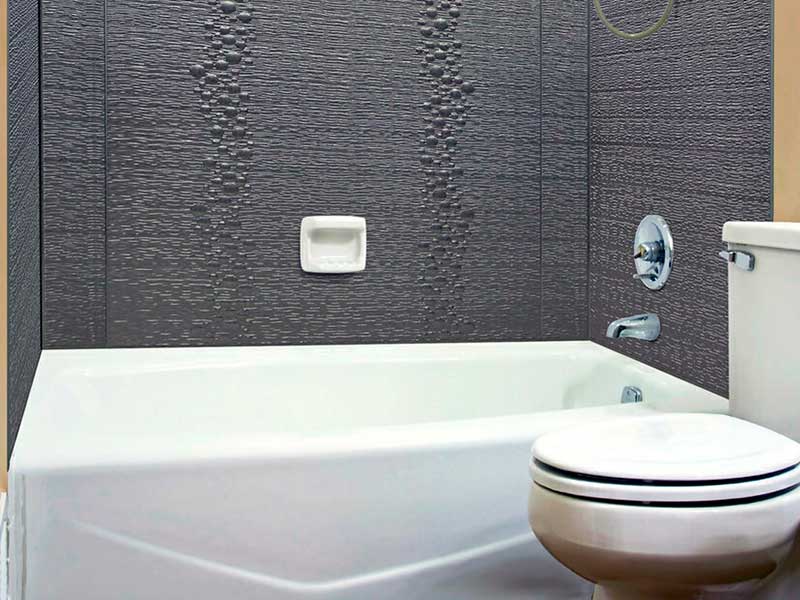 In terms of material, there is a wide variety to consider when it comes to wall panels. As with everything, there are pros and cons to each. You should carefully consider each option before choosing which one to install in your bathroom.
Laminated Wall Panels
This type of shower wall panel is the perfect solution for those who do not want to use flimsy sheets of tiling but cannot afford ceramic tiles. If you already have the right tools (track saw, circular saw, or jigsaw), installing this type of paneling is easy.
This type of material has become very popular over the years. Therefore, the selection is diverse. The downside is that the panels are heavy, so you may end up wanting the panels shipped directly to your house.
Pros:
Deemed to be a high-end shower choice
Authentic in appearance as it comes in marble, matte, or stone finishes
Easy to keep clean
No visible water spots
Backing is composed of marine-grade plywood with an accompanying vapor barrier
Cons:
The highest quality panels are extremely heavy
May be double the cost of acrylic
It may not have pre-bent ends
Acrylic Wall Panels
For a very slim shower panel, choose acrylic. These boards may be up to 5 mm thinner than any other material. However, since they are densely constructed, you may discover that they are heavier than ones made from PVC. This is because they have a solid core.
Pros:
Can be semi-transparent, giving more variety
Comes in bold colors
Durable and hygienic
Cons:
PVC Wall Panels
If you are on a budget, PVC is the cheapest material on the market. Since it is the most common synthetic plastic and can be formed into many shapes, it is ideal to use.
Pros:
Most lightweight material as it uses vertical cuboid construction
Lower price does not affect the quality
Can be used commercially and residentially
Cons:
Cannot be used on entire rooms, but can be used for cubicles
Easier to damage
This type of board is flexible and can cause the silicone to break, causing leaks
The Best Shower Panels
These panels complement the natural aesthetics of any bathroom and have six natural designs, giving you a lot of options. Most are PVC, so they are high-quality and waterproof.
To add a little dimension to the area, you can also use Wavation, which has more of a dimensional, soothing appearance. It is made from PVC, can be glued up, and covers 96 square feet.
Those with a more classic decor will appreciate the use of herringbone tiles. It provides a more traditional feel to the shower enclosure, plus it looks like tiling without all the effort. It is also made from a lightweight PVC and comes in 96 square feet of coverage.
You can add a touch of sophistication by using sparkle or marble bathroom wall panels. Tongue-and-groove fittings ensure watertight seals without needing any grout.
For smaller bathrooms, add a bit of height by using Crossroads PVC wall panels. Their vertical design creates the illusion of height and grandeur, opening small spaces up visually. These tiles are non-porous, grout-free, and durable. You can use them either residentially or commercially.
And the best for last, subway shower wall panels.
These are just a few suggestions when it comes to shower wall paneling. The main benefits to this type of shower wall panel are that they are easier to install, do not require any grouting between tiling, are lower maintenance, and are waterproof. Homeowners appreciate not having to reseal and grout their shower stalls frequently.
With a wide variety, including three-dimensional selections, shower wall panels are becoming increasingly popular over time. Homeowners can select from three different types of panels, and there is a style suitable for every bathroom renovation.