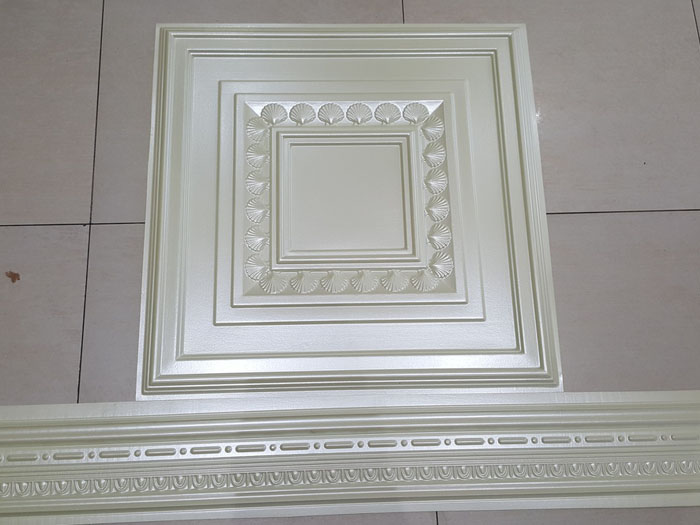 While there are lots of designs to choose from in the area of discontinued ceiling tiles, there are also lots of options on how you can use them. While the obvious first choice would be to apply them to the ceiling, you can also use these tiles to cover walls or create backsplashes. There are many household decorating ideas you can find to highlight these discontinued ceiling tiles and to give a room its own personality.
---
Ceiling
The main purpose of most of these tiles is to decorate and update a ceiling. To choose the right tile, you need to assess the room, whether it's located in a business or home, and how big of an area you want to cover. If you're going for a room that has a classic dining area look, maybe using a white ceiling with a square of center tiles to frame it nicely. Or, opt for an outside border done in wood which can also look nice. While many of these ceiling tiles look classically stylish, there are lots that can push the limits of a room by looking modern and fun. These are great for rooms that need a little more pizazz added to them.
---
Wallcoverings
Wallcoverings are as easy to choose as ceilings and work under the same guise of design. Depending on the room and its uses, perhaps go with a white ceiling accented with wood tiling on the walls to give a library-style look. Using more modern tiles can be a great way to perk up a board room or somewhere that is up and coming in its business. You want to wake people up with these styles, not make them feel cozy.
---
Backsplashes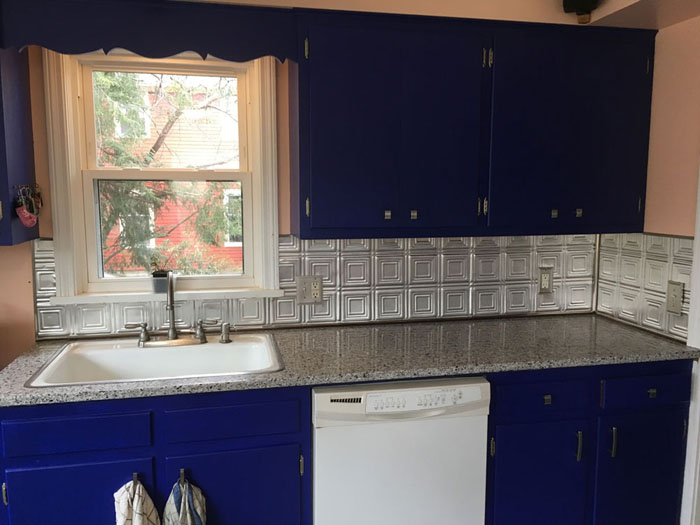 Backsplashes take the most thought when it comes to styling with ceiling tiles, however, you will probably have even more luck finding something in the discounted area that works. It's a smaller area to cover meaning that if there are smaller batches of discontinued batches available, you can work with them. Small batches won't be useful for larger ceiling and wall projects but a backsplash in a kitchen or bathroom may be perfect for a smaller discontinued tile purchase. Smaller designs might look nice or maybe something that sets off some color in the room. There are lots of stylish and fun options to look at.
---
Choosing How to Install your Discontinued Tile
When you decide on a tile that you think suits your home or business, you need to be sure you feel confident in how to install it. You have to make sure you know how many tiles you need and if you need extra in case of mistakes. The reason this is important in these particular cases is that you are working with a limited amount of discontinued tiles. The last thing you want is to get halfway through a project and realize that you don't have enough tiles or if you end up ruining some and can't put them up. Using a tile calculator and making sure you add in 15% for waste should help to make sure you are on track with the right amount of tiles.
Knowing how to install is crucial in making sure you meet your decorating aspirations and making sure you have the tiles you need. Tiles can be glued up, nailed up, or drop-in. When using discontinued tiles, there isn't a lot of wiggle room for mistakes. You also have to be sure not to buy a tile that doesn't fit an area properly or can't be mounted in the way that it's supposed to be.
Glue-Up
When you purchase your tile, make sure that it is designated as glue-up if this is the way you want to go. These types of tiles are fairly easy to place as long as you have measured and have the right glue to put them up. You probably want overlapping edges for a smooth look. There is little cutting involved so you should be able to keep waste to a minimum.
Nail-Up
These types of tiles will take a little more work to put up, especially if they are metal. There has to be a solid backing placed first such as plywood and then the tiles need to be centered and installed. If it is going on the ceiling, you may need help simply to make sure they are in place while you nail them in. If these tiles do happen to be metal, you will need tin snips to cut them when needed. Again, not always simple and can cause waste. Make sure you understand all the needs to happen for nail-up tiles so you are comfortable before starting. Make sure to include waste in your calculations when purchasing discontinued nail up ones to make sure you have enough.
Drop-In
This is probably the easiest install if you already have drop-in tiles in place and are simply replacing them with new ones. You simply choose a drop-in tile and make sure they fit the system already in place. This works on ceilings well but not for walls or backsplashes. If you want to use drop-ins for the latter, then you will need to make sure they are designed to be mounted in a secondary way through glue or nail up. Many tiles offer more than one way to install them, so this usually is not a big issue when deciding how to approach the install.
---
Discontinued and Clearance Bonus Buys
People who are good at innovative decorating know you don't always have to pay top dollar to get a quality product that looks great. With a little bit of research and patience, you can have a great look in your home or business without going into debt. With careful planning, it should be fairly straightforward to find tiles that will suit a ceiling, wall or backsplash in any room you want to spruce up. You can set the tone of a room by starting with a tile that brings color, function, and style together. Whether you are looking to make a house a little homier, a business a little less clinical or a store more stylish, this is doable simply by looking for tiles that have some personality. Before you jump in and spend money on new tiles, take a peek at the clearance section and you may be pleasantly surprised with what you find and how you can take your decorating to a new level on almost any budget.