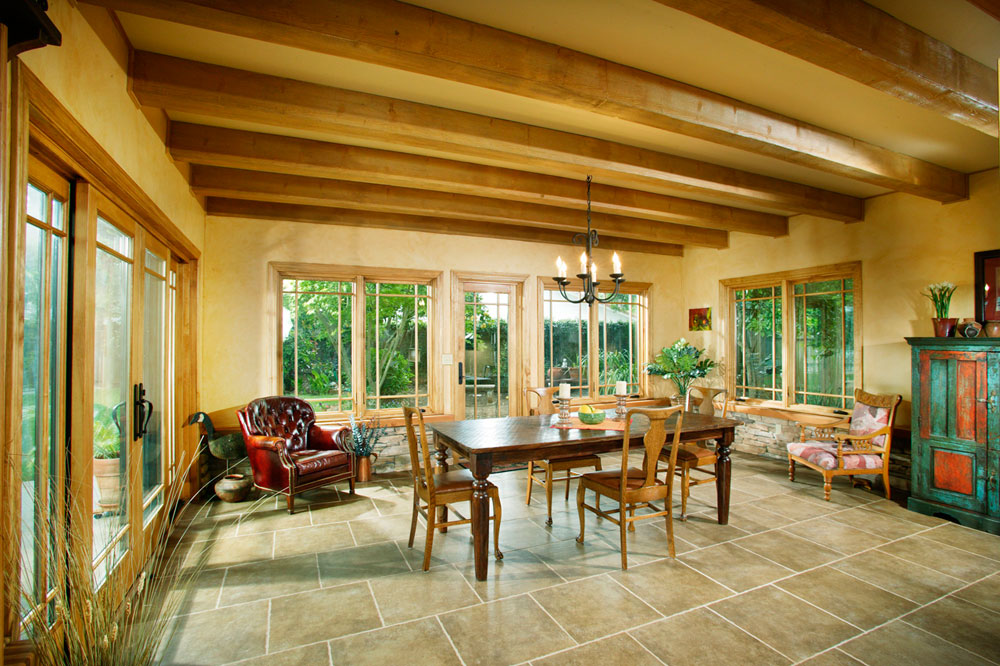 By revamping your ceiling using plank wood, you're well on your way to having a decorative focal point. Whether your décor is rustic or formal, eclectic or traditional, a planked ceiling adds textural contrast to any wall or floor and enhances a room's visual appeal.
When it comes to plank ceilings, you know you'll be getting a versatile idea as this theme can look good in any room – whether it's for your living room, dining room, kitchen or basement. Long gone are the days where wooden planks were used only for your floorboards. These days, there's a modern trend in which people are decorating their walls and ceilings by using this particular style. Homeowners are finding it's a great way to create interiors that are clean and modern yet still have a traditional warmth.
Why go with faux wood planks?
There are several reasons why investing in faux wood planks are much more practical than opting for real wood. Firstly, just like real wood, faux wood planks and panels are stunning, so you're not losing out on the level of beauty.
Furthermore, they are designed to last, so you know you'll be investing money at a good price and for long usage. As they are generally made from high-density polyurethane, they can be used inside and outside with no maintenance. With this durable material, you will never have to worry again about warping, termites, fading, splitting or rotting – just like your wood if you decided to install real wooded planks.
Another reason for opting for faux wood planks is that you could save yourself a heck load of hours of installation. Compared to installing a real wood plank, faux wood planks can be put up in a fraction of the time. They are lightweight which makes them easy to handle and they can even be installed by one person. There's no special equipment required - the panels can be sawn, drilled, routed, glued, screwed and fastened with ordinary carpentry tools.
Lastly, and as we've already touched on, wooded planks are versatile when it comes to your home's décor. Typically, wood as a home décor can come in several forms. It can be in planks, panels, and anything that you want your interior design to look like. This is why installing a wood plank ceiling is always worth a try. Moreover, this style of the ceiling can hide imperfections found on the central ceiling and can even cover your electrical wiring.
---
What to know before purchasing faux wood planks
Like anything, there's never a good reason to invest in something so important without carrying out in-depth research on the product you're about to buy. In this case, it's good to know what styled faux wood planks are best to invest in. This is the first step while taking full advantage of the aesthetic benefits.
Acoustic benefits
If you're looking for a way to block out irritating noises, then plank ceilings can certainly help with that. The ability of real wood to block out noise translates to the even more durable HDF (high-density polyurethane foam) faux wood variant. By both deflecting and reflecting the sounds that emanate from a room, they keep the conversation between the intended people and create a quiet workspace.
---
Ideas for your plank ceiling
Replacing damaged drywall:
If you've noticed that your drywall ceiling is looking like it needs serious work, then the idea of installing planks can cover it up fast and effectively.
Light, versatile Volterra ceiling planks install right over popcorn or textured, plaster ceiling, and can even cover an existing drop ceiling – completely hiding it. The planks are perfect for decorating damaged or plain drywall ceilings. These medium-density fiberboards, wood-look planks are prefinished for a far easier fix than repair or replacement.
Tray Ceiling:
This particular style resembles an upside-down tray – hence the name it has within the decorative world. A tray ceiling tends to feature a one-inch to a one-foot deep recessed region with a flat or sloping roof that attractively showcases lighting fixtures or fans.
To generate a stylish looking tray ceiling, the addition of faux wood planks will go a long way in making your room look elegant – while adding more height – creating more space for you to enjoy.
If you're adamant in wanting a grid-like pattern on your ceiling, then wood plank ceilings in a coffered structure will certainly match your desire. A coffered ceiling is similar to tray ceilings, but instead of showing off a single recess, they showcase various square or polygonal recesses punctuated by exposed beams.
Covering up a drop ceiling:
Wooden planks will generate a unique and custom look in your home. They can be stained to any color that you want so that they can mirror the wooden floors in your home or act as a contrast to other design choices that make up your home.
Depending on the length and width of the wooden planks that you choose, you can create the deception of a longer or wider room, without actually changing the dimensions of your space. Smaller wooden planks are light enough that you can install them by yourself.
Depending on the kind of wood that you choose for your ceiling, you may be able to complete this project while making sure you stay within your budget. A wooden ceiling will create a rustic feel in your home, which is great if you live in a cabin or in the woods and want to draw attention to your décor choices. When finished correctly, you won't have to worry about water damage, as long as there is not a lot of water that has pooled in the ceiling.
---
Conclusion
There's no doubting that a wood plank ceiling can make your house look more refreshing and beautiful. Whether you do install it on your own or hire a home remodeling service contractor, investing in it can be an excellent decision for you and your home.