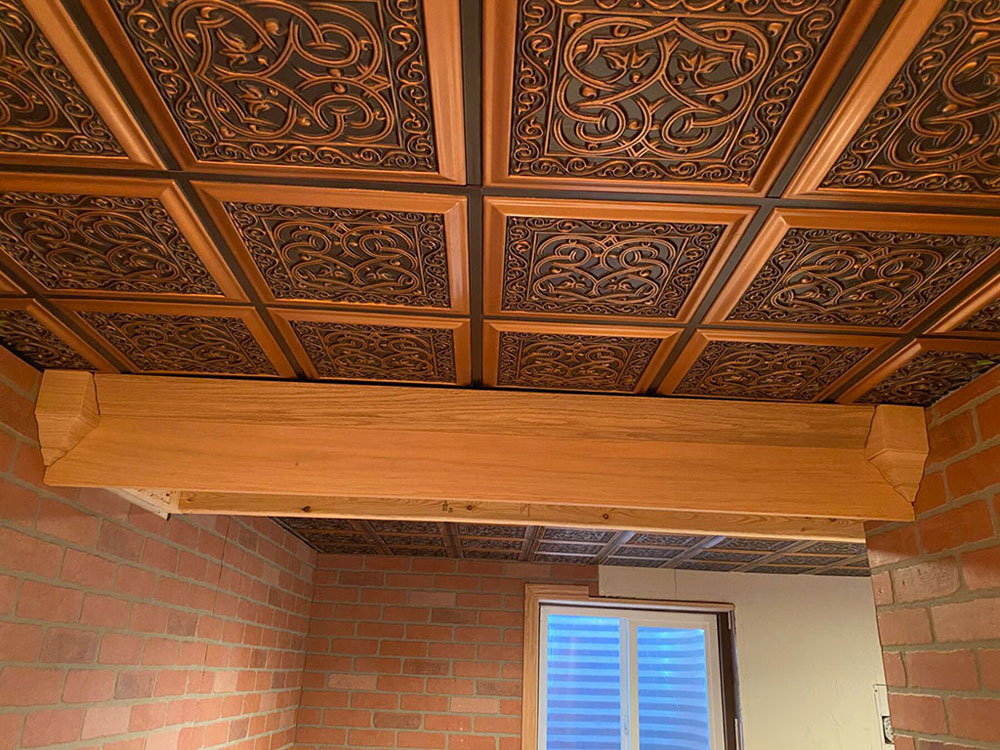 When it comes to the decor of your man cave, think about both practicality and style. A man cave is supposed to be a place where you and your friends can get loud by blasting the TV and not having to worry about disturbing any outsiders. We recommend you consider faux-tin or polystyrene ceiling tiles because they are cheaper and the installation is simple. Each material has the additional advantages of being lightweight and virtually maintenance-free with superior sound absorption.
Whether you're setting up a basement bar, ping pong table, or poker table, the perfect man cave is the one that works best for you. So, grab a beer and a bottle opener, kick back in your recliner, and get ready to think about decor. Here is a list of ideas to help you put together the perfect man cave:
Rustic Metal Tiles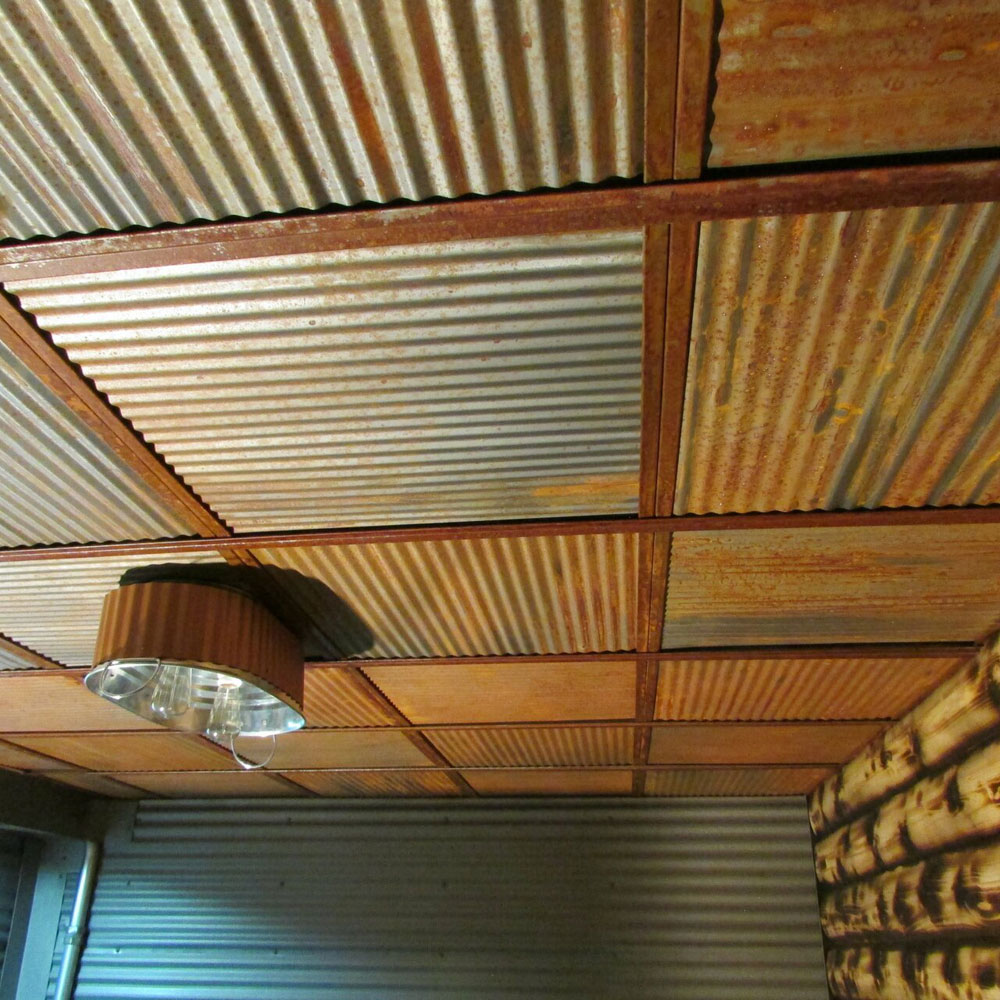 These tiles are an excellent way to make your ceiling look vintage yet natural, even in a garage man cave. Folded metal roof tiles come in varieties like Galvalume, Rusted, or Antique Galvanized.
If you're a DIYer, then you're more than capable of putting together a ceiling made out of corrugated metal. If you're a beginner but willing to give the installation process a go, then it's definitely within your reach.
Here is are our Colorado Rustic Collection:
Rusted. These tiles are pre-rusted and made from an accelerated spray-on rust treatment. The spray technique provides even coverage so the rust is equally dispersed across the surface. The final look includes an even layer of copper with rust shads, which coincide with a variety of blues and grays that you'd get from the antique style.
Galvalume. This material includes steel, light, dark, semi-sheen varieties as well as those with no rust or shading.
Antique Galvanized. These tiles feature hardened, dark gray interwoven seams for a cool weathered look.
Faux Leather Wall Panels
If you're searching for a gorgeous and modern accent wall for your man cave, then consider placing faux leather wall panels. We have a huge selection of faux leather interior wall panels for you to choose from, including some of the best styles on the market.
Wall panels are an excellent addition to most rooms, but they are a great choice for your modern man cave because they give it that extra cozy feel. Faux leather wall panels are becoming incredibly popular for various reasons, including:
Elegance & Affordability. When you choose faux leather, you're not getting real leather, and the price reflects that. Despite being more affordable, you are still installing leather panels that have a stylish perfection, making the walls pleasing on the eye for you and your guests.
Easy Installation. These panels are very easy to install, so even if you are a beginner, it shouldn't be a problem for you. Each panel is lightweight, especially when compared to real leather panels. When you install wall panels, remember that the lighter the panel, the easier the installation. The panels are also less likely to come loose or fall off because the adhesive is strong enough to hold them in place.
Maintenance. If you would rather go with real leather, consider this: you will spend more time cleaning real leather than you anticipate. With faux leather, this is not a concern. They just need a little soft cleaning with a cloth and some clean water. When it comes to natural leather, though, more effort is demanded. You'd need special leather treatment products and multi-step processes on an ongoing basis to keep them looking their best.
Colors. Faux leather wall panels are made to emulate natural leather, so you can expect to find faux leather panels in the same colors as you would find real leather. There are so many options to choose from, whether you're partial to black, white, tan, or even a darker shade of brown.
Versatile. Faux leather panels are extremely versatile and can be used to spruce up many rooms. Consider the color scheme and other design aspects before deciding on your final design.
Residential-friendly. As you're looking to decorate your man cave, you'll be glad to know that faux leather panels are ideal for creating a luxurious room. If you intend to have high-end furniture and fixtures, use a faux leather wall design to elevate them.
Creating an Accent Wall. If you decide to go with faux leather panels but are not sure about covering every wall with them, note that accent walls are extremely popular with this particular material. If you're in the process of designing your man cave, decode which wall is more suitable as an accent wall, then begin installing these elegant and luxurious panels.
Copper Ceiling Tiles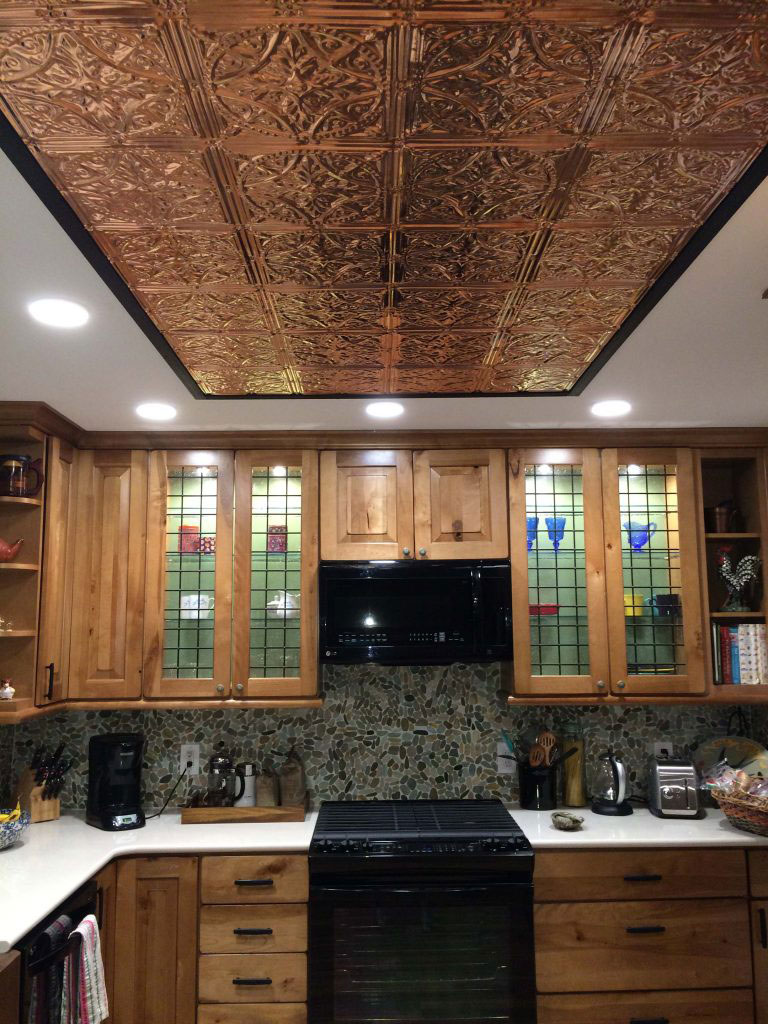 When it comes to copper ceiling tiles, it's very easy to create the illusion of a larger, brighter room. By having intricate designs, copper ceiling tiles recreate vintage tin ceiling patterns. Some flourishes include botanical motifs, scrollwork, and beading, and they all make a richly textured focal point.
The color of copper adds a sophisticated flair that captures attention. Furthermore, it enhances most decorating schemes with warm undertones. The metallic finish also shines with a reflective glow which opens up the space, making the room appear larger and full of energy.
Why are copper ceiling tiles good for man caves? Not only do they deliver an impressive glow and an elegant feel, but the process of installation is also incredibly easy. You can install them in a drop-ceiling grad or directly to your existing ceiling with cone head nails.
Man caves are a space where hanging out with your friends feels homely and comfortable. Using one of these ideas for your decor helps to achieve the perfect feel and atmosphere, as long as you plan accordingly.