Who said that office spaces had to be boring? The thing about offices is that they are not typically equated with words like "fun" and "exciting." It is a space that is more synonymous with words like "boring" and "stuffy."
Luckily, the world of design has found a way to bring life to any office space! Introducing decorative wall paneling. This wall art is a unique, innovative way to ditch the paint and bring excitement to the home or workplace.
---
What Are Decorative Wall Panels?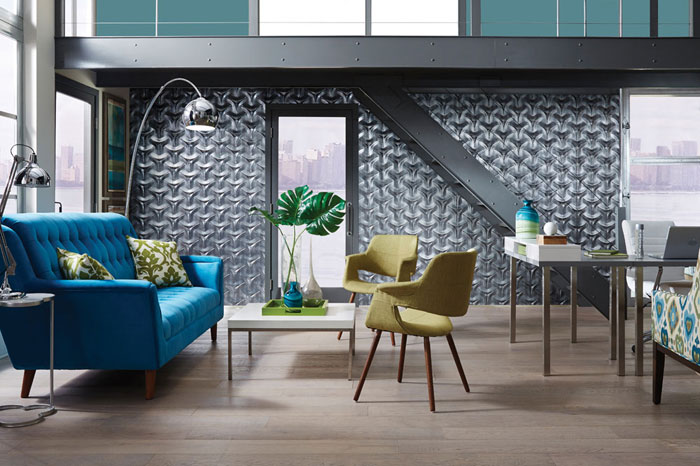 Like with the ceiling, we don't typically think of panels when we think of wall decor. Why? Because the 1970s ruined even the thought of paneling for a lot of people! Wood paneling was a hot trend during the '70s. However, decorative wall paneling has come so far since those wood-loving (or loathing) years.
In fact, wall panels are now made from a variety of materials, in more colors than you can count, and in shapes and sizes that you never imagined.
These options leave the world of wall design open to many different interpretations. It is good to have options, especially options that are aesthetically pleasing.
Faux leather, bamboo, and PVC/faux tin are three of the most popular materials decorative wall panels are made of. The nice thing about these materials is that they are relatively easy on the wallet. You get the same look as the real material with faux materials but for much less money. This is great for walls that need large surface areas covered!
---
How Can Decorative Wall Panels Improve a Space?
If you have decided that decorative wall paneling is the interior design option you want to use, then here are a few ways they can improve any space in your home or office.
Hide Imperfections
If you don't have the time or money to completely resurface your home or office walls but want a viable way to hide imperfections, you can use decorative wall panels. You can install a decorative wall panel directly to the existing walls without making any repairs ahead of the installation.
The wall panels made today are durable, long-lasting, wear-resistant, and require very minimal upkeep. Once in place, they also offer great protection for your walls against any additional wear and tear.
Make a Seldom Used Room More Livable
Wall panels can be installed in any room of the home but can be particularly advantageous when you are looking for affordable ways to convert a room into a more livable space. An unfinished basement, for example, is the perfect canvas for decorative wall paneling.
Some wall panel options offer insulating properties and can withstand the damp conditions in a basement. Looking to create a home theater? Use dark-colored wall paneling or panels with texture to create an inviting and premium home theater space.
Save Money
When you make a list of all the home improvement projects you want to get to, the maintenance and repair costs can really add up. DIY wall paneling ideas can save money in the long run. Choosing more cost-effective materials over expensive ones and doing the installation yourself can save a good chunk of money that can be used for other things.
---
Oh, the Places You Can Decorate!
No one said that decorating an office was easy, but it can be fun. Decorative wall panels have a way of bringing life and character to an otherwise lifeless area. They can make a wall or walls focal points. These conversation starters can impress clients, shoppers, or even potential investors. They will pay for themselves in no time. Here are some wall paneling design for office spaces you are sure to love.
Lobby/Reception Area
How many times have you walked into a lobby or reception area of an office building and felt immediately drab? That's because most offices opt for the easy (and least expensive) option of painting their walls a neutral color that they can accentuate with furniture or wall hangings.
However, adding decorative wall panels to the lobby/reception area could change the entire space (and feeling) almost immediately. Impress your visitors/clients/potential investors as soon as they walk in the door.
Take a look at an office in Chile that used decorative wall panels to transform their waiting area.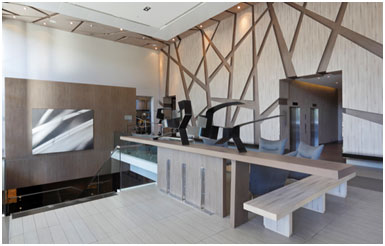 Conference Rooms
Sometimes, conference rooms bring out the worst (but hopefully more often the best) in people. But that doesn't mean the look of them should, too. An office space in Mexico City decided to take their conference room to a whole other level with decorative wall paneling.
They transformed the space by giving it character as well as an open feel. They are more like dividers rather than walls that shut others out. This looks like an inviting, creative, and collaborative space to house any meeting.
Office Spaces
When you're working a majority of your day in an office, you want it to feel like home—a place you can enjoy being in for extended periods of time. Decorative wall panels are great for that very purpose! Although the decorative wall panels below don't take up the entire wall, they do give an element of surprise and excitement to an otherwise boring area.
The Lounge
Maybe your office is looking for a hip place to eat lunch together, and your old lounge isn't cutting it. That's not a problem with decorative wall panels. In fact, if you are in a noisy office building that has noise coming at you from all different angles, you might like the idea of acoustic panels that diffuse sound (not necessarily absorb it completely). Whatever is happening outside of the lounge walls will sound a lot less loud inside with these decorative wall panels.
Accent Walls
Your office may not be large enough to have an entire area decorated with decorative wall panels. However, you might be able to afford to make one wall the focal point of the entire office.
Picking something unique, colorful, durable, and practical are all important factors to keep in mind. However, having an accent wall could make the space feel more inviting for those visiting the space for the first, third, or twentieth time.
---
Don't Stop at the Office
Most of your day might be spent at your office, but that doesn't mean you have to keep the decorating all at the office. Decorative wall panels are great for the home, too. They can take your painted walls to a whole other level.
The Bedroom
Escaping to your bedroom after a long day at the office is what you dream about all day long. Why not make the bedroom a place where you are also equally stimulated aesthetically? You could go with something larger and more obvious if your space is large enough for it.
These could be done in a few larger pieces rather than many smaller pieces, potentially saving you money. The material could also be determined on the space—smaller spaces wouldn't get heavier materials like faux brick or faux leather. Small spacers might benefit from lighter materials like bamboo and PVC.
You could also opt to use the decorative wall panels as your headboard in either your master bedroom or guest rooms. Unique materials make for great headboards because they are the focal point of the room. Your bed is often the center of the room, which makes having the decorative wall panels as your headboard a perfect design option!
Spruce Up the Family Room
Elegance is not lost on the living room. It may be a place where you spend the most time with your family, which might make it seem like a less-than-worthy area to focus your design efforts on. However, that's not the case! You can transform your family room from a place that feels uninviting to a chic living area for everyone. It is possible to have style and functionality in one room.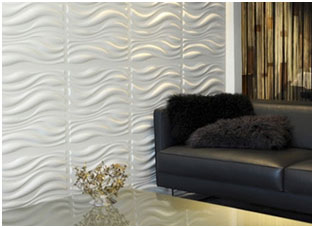 Cozy Up the Dining Room
Want to make your dining room walls stand out while giving the space a cozy and homey feel? You can mix ornate and textured wall panels in the dining room to do just that. Choosing the right colors can also give a minimalist dining room more character and dress up neutral colors to add warmth.
Chic paneling in a neutral color combined with natural materials like rattan chairs and ceramic home decor items can create a sleek and almost Scandinavian-styled dining room.
Mix neutral shaded wall panels with wooden and brass elements for more elegance. Metal and wood always blend beautifully in a room, and the muted wall panels in the background bring everything together.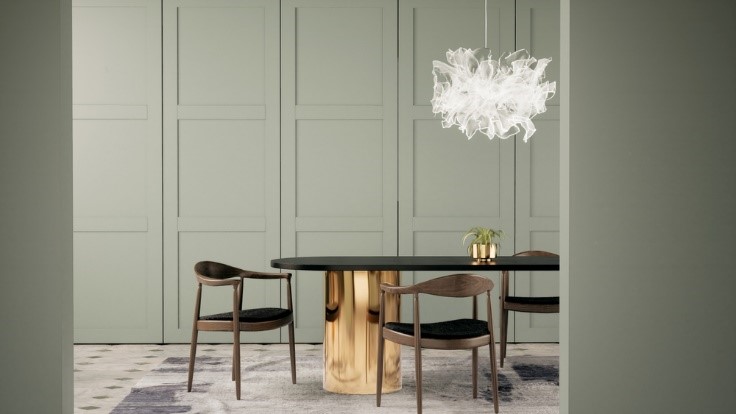 Modernize the Bathroom
Taking a bathroom wall to the next level is often easier said than done. However, if you have the right wall paneling in your arsenal, you can create a modern bathroom or cozy bathroom space, perfect for a long soak in the tub and some much-needed relaxation.
Faux wood paneling is a great alternative to tile. It allows you to make a statement in the bathroom without the high cost that often comes with traditional bathroom tile options. If you have unsightly pipework or plumbing in an older bathroom that you want to disguise, our decorative wall paneling is a moisture-resistant and suitable material to use.
---
Faux Wood Paneling Makeover Ideas
If you love the natural look of wood and want to use a wood panel wall to transform a space, then we welcome you back to this classic design option for the home. However, leaps and bounds have been made since wood paneling was used years ago, and when done right, it is a stylish and timeless interior design choice.
Pair Wood Panels With Warm Tones
Decorative wood paneling pairs nicely with warm accents. It also complements a rich color like burgundy and natural tones like tan and beige. Wood panel combinations like this create a warm and inviting space.
Whitewash Your Wood Panels
If you want to highlight the wood grain of your decorative panels and give them more texture, consider whitewashing them. Water down your paint, brush it on and then wipe it off the panels immediately. You can repeat these steps for each wooden panel until you reach the color you want.
Real solid wood panels can be pricey. For this reason, we recommend faux wood planks for a home interior. You can choose different color options, including some that appear more rustic and weathered. You can also find reclaimed and vintage options or choose a custom finish.
Faux wood planks can be cut with scissors, making installation quick and easy. They are affordable, lightweight, long-lasting, durable, and will not rust.
Use Wall Panels as a Background
Wall panels are not strictly for wall decoration. You can also use them as a decorative backdrop for a bookcase in your living room or office space. You can then add your books and other home décor items to bring the look together.
Balance Color
Horizontal wall paneling can be used on white walls to help balance out brighter colors you have in the space, like oranges, pinks, and blues. It is a farmhouse-inspired look with a twist.
Achieve Simplicity
A more minimalist style is sometimes the best way to go if you want a change but don't want to be too extreme by covering an entire wall. Keep the wall decoration in your space simplistic, and instead, use your decorative paneling to dress up a fireplace and make it the focal point of the space.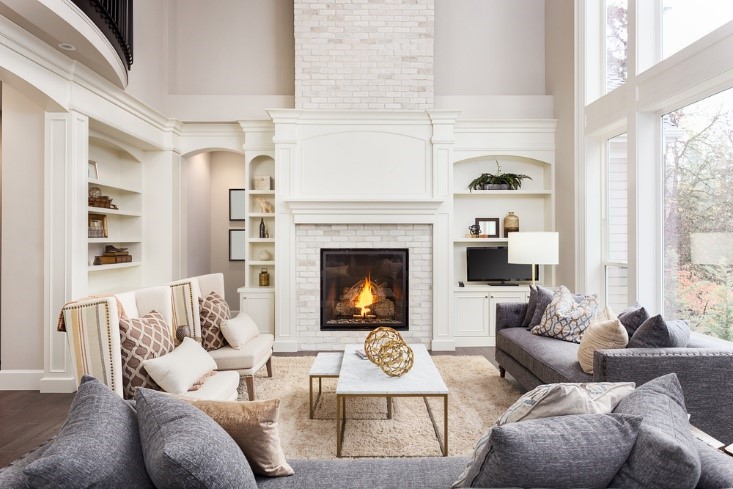 ---
Spruce Up Your Interior Design with a 3D Wall Panel
A 3D wall panel can upgrade the most overlooked areas of the home. For example, hallways are often neglected, but with the right 3D wall panel installation, you can quickly turn a drab hallway into a decorated passageway taking you from room to room. It also makes a great first impression for visitors.
Installing 3D wall panels in your dining room is sure to increase your appetite while setting the mood for a cozy dinner. The right 3D wall panel can add charm and texture without being too overbearing.
3D wall panels can also be used to spruce up a plain ceiling or bring more positive attention to an otherwise empty and boring stairwell.
If you're ready to take your office space or home to a different level, check out our decorative wall panels here to get ideas and start your renovations → https://www.decorativeceilingtiles.net/wall-panels/