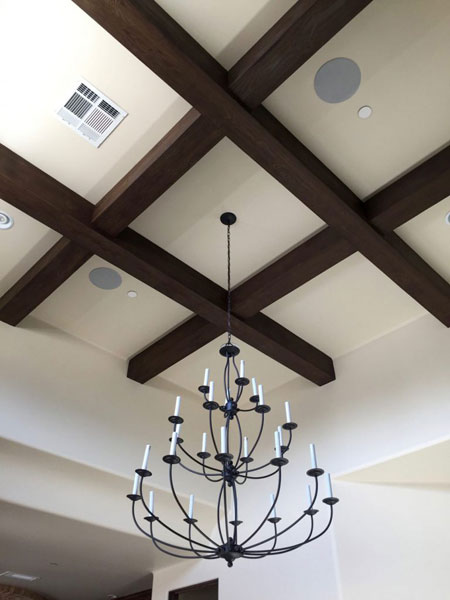 If you've been paying attention to some of the most popular decorating trends on the scene right now, you'd probably have noticed wood beams have started popping up everywhere. Some people like wood beams on their ceilings to give an exposed look to any area. Others like the beams for other uses—frame door frames, windows, and so on.
Whichever use you decide to use wood beams for you'll be excited to know that this decorating trend doesn't have to cost you a fortune. As with some other materials for home decorating, you can purchase fake or faux wood beams that bring the same feel to the room for a fraction of the cost of real wood beams.
Shiplap, white-washed furniture, and wood beams can make any home feel like a rustic cottage far away from the noise of the city. Now, you can have the wood beam look in your home, too. Let's take a look at some of the unique design trends that you could use fake wood beams to help bring the rustic feel into your home.
---
Why Should You Choose Faux Wood Beams vs. Real Wood Beams?
Some people will opt forreal wood beams because they are authentic. Those same people may be afraid that fakewood beams may show their lack of authenticity and alert visitors to the fact that they are not real. However, this is not true. Faux wood beams are crafted from lightweight materials that look almost exactly like real wood beams. In fact, when the beams are used on ceilings, it would be almost impossible to get up close and personal to notice any differences.
Because the materials are lightweight, faux wood is easier to install than heavy solid wood and other wood products. They don't require as many tools to install because they don't weigh much. Allinall, you will get the same feel as real wood beams with less hassle and for less money with fake wood beams.
---
Homey Kitchens
Nothing says home like a kitchen. This is where memories are made and great foods are prepared. That's why decorating your kitchen is one of the most important things you can do for your home. If you find that your family spends a great deal of time in the kitchen, add a homey feeling to the space with fauxceiling beams to go with classic crown molding and the perfect light set up.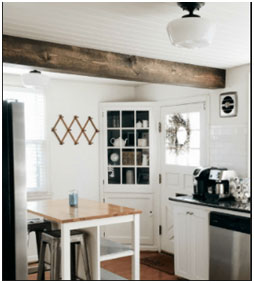 The "exposed wood" faux beams add a rustic feel that allows homeowners and visitors alike the same comfortable, inviting feeling.
---
Master Bedroom
Do you want your room to feel like an escape from the real world? Does the idea of a treehouse or cottage make you feel relaxed and calm? You can bring all of those same feelings right into the bedroom every single day with fake wood beams. Of course, you could spend thousands of dollars on real wooden beams, but why? Fake wood beams can bring the same feelings into a bedroom for much less than it costs to buy real wooden beams.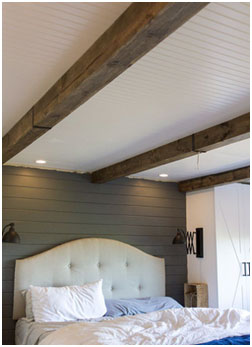 Shiplap, fake wood beams, and cozy bedding can make your bedroom feel like a retreat every night. Add some barn doors to your closets or bathroom and watch the space completely transform.
---
Vaulted Ceiling Family Room
Are you stressing out over what to do with your large family room? Do the vaulted ceilings make the space even larger with few options to do much about it? Well, your problem is easily solved with fake wood beams. The look of wood beams (fake or real) bring out the architecture of the home and allow the visualization of what's underneath the sheetrock to come to life on the outside. This can help the space feel more inviting rather than vast and cold.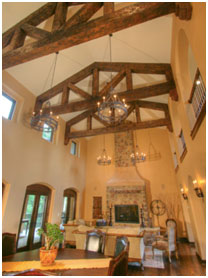 You could opt for a more intricate design as shown above or a simple design with single beams from one side of the room to the other. Whichever style you go for, you won't regret adding some depth to your family room. These fake wood beams are easy to install and look just as great as real wood beams.
---
Bring it to the Bathroom
Some people forget that they spend a lot of time in their bathroom. It's the first place you go in the morning and the last place you visit at night. So, if it's such an important place during your daily routine, why isn't treated as important? That can all change with fake wood beams. Many people struggle with what to do in the bathroom that will change much to the design. But, if you're looking to add more rustic style into your home, the bathroom is an easy place to do that.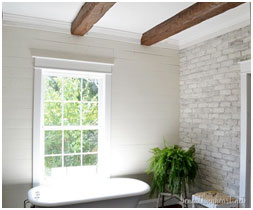 The nice thing about fake wood beams in the bathroom is you won't need much material to achieve the look you're going for. An already inexpensive job will be even more inexpensive if you choose to use fake wood beams in your bathroom. You could even use the wood beams to frame your bathroom mirror instead of putting them on the ceiling. The options are endless!
---
Frame It Out
Do you have large doorways that could use a touch of something? Are your windows or mirrors lacking framing? Fake wood beams could be your answer! Using fake wood beams to frame out larger door frames could make the space more of a focal point and/or get rid of the starkness plain walls can bring to a space. You might even have a wall between your kitchen and family room that doesn't have any real definition to it that could benefit from fake wood beams on the borders.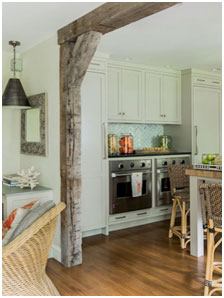 Whatever you're looking to bring attention to, fake wood beams can do the job! They're easy to install, easy to maintain, and very affordable.
There is nothing you can't do with fake wood beams in your home, especially if you're looking to bring a rustic, comfortable feeling in your spaces. With affordable options, different "wood" stains, and various sizes, you can easily find the right fake wood beams for your home. Check out your options here to get started today → https://www.decorativeceilingtiles.net/faux-wood-beams/