Are you looking for acoustic panels to transform your space? Fusion soundproof wall panels from ATI Decorative Laminates are ideal for a more welcoming space.
When it comes to wall panels, you want to install them in your space for various reasons, the chief ones being decorating, blocking unwelcome background noise, and protecting the wall beneath them. But what if you can turn your space into a more welcoming environment using Fusion soundproof wall panels from ATI Decorative Laminates?
As a distributor of Fusion wall panels, we recognize that you want decorative acoustic panels that go beyond the usual effects to provide extras like soundproofing acoustic treatment that makes your space more habitable and inviting.
In this post, we look at all you need to know about ATI's Fusion wall panels not only as a decorative surface solution but also as acoustical panels that transform your space with excellent sound absorption.
What Are Soundproof Wall Panels and How Do They Work?
Soundproof wall panels are acoustic panels that absorb sounds inside a room or insulate a room from external sounds.
The acoustical wall panels deaden and dampen sounds by absorbing sound waves as they travel through the air. When the waves strike a wall with soundproof panels, friction increases among the poly fibers, which causes the sound energy to convert to kinetic or heat energy. Kinetic energy fades away quickly and leaves no sound waves, meaning there won't be any sound.
Thicker soundproof wall panels absorb more sound and block them from exiting or entering a room, while slimmer ones block fewer sound waves.
Generally, some acoustic panels absorb echoes better, while others are best suited to blocking sound waves. Some decorative acoustic panels both block and absorb. These are called composite acoustic wall panels.
Where to Use Soundproof Wall Panels
ATI soundproof wall panels are highly versatile and can be used in various settings or spaces. You can use these acoustic wall panel designs in places like:
Commercial and public spaces like hotels, restaurants, auditoriums, studios, gymnasiums, theaters, conference rooms, libraries, retail stores, and museums
Residential places particularly in a home theater setting or home recording studio
Corporate settings like office conference rooms, hospitals, and educational centers
What Can You Use Soundproof Wall Panels For?
Although they go by the name soundproof panels, Fusion panels can also be used for other functions such as:
Wall art
Point of purchase displays
Large-scale murals
Decorative wall protection
True to their versatility, acoustic wall panel designs are not just ideal for installation in the corporate, residential, and commercial spaces but also for the above uses.
How you use the sound panels depends on what you want to achieve. For example, if you want an acoustical wall panel to serve both decorative and soundproofing purposes, you can go for an art-printed wall panel.
With an art acoustic panel, you can even achieve unique branding for your business besides soundproofing and decorative effects. Keep reading to find out how this is possible with ATI's soundproof wall panels.
Why Use Fusion Soundproof Wall Panels?
Below are reasons to use Fusion soundproof panels for walls in your commercial, residential, and corporate spaces.
Custom Printable Graphics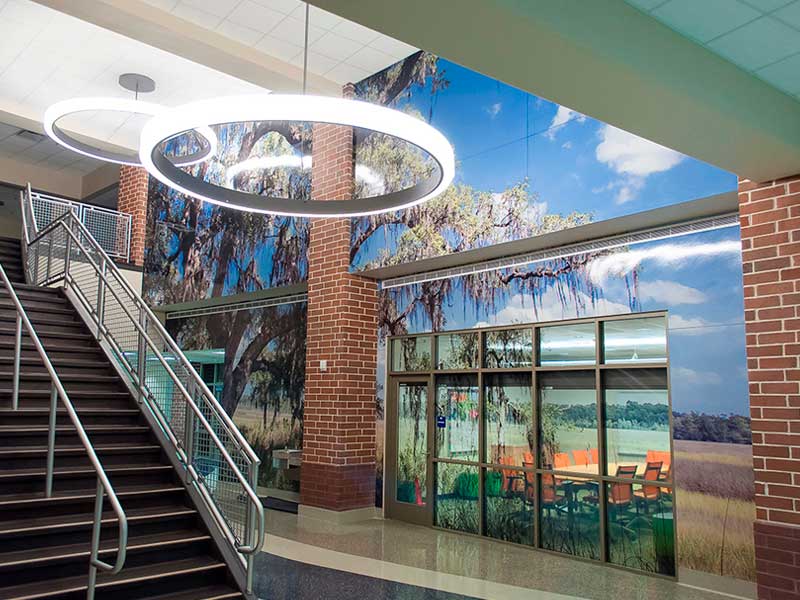 Another good thing about Fusion sound absorbing panels is that you can have them printed with graphics from ATI's stock imagery from its Idea Library.
ATI allows you to choose various printed graphics on different substrates to create unique acoustic sound panels with cutouts, shapes, and patterns that match the existing decor in your space while also improving room acoustics. For example, you can apply custom artwork on a white gloss aluminum substrate, as shown below.

As a bonus, you can provide custom art pieces of your choice, allowing you to install branded panels if, say, you want them to reflect your business brand. If you just want beautiful artwork, you can choose from the hundreds of stock images in the ATI Idea Library.
Variety of Substrates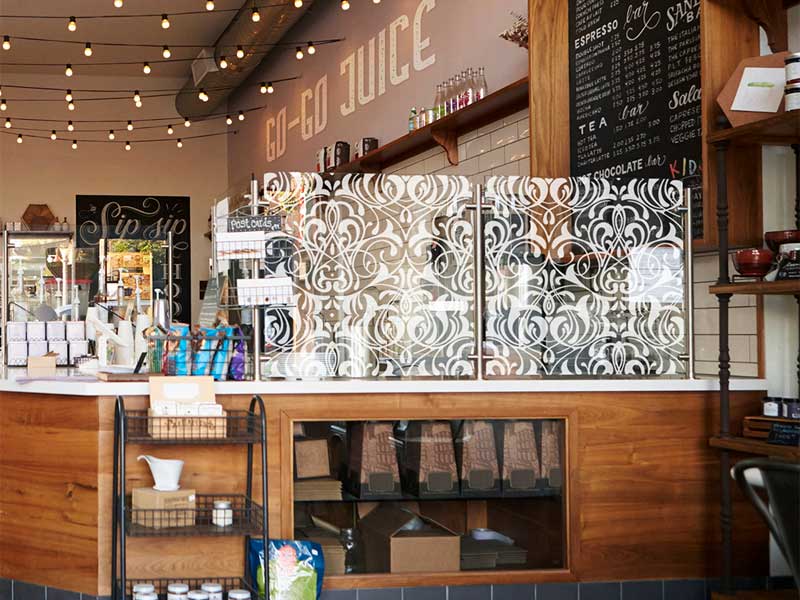 ATI Decorative Laminates produces Fusion acoustical wall panels with over twelve substrates that you can choose from based on your preferences. The substrates are the material on which the selected graphics are printed.
Depending on your preferences, you can choose from materials such as:
Fiberboard Reinforced Plastic (FRP)
Direct Digital Acrylic
Clear PVC
Sintra
Aluminum
Digital Polycarbonaten
Fusion wood
Ease of Installation
ATI Fusion Decorative and soundproofing panels are easy to install directly over various surfaces. The panels require no counterbalancing for unbacked metals.
Another aspect that makes the sound control panels easy to install is that they are lightweight, meaning you can even install them yourself without the help of a professional installer. Each sound-absorbing panel can also be cut to size to fit the dimensions of the installation space.
Resistance to Impact, Chemicals, and Abrasion
The noise reduction panels are resistant to high impact, chemicals, and abrasion. They are highly durable and will remain in good condition for a long time in your space.
The resistance to damage by physical impact, chemicals, or abrasion also makes the wall panels easy to maintain.
Acoustic Absorptive Properties

Fusion wall panels offer soundproofing in your space by absorbing sound waves and turning them into kinetic or heat energy that eliminates sound waves, creating a peaceful atmospher.

Custom CNC Capabilities

The ATI Fusion program allows customers to create customized CNC machining entities that do not exist anywhere else.

Computerized Numerical Control (CNC) machining involves manufacturing processes that create unique parts or prototypes that can be formed and test-fitted.

For example, if you want a brand-specific decorative acoustic panel, these can be created for you, and there won't be any other place with a similar design or parts.
Conclusion
ATI Fusion soundproof wall panels not only serve as noise reduction panels but also as decorative material for the walls in your space. You can also use the panels to protect the walls and even hide unpleasant features like holes or paint imperfections.
With ATI's digital printing capabilities, you can have your wall panels digitally printed with either custom graphics or ones you provide to the company, including brand-specific graphics for panels that reflect your business's brand.
You can reach out to us at Decorative Ceiling Tiles to help you choose the best substrate and graphics that will work well in your residential, corporate, or commercial space.