Posted by Milan Jara on 9th May 2022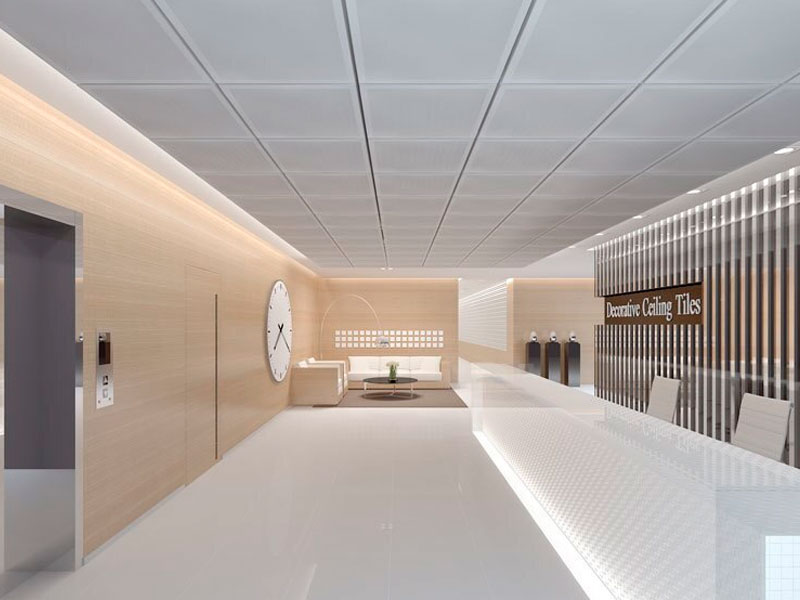 Soundproofing your space doesn't have to be hard when you have Fusion and MirroFlex multipurpose soundproof ceiling tiles. Here's what you need to know.
A renowned North American manufacturer and designer of innovative decorative surface solutions, Advanced Technology, Inc. (ATI) produces high-quality acoustic and decorative panels and tiles. The tiles and panels can be installed in commercial, residential, and even corporate spaces.
How Do Fusion and MirroFlex Acoustic Ceiling Tiles Work?
The main reason for installing soundproof acoustic panel ceilings is to dampen spatial sounds that result from workspace activities, noisy HVAC systems, or even loud neighbors.
The acoustic ceiling absorbs sounds from adjacent spaces by limiting the movement of sound waves through the ceiling. The interrupted sounds bounce off various surfaces until they dissipate or reroute to another place where they won't disturb you.
Since the ceiling isn't entirely flat, the sound movement is limited because the sound waves won't have conducive spaces to reflect off of, as it would happen with flat surfaces like glass and concrete walls.
Different materials used for ceiling and wall panels or tiles have different degrees of sound dampening capabilities. Mineral fiber is highly prevalent as an acoustical ceiling tile material because it is highly effective at absorbing and dampening sounds.
ATI Fusion Soundproof Ceiling Tiles
Fusion soundproof ceiling tile designs from ATI are mostly used for soundproof wall panels but can double up as drop ceiling tiles for installation into suspended ceiling grid systems.
Besides using Fusion products as a wall panel or acoustic ceiling tile, you can also frame an acoustic tile into wall art pieces or use them as wall dividers, large-scale murals, decorative wall protection, and point of purchase displays that will also decrease noise and sound transmission.
When used as ceiling tiles, Fusion acoustic ceiling panels are easy to install, and you can even cut them to size to match the requirements of your space.
The acoustic tiles are ideal for ceilings in corporate, residential, and commercial places ranging from offices, conference rooms, homes, and retail stores.
One unique thing about ATI's Fusion soundproof ceiling tiles is that they can be digitally printed with custom graphics that you provide to the company. ATI also has a library of ideas of carefully selected graphics you could choose from for your acoustic ceiling tile display.
Advantages of Fusion Soundproof Ceiling Tiles
The main benefit of acoustical ceiling tiles is that they reduce echo and excessive noise. Besides this, you can experience other advantages such as:
Ease of installation and removal. Fusion tiles are lightweight and thus easy to install even in ceiling grid systems. You can also remove them easily if it becomes necessary when you want to move to a new place and take the tiles with you.
Resistance to impact and abrasion, meaning the acoustic tiles last a long time.
Multipurpose applications. You can use Fusion tiles as ceiling tiles, retail displays, murals, wall art, and wall panels. You can also use them in residential, commercial, and corporate spaces.
Easy maintenance. The acoustical tiles are easy to clean with water and soap.
ATI MirroFlex Soundproof Ceiling Tiles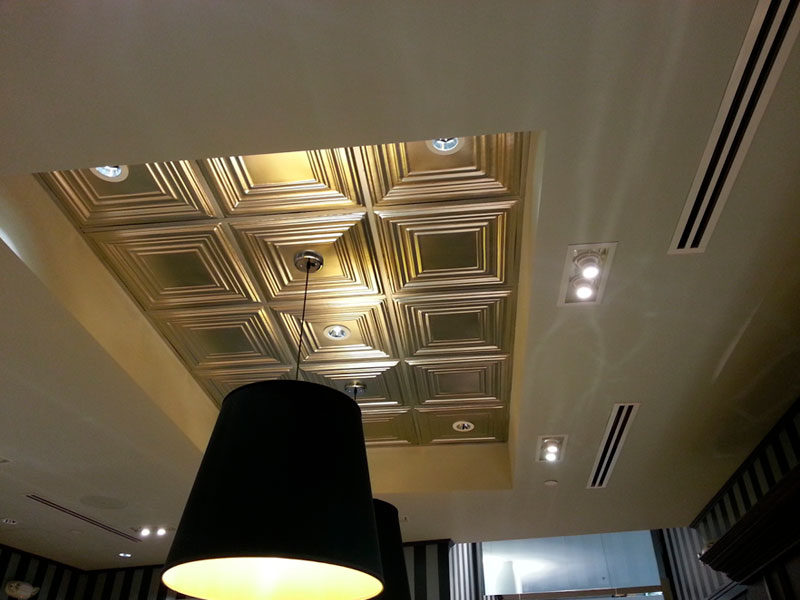 While Fusion tiles largely depend on thickness for acoustic properties, MirroFlex soundproof ceiling tiles are perforated to increase sound absorption. When sound waves hit the ceiling surface, they are diverted and dissipated through the pores to result in reduced noise.
MirroFlex acoustic ceiling tiles come in different sizes, shapes, patterns, styles, and finishes. They are 3-dimensional, opaque, thermoplastic rectangular and square panels measuring 2 feet x 2 feet or 2 feet x 4 feet.
The tiles add texture and visual interest to a ceiling, potentially turning it into a focal point, depending on the style or finish in comparison to the room's existing decor or furnishing. You can choose from finishes such as white and black, which are paintable and allow matte or gloss options.
Like Fusion acoustic ceiling panels, MirroFlex ceiling tiles serve multiple purposes. You can install them in residential, corporate, and commercial places either as wall panels or ceiling tiles. You can install them over various surfaces such as drywall, hard ceilings, and multilevel arrangements.
You can also use MirroFlex tiles in furniture, display fixtures, and backsplashes.
The drop-in or lay-in installation system for 15/16" suspended ceiling systems is ideal for installing MirroFlex soundproof ceiling tiles, though you can also use the glue-up method, which is made easy by the overlap system in the tiles.
Benefits of MirroFlex Soundproof Ceiling Tiles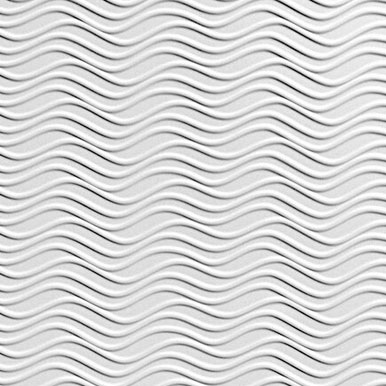 With MirroFlex ceiling tiles, you have the following advantages:
Advanced soundproofing. MirroFlex tiles rely on pores to absorb and dampen sounds. Perforated tiles are better at sound absorption than thickness-dependent tiles (thickness can be limiting).
Water, humidity, and fire resistance. MirroFlex ceiling tiles are Class A fire-rated and are designed to drop in the event of a fire. They are also non-absorbent, meaning they can't take in water when you clean them or absorb humidity from the atmosphere.
Easy installation. The tiles are lightweight, hence easy to install.
Impact, stain, and abrasion resistance. This resilience makes them last a long time.
Ease of maintenance. The tiles can be cleaned easily using some water and soap without damaging them since they are waterproof.
High reflectivity. Light diffuser MirroFlex ceiling tiles are highly reflective, achieving up to 30% more brightness when installed. Light diffusers fit 2 feet x 4 feet and 2 feet x 2 feet (Wavation pattern only) lightbox fixtures.
Durability. Faux mineral fiber ceiling tiles can replace standard mineral fiber ceilings for a long-lasting ceiling that keeps away the ugly dirt and water stains.
Conclusion
MirroFlex and Fusion soundproof ceiling tiles can be the one missing piece of the puzzle to turn your ceiling into a focal point complete with texture, decorative, and acoustic properties.
The tiles are easy to install and maintain, making them ideal for use in commercial, residential, and corporate setups not just for ceilings but also as backsplashes, furniture enhancements, wall art, wall panels, and even display fixtures.
As a distributor of ATI Fusion and MirroFlex acoustic ceiling tiles, you can reach out to us with details of your upcoming project. Transform your space today into a more quiet environment using our multipurpose soundproof ceiling tiles.