Faux wood beams are an option for many decorators who like to present classic, cottage-style themes in their homes. Despite being ideal for an old and vintage style theme, wooden beams also fit with modern themes and are still a popular option within the decorative world. The best part about it is that it doesn't apply to one type of home. Any home, whether large or small, can seriously benefit from having faux wooden beams
Why Faux Wooden Beams?
Faux wooden beams are not actual wood. It is a material (lightweight high-density foam) that imitates the look of real wood. Therefore, you'll have wood-like beams inside your home that are not wood. There are many advantages to having faux wood beams as opposed to natural wood. You'll have an easier installation process, more design choices, additional durability, and real versatility, which saves you time and money, especially if you're looking to use them inside a small house.
Ideas for Wooden Beams Ceiling Inside Small Houses
Living Room
Whether your house is big or small, you're still likely to have a living room – and even if you have a small living room, there is still plenty you can do with faux wooden beams. Living rooms are one of the most used rooms inside a home. It's where you and your family will spend the most time. Even your guests will more than likely spend a considerable amount of time in your living room, so having an excellent design is important.
When it comes to faux wooden beams for a living room, you can use them for multiple types of projects. The most common way to use them would be to create a rustic environment, but a bright and modern theme can also work. Whichever theme you choose to install faux wood beams in, the bottom line is that they will make you want to settle in and relax.
Hallways
Hallways are another likely feature included in a small house, but the hallways may even be much narrower when compared to larger homes, making them feel dark. If that's a problem you want to eradicate, then perhaps faux wood beams could help. Faux wood beams add dimension, drawing the eyes upward, creating the illusion of space and brightness.
Fit faux wood beams along the ceiling, covering the length and width. You always have the option to position them on the hallway walls, too, to generate a distinctive look.
Master Bedroom
Perhaps the master bedroom is your cozy spot in your home. Why not implement a stunning set of faux wood beams to help you feel calmer and more relaxed while you spend valuable time resting in your bed? Transforming a bedroom is one of the more exciting decorative projects to take on, and adding faux wood beams is an ideal method.
Decorating a bedroom may mean new bedding, rugs, and fresh paint, but nothing has more of a dramatic effect than faux wood beams. Another good reason to use faux wood beams in this room is that it won't take up valuable real estate on the floor.
Kitchen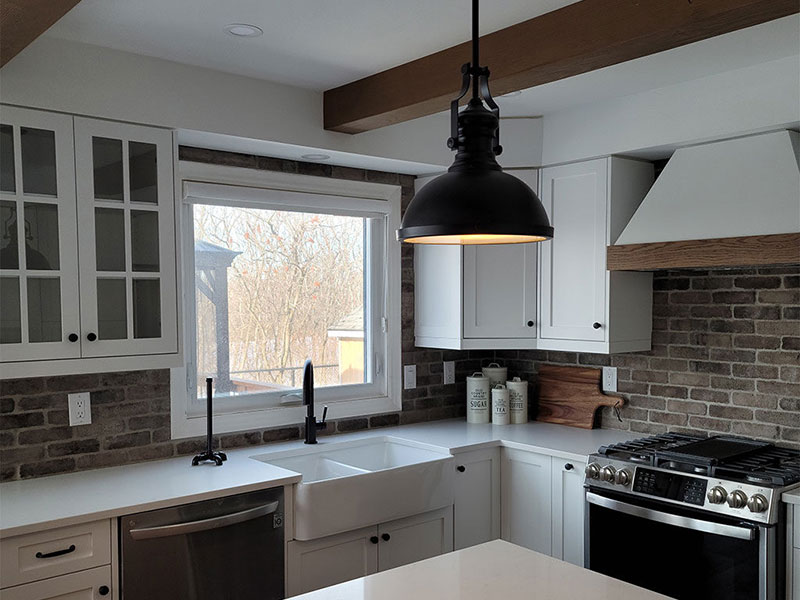 When it comes to kitchens, exposed wood beams are a common feature. They can make a small kitchen look big and tie together an open concept space. As your kitchen is one of the busiest spaces in your home, especially due to all the cooking that takes place, it's important to have it nicely decorated to feel good about your time spent there. With faux wood beams, you'll be able to create a classic beauty as well as having a versatile feature displayed onto your kitchen ceiling.
Faux wood beams and kitchens are always a perfect match. If your kitchen is or will have a rustic-contemporary decor theme, adding faux wood beams is an excellent addition. For a wonderful rustic decor theme in your kitchen, ideal features include wooden floors and cabinets. If you match this with a collection of faux wood beams, alongside more contemporary features like granite countertops and light fixtures, you will have yourself a stunning-looking kitchen.
Doorways
Doorways are another type of space where faux wood beams can work. A framed doorway is always a great place to add interest to your home, and many decorators and homeowners tend to ignore this project. In arches and doorways, there is typically a frame you can revamp using faux wood, taking your average door trim to be a focal piece of this particular space. Not only will the door be more practical, but it will blend in the look of rustic wooden beams that may appear in another space next door.
Fireplace
Although this is usually placed in a living room, which we have already listed, we feel that it is better in its category because we're strictly just talking about the fireplace. And even though we are discussing small houses, there are times when fireplaces are included in a small house.
Faux wood beams make a great asset to a fireplace, especially since mantels are so common and slightly boring. If you aren't looking to have brown wooden tones, you don't have to. Consider a weathered grey finish to give your living room a more modern look. Before going out and installing a faux wood beam over your fireplace, consider the size of your fireplace. If you have a small home, then it's likely you'll have a small fireplace. If so, it will be more effective if you purchase a thinner faux wood beam.
Conclusion
There are unlimited ways to emphasize the ceilings inside your home using faux wood beams. You can add them whether you're looking to accent your existing style or whether you're planning a big decorative change.