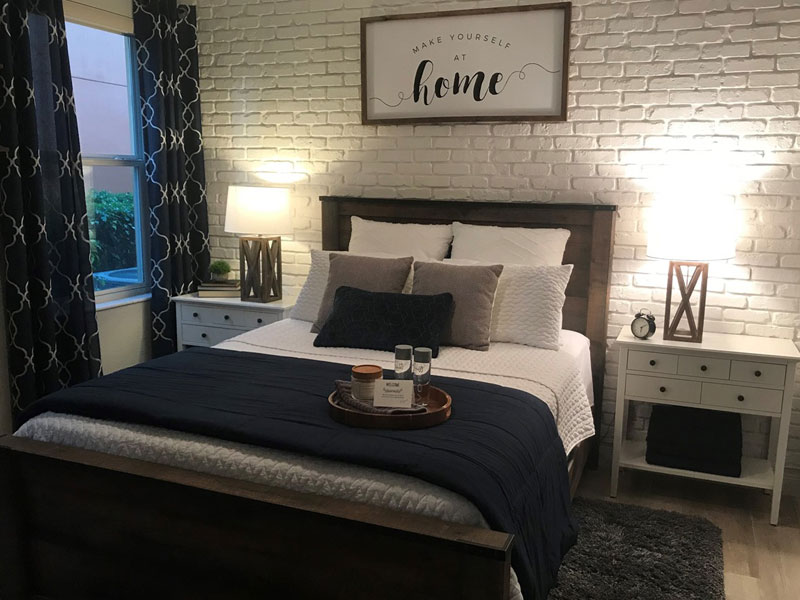 If you plan to install 3D wall panels in your home or commercial space, you can't go wrong with faux 3D brick wall panels.
3D brick wall panels are even more popular when most people are shifting from plain plaster walls to surfaces finished with faux paneling to add a modern appeal to their space and reduce construction costs.
You can expect this trend to keep growing through 2022 and beyond, with more and more people getting on board and installing faux brick wall panels.
You may just want to jump on this emerging trend!
Top Faux 3D Brick Wall Panel Trends To Love This Year
Here are some 3D brick wall paneling trends you'll love this year and beyond.
Curved Faux 3D Brick Walls
Gone are the days when everything vertical had to be straight. We even have curved TVs these days, and soon many homes and commercial spaces will sport curved walls because they are stunning and interesting.
Curved walls get even more lovely when you install 3D wall panels on them as a wall decoration and budget-friendly finish.
You can expect companies to make more flexible faux brick panels that can bend easily without breaking to better conform to the shape of curved walls.
Adding Graffiti on Faux 3D Brick Walls
One good thing about using faux brick as wall decor is that you can easily customize the panels with graffiti. This is quite a drastic departure from the usual paint job to upgrade your walls.
You can now design your own graffiti and add it to your installed brick wall by spray-painting, drawing by hand, or even through 3D printing!
Depending on your preferences, there is no limit to how imaginative you can be with graffiti, such as drawing, plain text, or calligraphy. A wall sticker is also an excellent option, especially since they have emoji- and superhero-themed stickers.
You can also experiment with various shades or hues against the colored background of your panels.
More Indoor Installations with Bold Colors
Because of the coronavirus pandemic and its continued effects on mental health, color therapy has become increasingly popular.
Millions of people now spend more time indoors at home or in quiet offices, and they want to soften their spaces with 3D decorative wall panels that boast bold colors.
Bright and bold colors such as pinks, peacock blues, greens, and burnt oranges are in high demand. However, decorative brick panels usually come in more subtle and traditional colors, such as shades of red.
The good news is that you can paint most decorative panels with a color of your choice to customize them. If you want a bold color on your faux wall panels, you can first buy some samples and paint them to see if it's a good fit.
More Outdoor Installations by Commercial Homemakers
Where commercial homemakers and real estate companies shunned faux decorative wall panels in the past, they have started listening to the demands of their clients and are now increasingly making homes and commercial spaces with brick veneer or 3D brick panels.
You can expect to see more structures with 3D panels in outdoor spaces like enclosed fire pits, patios, and outdoor kitchens, dining areas, seating areas, and living rooms.
Faux panels for exterior use are usually waterproof and last a long time, even when exposed directly to weather elements on an exterior wall or other vertical surfaces like retaining walls.
Waterproof faux bricks are better than ordinary wood pieces and wood panels that soak up moisture easily, but they aren't as durable as wall tiles that are naturally water-repellent. Standard ceiling panels are not recommended for outdoor use.
Homemakers are now installing 3D brick panels in a variety of outdoor spaces. This trend appeals to clients, improves customer satisfaction, and rakes in more sales. This is exciting news for home and office space buyers that are wanting to customize their outdoor space.
Dark Faux 3D Brick Walls
Dark has become the new white, and you can expect to see more people ditching the customization of faux brick panels with white paint in favor of dark, less reflective colors.
This trend is especially appealing for people who want a brick wall panel that doesn't show dirt as easily. Dark paneling is ideal for dusty spaces like garages and basements.
Proliferation in More Commercial and Residential Places
Not too many places are currently using 3D wall panels. Real stone and brick walls are still popular, but more and more businesses and individuals are beginning to see the appeal of installing wall paneling in place of traditional materials. The panels may be "imitation" but the benefits are real!
Many residential and commercial places have now fully embraced faux brick over real brick and plastered natural stone as home decor and finishing material.
You can expect to see more wall panels in residential spaces like the living room, kids' rooms, home offices, nurseries, and bedroom walls.
The same applies to commercial places like restaurants, salons, casinos, resorts, offices, hospitals, massage parlors, and clubs.
Aggressive Out-of-the-Box Texturing
The 3D texture environment is evolving as manufacturers make faux panels and wallpapers with different effects and themes.
People are bored with ordinary paint and instead want a wall application with visual interest, tactile effect, and dimension. They want something they can feel or touch, not just see.
End to End Technology Involvement
Manufacturers are competing to establish themselves as the best in the 3D brick wall panels industry, and many of the advancements involve emerging technology.
Innovative technologies will continue rising or improving, such as 3D printing in production, virtual staging, artificial intelligence that automatically recommends products to buyers, and panel shopping using 3D models for home or commercial interiors.
Gen Z and Millennials Using Faux 3D Brick Walls for Personal Branding
The coronavirus pandemic has pushed more millennials and Gen Zers to develop creative side hustles that are run out of home offices.
Many now make products out of their homes, complete with production centers, warehousing points, shipping facilities, and marketing centers.
Others are in the services and social-media-based-businesses niche with established entities on platforms like YouTube and TikTok.
For all these new ways of making money from the comfort of their homes, millennials and Gen Z individuals have to find a unique way of reputable personal branding. And what better way to do so from home than to install fancy 3D brick wall panels?
More Customizability
Moving forward, you can expect the increased competition among manufacturers to force them to think outside the box in your favor. You'll likely find faux panels with more customizable features ideal for your accent wall or feature wall to add character to focal points such as TV walls.
Such customizations may include printing, design, routing, finish, color painting, and more. Be sure to check the product details for such news!
Proliferation of Themes
Some common themes you can use for your brick accent wall or general space include industrial, vintage, rustic, modern, contemporary, farmhouse, and shabby chic. You can expect manufacturers to develop more innovative themes, so you'll soon have a lot more options.
Conclusion
We believe you'll love these eleven top trends for this year and beyond in the faux 3D brick panels industry. Which is your favorite? Which one are you most excited about?