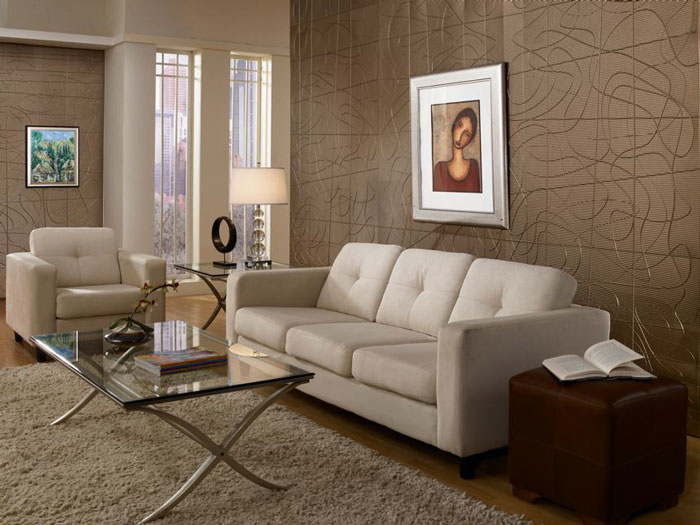 How Modern Decorative Wall Panels Can Enhance Your Space
Wall panels haven't always been the stylish architectural feature they are today. There was a time when panels were considered outdated and would lower the value of a home – or at least create a project new homeowners would need to add to their to-do lists.
Nowadays, modern wall panels add something special to a room. In part, it's because mid-century décor is popular again and that's around the time that wall panels had their first go-round of popularity. The difference is that even if they mimic some of that midcentury style, today's wall panels are made from high-tech materials, are low maintenance, and can be easily installed. They offer all of the design aesthetic you want with none of the hassle of the past's wall panel products.
---
What makes modern decorative wall panels something you'd want to consider adding to your home?
Decorative Wall Panels are Constructed from High-Tech Materials
In the past, high-end wall panels were made from wood. This is still the case, but it's not the only option available to homeowners. MDF can save you money and maintenance efforts when it comes to wall panels. It's flexible and can hold up in a variety of climates, and it features a wide variety of designs, textures, and patterns.
Wall panels are also available in melamine. This material offers a lot of impact because you can choose from a variety of prints and it can be extremely innovative. Finally, you can opt for polyurethane panels, which offer a surface for advanced designs and materials.
Decorative Wall Panels Offer a Variety of Design Choices
Many people, especially those who are familiar with the midcentury wall panels, are surprised to find that wall panels are no longer only the dark wood that was offered years ago.
You can now pick from a variety of patterns, many of which feature a natural wood grain. Depending on your needs, you can complement your ceiling or simply add some wall decor to an interior.
These panels can also mimic marble, stone, granite, limestone, or bark. It's even possible to design custom panels and have walls with a snakeskin, leather, or dimensional look. 3D wall panel installation can give you an innovative design that is diverse and has a high-end look.
Decorative Wall Panels Require Minimal Upkeep and Maintenance
Wall paneling is one of the most maintenance-free options you can choose for a particular environment. It protects your drywall, so you won't need to worry about patching holes if and when you move. You won't need to invest time and money into upkeep like you would with painted or wallpapered walls. Wall panels are resistant to indent, marks, and scratches, which means you won't need to worry about ongoing upkeep or maintenance. Installing wall panels can actually extend the life of your walls by protecting them from wear and tear.
Decorative Wall Panels are Easy to Install
A lot of people assume installing decorative wall panels will be a tough job, but the truth is it's one of the easier installation projects you can tackle as a homeowner.
It's simpler than other wall décor options because you don't need to worry about grout lines, exposure of adhesives, or other problems with installation. Many of today's wall panels feature tongue and groove systems or clip and rail systems, which means you're essentially puzzling the pieces into place with a quick snap. Wall panels can also help you conceal wires, cables, and other built-in components, making them a jack-of-all-trades when it comes to solving design problems.
Decorative Wall Panels are Suitable for a Variety of Spaces
If you think wall panels might not work for you because the space is damp or the climate you're in doesn't seem conducive to this type of design, think again.
Wall panels work fine in basements and other damp spaces, as long as you use a vapor barrier between concrete surfaces and the panel itself. You can even install these panels, especially if they are made from resistant wood such as bamboo, in your bathroom or pool area. If you plan on proofing your panels with lacquer or epoxy, you can even use reclaimed wood, and it will be perfectly safe.
Most are made from high-density fiberboard, so they shouldn't be exposed to a lot of moisture, but there are always ways of protecting the panels. Panels also stand up to wear and tear very well, so they are a perfect addition to busy family spaces, such as kitchens or family rooms.
---
Why 3D Wall Panel Installation Might Be Right for Your Space
3D wall panels tend to have a reputation for being a very modern design option, but this doesn't have to be the case. It's true, these panels fit well into modern design, but they can also be well-suited for spaces that are traditional, contemporary, transitional, or eclectic. It all depends on the specific design of the panel and what you do with it.
For instance, you can take a 3D wall panel with a modern design, paint it metallic or add a patina to it and you'll get something that looks more vintage or farmhouse-style than it does modern. Painting a 3D panel with a soft pastel could be great for a nursery or for a room with an art déco style. 3D panels can also help you accurately simulate any 3D wall texture, ranging from the finest carving to metal to the natural texture of a stone or a rare tree. There are endless options when it comes to 3D wall panels, so if you think they aren't an option if your style is far from modern, you might want to reconsider your options.
Panels also serve a functional purpose and can help you carry out zoning space, without disturbing the overall composition of a room. They make it easy to conceal small defects in the walls and provide sound and heat insulation.
No matter what your reason for choosing 3D wall panel installation for your home, it's a choice, you'll likely be happy you made. Your rooms can look quite different using modern 3D wall coverings, and you can enhance the style of the space and add architectural flair to any room. Whether your idea was to cover flaws easily and affordably, reduce the wear and tear on a space, create a space that is easy to maintain or to add design interest, decorative wall panels make it all possible for an affordable price.