Buying a home is one of the most exciting times in any person's life. Unfortunately, sometimes you might inherit features in the home that you wouldn't have chosen for yourself.
One of those features that you might want to cover up immediately is the ceiling. Nothing detracts from a beautiful home like a hideous ceiling or dated suspended ceiling. You might be stuck with popcorn ceilings, cracks in the drywall, or exposed wires or pipes. None of the scenarios are ideal and will eventually lead you down the path of renovation.
Luckily for you, there are some DIY options for you that can help you cover your awful ceiling. One of those ways is by using ceiling panels—especially metal ceiling tiles.
---
What Are Metal Ceiling Tiles?
What we were once thought of as options only for upper-class citizens or high-end restaurants, metal ceiling tiles have taken on a life of their own through the DIY renovation phenomena. That means that getting metal ceiling tiles such as tin ceiling tiles for your unsightly ceiling is easier than ever before and can transform your entire space in no time.
Metal ceiling tiles come in various metal materials such as tin, aluminum, corrugated tin, and more. The options are simply endless. With so many choices at your fingertips, you can use metal ceiling tiles to give your drop ceiling a new and fresh look in just a few hours.
These metal ceiling tiles bring back the traditional look of when the tiles were first introduced into homes back in the early 20th century. Many people stopped using them as ceiling options because they lacked insulation and sound absorption. Today, however, interior designers and homeowners are opting for metal ceiling tiles because they are classic and stylish, regardless of the practicality. With modern technology and construction, metal ceiling tiles aren't the only materials on the ceiling. This means that they can be placed over the drywall and insulation, which will still give you what you need without sacrificing design.
---
Materials You'll Need to Install the Metal Ceiling Tiles
Each metal is different in terms of installation requirements, but here are some general tools you'll need for any metal ceiling tile project:
Drawing paper for grid design
Nails appropriate for specific metal
Furring strips
Shimming tool
Nail gun or hammer
Tile cutting tool
---
What Are the Different Types of Metal You Can Choose From?
Metal ceiling tiles come in a wide variety of metal materials. Some of the most common materials you will find on the market are: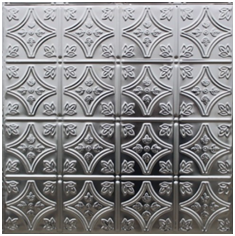 These tin ceiling tiles are made from real metal. They often have embossed designs as seen in the above picture or other designs like stars and stripes. What makes these tin ceilings so special is that they come with the aged look already in place. They give any space an instant jump back in time. They can be used to cover up any hideous ceiling as well as a backsplash in a kitchen or bathroom. The opportunities are endless with tin metal ceiling tiles.
---
Corrugated Tin
Looking for a barn-inspired space? Bringing back the chicken coop style? Corrugated tin is a great choice for a metal ceiling tile as it brings a rustic feel to any room. These metal ceiling tiles can be used in garages, basements, and kitchens, etc. They are fairly easy to install as they typically come in larger tile pieces rather than the traditional square pieces. A nail gun would do the job just fine.
---
Metal Paneling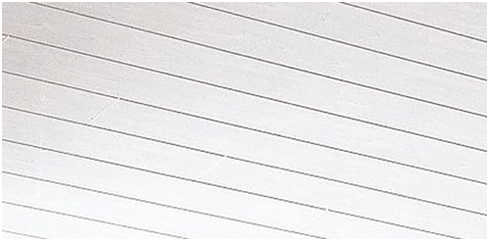 With a very similar look to ship lap that you typically find on walls and backsplashes, metal paneling is a paneled design for your ceiling. These panels can come in metal materials and can be colored to match your desire design look. They are durable and easy to install as they only require nails and a nail gun (nails specifically for that type of metal that you choose). They're not very expensive and can save you time and money through the installation process.
---
Corrugated Tin
Industrial or minimalist types will appreciate the corrugated tin metal ceiling tiles. They are easy to maintain and only require screws directly into the ceiling joists for install. Low maintenance and easy to install? Sign us up!
---
Faux metal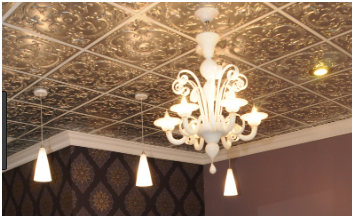 So many of the faux metal ceiling tiles that are on the market today look exactly like the actual metal they are imitating. This is great news for homeowners since faux metal is cheaper than real metal. Faux metal ceiling tiles are often easier to install also since they are lighter materials such as plastic or PVC. These faux metal ceiling tiles are elegant and regal and bring a unique feature to the room that once lacked in aesthetics.
---
Faux Copper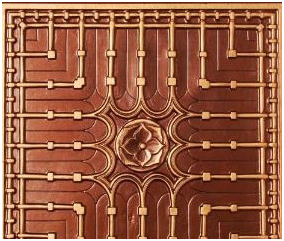 Copper is not an inexpensive material to use for metal ceiling tiles, but faux copper made from PVC is a great alternative. You can get a 24"x24" square of faux copper for much less than real copper since they are made from plastic. They are lightweight and easy to install. They'll stick to any drywall surface.
---
Faux Metal Ceilings and Metal Ceiling Tiles
The biggest way to tell the difference between faux and real metal ceiling tiles in the store is to look at the prices. Faux metal ceiling tiles are less expensive, as they should be. They can run you anywhere from $15 to $20 for a 2"x2" square. However, real metal ceiling tiles will run you $40 to $50 for a 2"x2" square! When trying to cover up a large room's ceiling, you will want to look for a most efficient option. If you have a smaller room, going with real metal ceiling tiles would not be a bad idea. They are both regal and elegant, which means you will automatically add style and grace to your room no matter which one you choose.
---
Pro Tip:
As with any choice that you choose, it is important to prep your ceiling for installation of any new materials. Whether you choose real metal ceiling tiles or faux metal ceiling tiles, the surface in which you are installing the ceiling tiles should be smooth and clean. Any bumps or debris could cause the metal ceiling tile to not be installed properly, causing you a headache later down the line.