Far too often, ceilings are a neglected space in interior design. Our walls, window frames, and floors get so much attention while ceilings are often just painted in a boring shade of white. This is a huge missed opportunity. With the right design and color choices, your ceilings can make a stunning statement and improve the appearance of your entire room.
When it comes to enhancing the appearance of your ceilings, installing decorative ceiling tiles is a great place to start. While choosing a ceiling tile that has a pattern that matches your personal style is the first step, it is important to remember that color matters, too.
Luckily, our ceiling tiles are available in a wide range of colors and finishes. That said, if there is a particular shade you want for your space, you will be happy to learn that our decorative ceiling tiles can be painted even after they are installed.
We offer decorative ceiling tiles in an almost limitless combination of material and patterns. If you are looking to paint your ceiling tiles for yourself, you might want to consider our Styrofoam ceiling tiles. Ceiling tiles that have a metal finish look great and can add plenty of sophistication to your space but when it comes to customizing the look of your ceilings, Styrofoam tiles are one of the best materials to work with.
---
What Are the Advantages of Styrofoam Ceiling Tiles And Can I Paint Them Myself?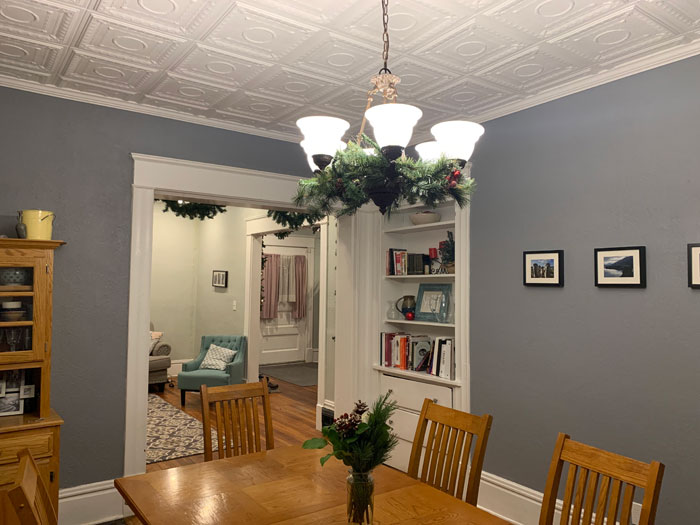 As you may suspect, Styrofoam ceiling tiles are exceptionally light. Although Styrofoam is a lightweight material, our ceiling tiles are designed to be both durable and visually impressive.
Due to their lightweight construction, Styrofoam ceiling tiles are incredibly easy to install. In fact, they are so light that an unpainted Styrofoam ceiling tile weighs as little as one ounce. This means they are very easy to install and they certainly will not put any stress on your ceilings.
Installation can be completed using a simple glue up method. Simply dab the back of your Styrofoam ceiling tile with an adhesive and stick it to your ceiling. You can also cut Styrofoam tiles to measure with scissors or a penknife. So, if you have an odd-shaped ceiling or you need to use less than a full tile to complete a room, making adjustments is a breeze.
Another major advantage of Styrofoam ceiling tiles is that they can be installed over almost any surface. Unlike other ceiling tile options, Styrofoam tiles can stick to uneven surfaces. This means you can cover those ugly popcorn ceilings without the hassle of having to scrape it off.
Can I Paint Styrofoam Ceiling Tiles?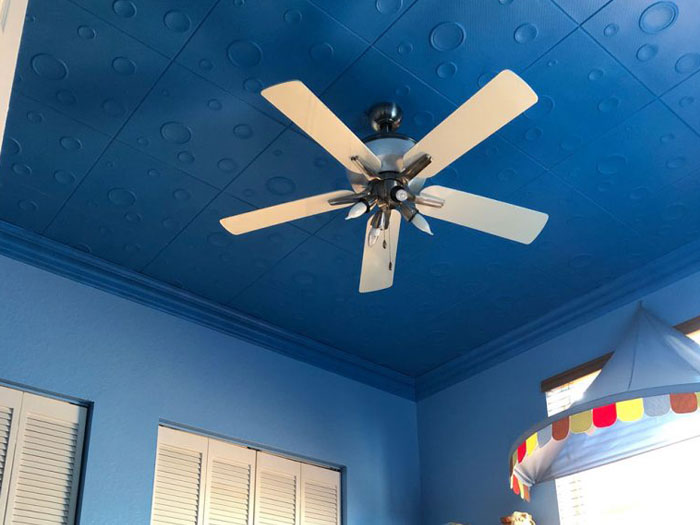 As mentioned, all of our Styrofoam ceiling tiles can be custom painted. Just make sure you are using a water-based paint as other types could damage the tile. You can apply paint to the tiles by brushing, rolling, or even spraying with a High Volume Low Pressure (HVLP) sprayer.
Should I Paint Styrofoam Ceiling Tiles Before or After They Are Installed?
The choice is up to you and each way has its advantages. If you decide to paint before installation because it is easier to paint your tiles while they are on the ground, keep in mind that you will need a large space for them to dry. Drying can take several hours.
Also, keep in mind that if you decide to fill the gap between your tiles with caulk, you will need to paint it to match your tiles afterward.
If you choose to paint your ceiling tiles after they are installed on your ceiling, it can be difficult painting over your head. Again, the decision is up to you.
Do I Need to Prime Styrofoam Ceiling Tiles Before Painting Them?
Priming any surface you plan to paint almost always yields better results; however, when it comes to Styrofoam ceiling tiles, it is not necessary. We would still advise it as you want the color of your ceilings to last. Two coats of primer should do the trick.
---
Eye Catching Ceiling Tile Paint Ideas
Now that you know you can paint your ceiling tiles to match your individual style, let's look at some ideas that will hopefully help inspire you to add some color to your ceilings.
Give Your Ceilings a Burst of Color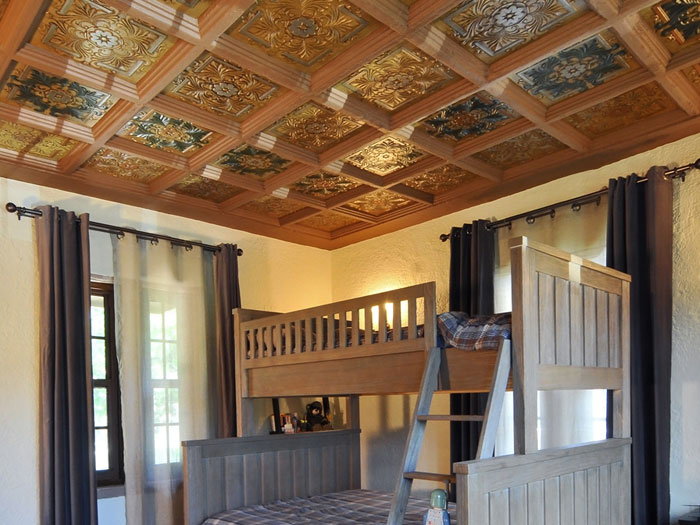 We have all seen brightly colored accent walls and how they can liven up a room. Why not let your ceiling tiles make a statement by painting them a louder color than your walls? A room that has neutral walls and a stand out ceiling has a unique appeal that sets it apart.
Match decorative accents to the color of your ceiling tiles and the room appears complete and cheerful.
Choose Classic Color Combinations
There is a reason certain colors are always seen together. Some combinations just naturally work together. For example, consider accenting your white walls with a ceiling that is a nice shade of blue. A kitchen with white cabinetry and trim looks that much more welcoming with blue ceiling tiles.
---
Do Not Be Afraid To Paint Your Ceiling Tiles Black
Deep black and charcoal gray ceilings may sound like they would be off-putting and unwelcoming; however, you would be amazed at how well they can tie a room together. Black ceiling tiles give a space a dramatic appearance and make your ceilings seem higher.
Consider painting the ceiling tiles in your bedroom dark. The atmosphere is reminiscent of a night sky which will help you feel relaxed. It will also have a complete look if you match your black ceiling tiles with dark bedding and accent pieces.
---
Let The Color of Your Ceiling Tiles Make a Statement
If you balance a room out with white or light gray walls, you can pretty much paint your ceiling tiles any way want. If you have a particular color or shade that you love, do not be afraid to try it out on your ceilings. After all, you are painting your home and that should always reflect your personal tastes and style.