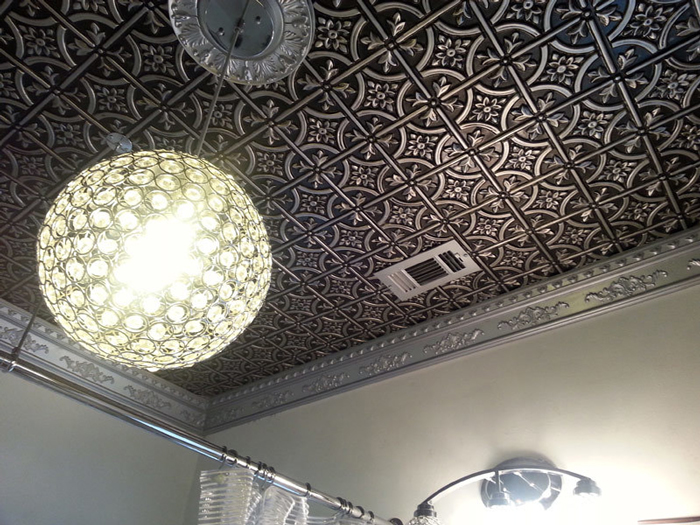 Your bathroom ceiling can be a key highlight of your interior décor. By being creative with how you decorate the bathroom ceiling, you can add some individuality to the room. Apart from the versatile functions, bathroom ceilings help you incorporate a variety of visual aesthetics and character—and even help cover up that ceiling mold growth that has been festering in the corner.
Unfortunately, many homeowners decorate the ceilings in other rooms and leave the bathroom out. Primarily because they have no idea of how to spruce up the bathroom ceiling. But this doesn't have to be the case. As long as you consider water and condensation as well as other moisture as it is a bathroom, you can explore the following DIY-friendly and inexpensive techniques for improving your bathroom ceiling.
---
Add a Fresh Coat of Paint
A bathroom ceiling does not always have to be white and boring. The bathroom ceiling paint color is one aspect that can add some warmth, size, and depth to the space. When choosing the paint color, first determine whether the space has natural light or not.
---
No Natural Light
A majority of bathrooms are designed without access to natural light. This absence of light means having to use fluorescent lights and a vent fan—otherwise, mold and mildew could soon take over. These fixtures will have a significant impact on the paint color you choose for the ceiling. Remember that fluorescent lights can make colors look washed out and dull. Therefore, you'll need to be careful when picking the paint on your bathroom ceiling.
If the paint color on the walls is plain white, then you can go for a light yellow on the ceiling to increase brightness in the room. Once the light reaches the ceiling, it will bounce off nicely to create the feel of natural light.
---
Access to Natural Light
If you're lucky enough to have a natural source of light that floods a certain area in your bathroom, then choosing a paint color will be a lot easier and will reduce the risk of mildew and possibly mold growth. The only thing you have to be cautious is to avoid making the bathroom too bright. Thus, you should go for a color that can diffuse the natural light to some extent.
For instance, if your walls are painted white, and the flooring is slate, then you shouldn't choose bold colors like purple and pink. Instead, go for colors that will work well together. Considering that your floor is dark and walls on the lighter side, a splash of color on the ceiling can make the room look bigger. Advisably, you should pick a color that darker than the walls but much lighter than your floor. Such a paint color is going to diffuse the intense natural light.
---
Focus on Accent Points
The bathroom contains a variety of fixtures that can be used to inspire the ceiling paint color. It's important that you account for everything in the bathroom when determining the paint. For one, if most of the elements are made of a particular color, you can use the same color of paint for the ceiling. Alternatively, you can use a less prevalent color, but one that is able to pull everything together. A good example would be using a subtle red paint color or a blue hue in a tiled wall.
---
Lighting
Like the ceiling, not many homeowners give much thought to the lighting in their bathroom. Butjust because you're installing lights in a bathroom does not mean that they should have any less elegance than those in your dining or living room. As such, the ceiling lights ought to be stylish and of highquality. After all, there is such a vast number of bathroom ceiling lights to choose from.
One of the best options is a chrome bathroom ceiling light. This one consists of a chrome finish, which is a hard-wearing material. Chrome lights are actually as strong as those you find on motorbikes; thus, making them very practical. Even after wiping these bathroom lights regularly, they are still able to retain their glossy finish.
Another material option that is not going out of fashion any time soon is glass. The best thing about glass lights is that they come in a range of designs, enabling them to complement any bathroom décor. However, they are more suited for small bathrooms since they're transparent. They also make small spaces look bigger than they really are.
If you have a luxurious bathroom, gold bathroom ceiling lights will work very well. They will accentuate the light in your bathroom while also giving the space a sumptuous feel. But if you don't wish to focus on lighting, you can go for white bathroom lights that will give it a subtle feel.
---
Ceiling Height
Paying attention to the ceiling height is another way to improve the look of this space. The most important thing to note here is that there's a standard height dictated by the National Kitchen & Bath Association. More specifically, this organization requires the bathroom ceiling height to be a minimum of 6 feet 8 inches. However, your local building codes can differ from this, so it's important to check with them.
If you want to create an elegant and luxurious feel, then a high ceiling is the best. By contrast, short ceilings are best suited for intimate spaces. In line with this, the decorative elements you choose should correspond to the height of your bathroom ceiling.
For instance, if you have a short ceiling, then it would not make sense to use a very large chandelier. For such a space, what you want is a fairly small chandelier or pendant. By "fairly," we mean that it shouldn't be too big that users bump their heads onto it. A general rule of thumb is to use a ceiling height of at least 9 feet, for medium-size chandeliers. High ceilings will look more attractive when you add larger fixtures so that they can fill up space and give depth to the room.
---
The Bottom Line
Although they look quite simple, these ideas for your bathroom ceiling are way better than a plain white coat of paint. By following any one of these tips, you can breathe new life to an often-overlooked space. Plus, these ceiling ideas can help you create the desired atmosphere. Therefore, if you're planning to remodel your bathroom, pay more attention to the ceiling height and be smart when choosing the ceiling paint color and lights.