3D wall panels transform the atmosphere of a room. You can make every room of your home unique in appearance and decor with decorative, textured, 3D paneling. This article provides 11 ideas for 3D decorative wall panels in every room of the house.
3D decorative wall panels are versatile and have a low impact on your walls. As opposed to traditionally flat walls, 3D panels offer the ability to highlight an individual area, create the illusion of depth, and cast shadows that compliment the panels dimensionality.
---
What are 3D Decorative Wall Panels?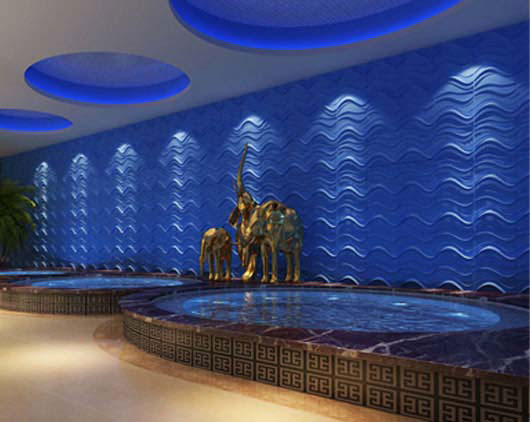 3D wall panels provide a room with a distinct aesthetic of repetitive shapes. The panels are manufactured in a wide range of textured patterns, from waves and ripples to fractile cubes and abstract geometric objects. When illumination is added, 3D decorative wall panels take on their full dimensionality, through shadow casting.
These panels can be used in sequence across a long stretch of wall space, creating a continuous geometric scape. If you don't want to cover your entire wall with 3D panels, you can showcase individual areas of focus, such as a fireplace, entertainment center, or art display.
3D wall panels are typically made from bamboo and a composite material. For the most part, 3D decorative wall panels have three layers: the basis, the relief layer, and the firming-decorative layer.
The basis layer is made of reinforced plaster, aluminum, or other lightweight and strong material. It takes any weight and transfers it through the fasteners to the wall. The relief layer is made from aluminum, wood, or plastic. It holds the weight of the decorative layer and provides a clean surface on which the third layer adheres. The top layer is the firming-decorative layer. It is the only layer that is seen and provides additional rigidity, durability. The PVC film, or another veneer, is shaped to the aesthetic design and provides the panel its 3D quality.
The panels multi-layer design ensures their strength and quality over years of use. They are lightweight and easy to install and can be made in a wide variety of colors and shapes to match the existing or desired decor of any room.
The installation process for your wall panels depends on which type of 3D wall panels you are using. The three basic types of 3D wall panels are typeset, tile pattern, and sheet.
Typeset Rack Wall Panel
Typeset rack wall panels are comprised of long panels attached to a rack structure with screws or staples. The rack and panels are ordered for a definite size and shape. Installation is easy and can be completed by one or two people. Panels line up snug with each other in a groove system and are attached to the rack on the ends.
Tile Pattern Wall Panel
Tile pattern wall panels are the most common type of 3D panels. They are lightweight, inexpensive, and versatile. Tile panels can be taken off the wall and replaced easily. They can be used to create an infinite number of tile patterns, allowing for the greatest artistic freedom in your design. Tiles can be interchanged, flipped around, and swapped with other patterns in order to create a unique wall-scape. This type of paneling is attached to wall bracings in a grove system. Wall bracings are attached to the wall with adhesive or capping so that wall tiles can be moved freely.
Sheet Wall Panel
Sheet wall panels offer a uniform aesthetic to any room. They can be manufactured from metal, wood, plastic, PVC, particle board, or other materials. Some sheet panels display a 3D abstract geometric pattern, while others look like a stone or brick facade. The top layer of foam composite can display any three-dimensional design. Unlike tile panels, sheet panels are manufactured to the full size of a wall. The sheet panel attaches to your wall using adhesive, and the edges of the panel are hidden under the walls molding.
---
Why Use 3D Wall Panels?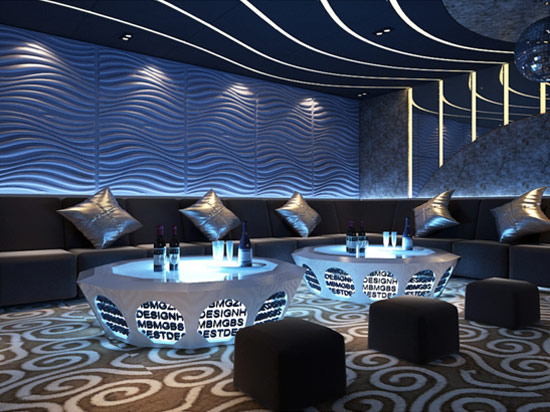 Wall panels are easier to install than wallpaper, drywall, and, or painting a room. If you want to upgrade the decor of your room, 3D wall panels are the best way to do so. Paint and wallpaper don't offer you any dimensionality, whereas 3D decorative wall panels, literally, pop out at you.
If a panel is damaged, simply replace it. No need to get out the spackle and paint. Installation of drywall requires dust masks and heavy equipment. Leave those in the toolbox. Wall panels are easily installed by hand.
Not only do they look great, but 3D wall panels are great for sound dampening and thermal insulation. They are virtually maintenance free and are cleaned easily with a damp cloth. All in all, they are an attractive, unique, stress-free solution to give your space atmosphere.
---
3D Decorative Wall Panel Ideas
3D decorative wall panels are perfect for any room of the house, office, restaurant, hospital, and more. Make every room completely unique and immersive. If you are looking to update the decor of your home, here are 11 ideas for 3D wall panels in every room.
1.Foyer - 3D Bamboo Tile #51
This 3D wall panel is a tile pattern design. It offers a swirling helix pattern that matches up in sequence when arranged on your wall. This pattern is a great choice for the entryway of your home, offering a soothing pattern that centers your mind.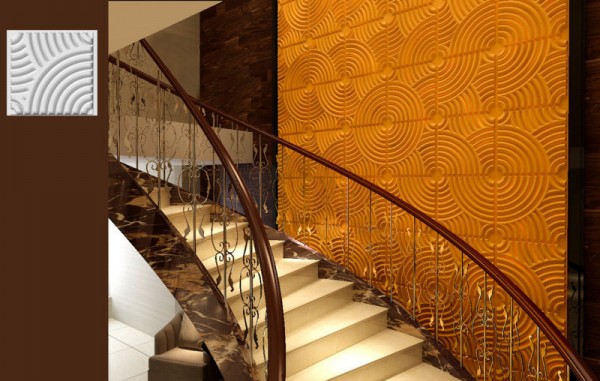 ---
2.Kitchen - 3D Bamboo Tile #58
Get creative in the kitchen with inspiration from this 3D tile. The repetitive geometric pattern inspires innovative thinking and positive energy in the room. The clean white color is complemented by track lighting and casts a minimal shadow onto the wall. Its slim width and modern appeal make this design perfect for the kitchen.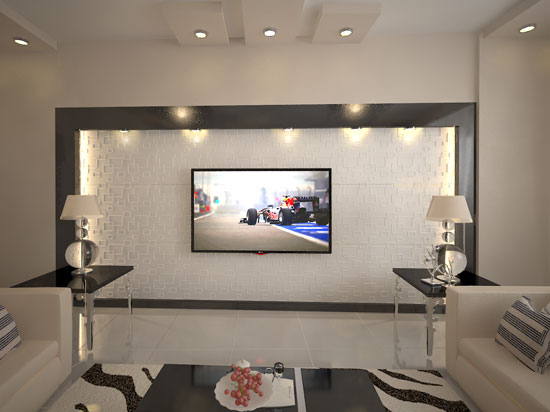 ---
3.Bathrooms - Contemporary Cabana Faux Leather Tile #DCT LRT20
The Contemporary Cabana faux leather tile is a great choice for bathrooms and washrooms. It adds a sophisticated, calming atmosphere to your personal time. The cubic tile pattern can cover an entire wall, part of a wall, headboard or footboard, or even the base of a tub.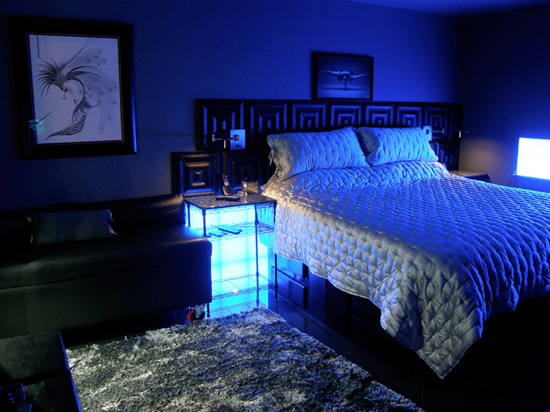 ---
4.Dining Room - 3D Bamboo Tile #75
The soft curves of the kitchens tile pattern give way to hard edges and define the structure of the dining room. This tile pattern created depth and texture, just as the meals served in its midst.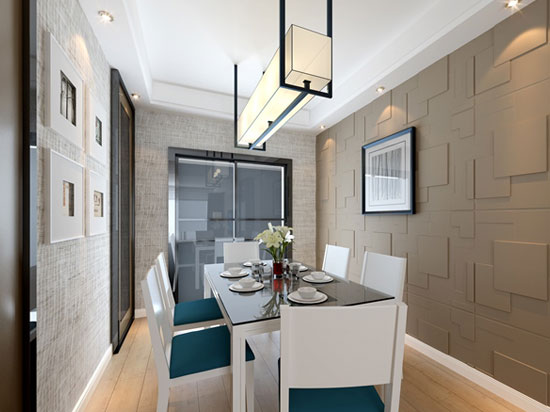 ---
5.Living Room - 3D Bamboo Tile #79
The living room is for fun, relaxation, and creativity. This tiles wave pattern matches to itself in an infinite pattern that stretches across your living room. The wiggly shapes and continuous pattern inspires and enhances time with family and friends. It is soothing and energetic, all at once.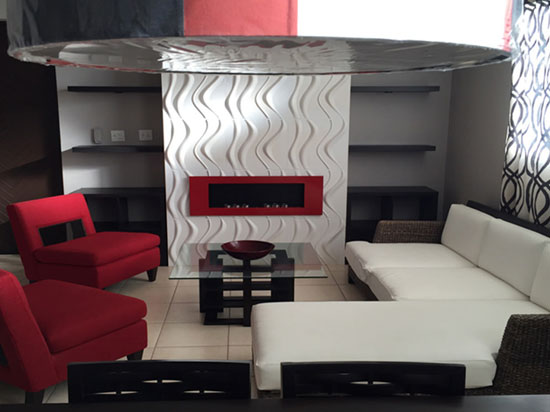 ---
6.Office - Juliet Faux Leather Tile
The Juliet faux leather tile complements the work performed in the office. It adds a sense of sophistication and upscale atmosphere with a studded leather facade. This pattern inspires organization, success, and diligence.
---
7.Music Room - 3D Bamboo Tile #52
Like the music itself, this tile is inspired by the natural roughness of stone in an organized pattern that protrudes out. This tile is perfect for the creative spirit of music and acts as an acoustic panel as well.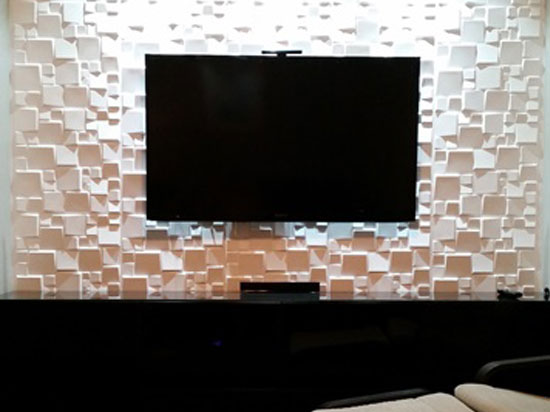 ---
8.Staircases - LumiSplash Graphic Panel
The LumiSplash Graphic Panel is a great choice for walls going up or down stairs. This panel is a large, two-dimensional graphic which adheres to a wall, similar to wallpaper. However, the quality and reflectiveness of the panel display a three-dimensional image, giving the illusion of dimensionality.
---
9.Bedrooms - Diamonds in the Sky Faux Leather Tile # DCT LRT19
Diamonds in the Sky faux leather tile is a resolute, classy welcome to your bedroom. Give yourself the treat of an upscale decor with this tile. The studded facade is comprised of imitation leather, which cushions your headboard, baseboard, or anything else in your bedroom.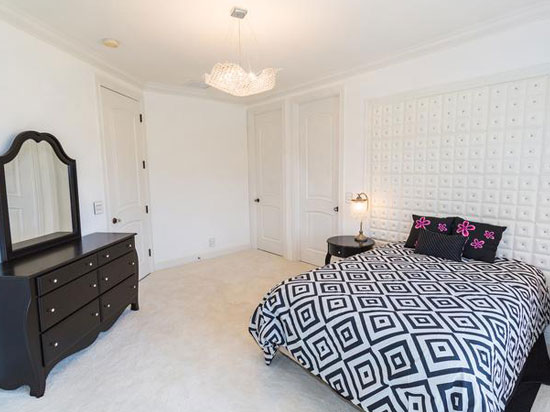 ---
10. Basement - Faux Leather Tile #DCT LRT86
This brown faux leather tile is the perfect accompaniment to your basement. Whether you use it as a den, an entertainment center, or a game room this tile will go nicely. The offset stud enables you to customize the design of your tile arrangement as you wish. Arrange multiple tiles to create a sequence of studs in a circle, line, or zig-zag.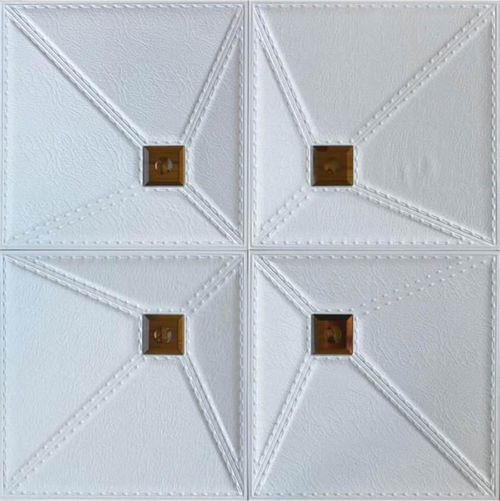 ---
11. Garage - Sahara Vertical MirroFlex Wall Panels
You probably did not think of the garage as a good place to put your 3D decorative wall panels. Think again. The garage is, often, your first entry from the outside world into your place of peace. Make that entryway facilitate your unwinding from the day, by using MirroFlex wall panels. These panels reflect the natural light in your garage, inspiring a sense of entry, instead of retreat.
---
Final Thoughts
There are unlimited possibilities when you decorate your home or building with 3D decorative wall panels. Make every room unforgettable and unique. If you found this article useful, feel free to sign up for our newsletter to stay up to date on the most recent posts. And, don't forget to share with your friends and family on social media. Thanks for reading!