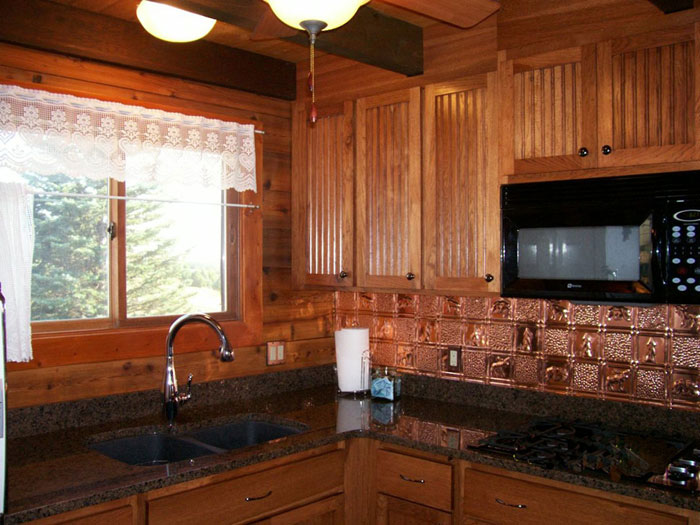 Renovating your kitchen can be one of the most exciting home reno projects you ever complete. Watching a space where you spend quite a bit of time transform before your eyes are unexplainable.
What makes a house a home is the joy and laughter that fills the spaces between the walls. One of those places that should get the most laughs and joy is the kitchen.
In recent years, kitchens with copper accents have become quite popular. These rustic kitchens give modern designs and country designs a great combination unseen anywhere else. These kitchens not only have unique copper backsplashes with tile and trim or copper sheet but other kitchen accents you might not notice until now.
Let's take a closer look at what makes copper backsplash ideas the decorative star of your kitchen down right now.
---
Copper Kitchen Utensils
Cooking means you need a lot of utensils. With copper backsplashes, having copper utensils makes sense. Not only are copper utensils beautiful design-wise, but they are also practical. While you do have to take care of copper utensils a bit more than your everyday utensils, having a touch of copper at your dinner table with bringing your guests' eyes searching around the kitchen for other hints of copper without even knowing it. Hang the utensils above your stove or on your pot rack and watch the copper backsplash dance off of the copper utensils in the light.
---
Copper Sink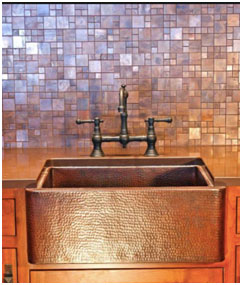 Some might think too much copper can be a bad thing, but we disagree. Having a copper sink with a copper backsplash accentuates the beauty of the metal in both places. Farm sinks are also beautiful in copper. They bring a rustic feel to the space along with the copper backsplash itself.
---
Light Fixtures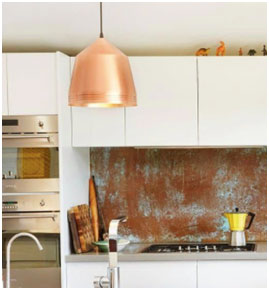 No matter the size of your kitchen, a unique light fixture that stands out in the room will be the talking point of any dinner party. With copper backsplashes, you can add a touch of copper to the upper level of the space with a copper light fixture. Something simple such as one pendant would bring focus to all the right places. Unique copper backsplashes with texture and design can also make the light fixture pop from above.
---
Knife Sets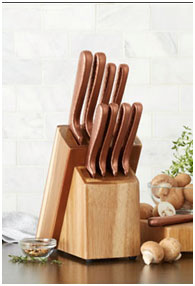 This one might be a bit of a surprise as most people don't consider copper knife sets essential in a kitchen. However, knife sets are often displayed on counters for everyone to see. Therefore, having a copper knife set on the counter in front of a copper backsplash brings a pop to the kitchen you might not have ever expected. Copper knife sets are unique in themselves, but having them on the counter next to a beautiful copper backsplash makes them seem like part of the cohesive design.
---
Copper Canisters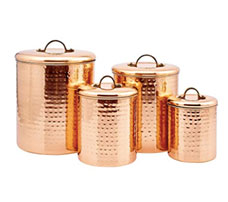 Some homeowners like to display their flour, sugar, and cooking utensils on their kitchen counters. This brings a feeling of warmth to the space and can conjure up feelings of nostalgia from cooking with grandma. One way to bring an update to your outdated canisters is to bring copper into the mix. With a copper backsplash, copper canisters would fit nicely in with the rest of the designs. Vintage, beveled, or decorated copper canisters are a unique touch to any kitchen.
---
Copper Organizers
Copper backsplashes aren't the only thing on display in many kitchens. For some homeowners, the kitchen serves multiple purposes. One of the many things a kitchen counter might serve as is a collection plate with an assortment of things. In order to keep the focus on your beautiful copper backsplash rather than the mess on the counter, copper organizer containers keep everything in one (beautiful) spot. You can get them in a variety of sizes and shapes to match your design desires.
---
Shelves with Copper Pipes

Talk about bringing the rustic/industrial feel to your kitchen. Shelving units have changed drastically over the last few decades going from the traditional cabinets with doors to open-face shelving units that look nothing like their predecessors. Copper backsplashes do a great job at bringing a rustic/industrial feel to any kitchen, but when you add copper pipes to your walls as shelves, you bring a whole new level of sophistication and rustic design to the space. They are out-of-the-box pipes and great additions to any kitchen!
---
Copper Tea Kettle
Boiling water never looked so stylish as it does with a copper tea kettle. Stove tops are often situated very close to the copper backsplash behind the counter, which means having a copper tea kettle will bring the copper feel to every part of the space. They are not only stylish but also practical in use. Copper backsplashes are that are accentuated with copper tea kettles look like they belong in the space rather a design-afterthought.
---
Coffee Maker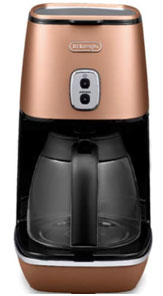 The unsung hero of every kitchen: the coffee maker. While everyone knows that the coffee maker keeps moms and dads sane throughout the day, most don't realize that they are a staple design-wise in every kitchen. No one wants an unsightly coffee maker hogging precious countertop space in front of a copper backsplash. Therefore, having a copper coffee maker situated perfectly in front of a unique copper backsplash will make everyone sing the praises of the coffee maker even more.
---
2-Tiered Hanging Baskets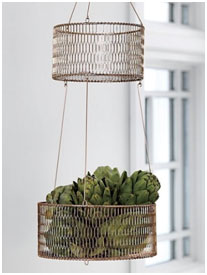 If you like your countertops clear so that your copper backsplash can be the true focal point, a 2-tiered hanging basket is the perfect option for you. A copper hanging basket will allow you to store your produce or even beautiful flower arrangements throughout your space without taking up counter space. Keep the focus on the design elements that matter the most (your unique copper backsplash) without compromising the functionality of your kitchen.
---
Bring It All Together: Copper Style
A stunning copper finishing on different types of furniture or appliances is a very popular design element on the market today. Going with the rustic copper backsplash in your kitchen can transform your space without doing much else. But, bringing in other types of copper finishing, such as the design elements above, will bring the entire space into a cohesive gathering area that will make memories for a lifetime.