For many of us, keeping up to date with current interior design trends and styles seems like an overwhelming task. The idea of constantly changing the interior of your home seems difficult and expensive but decorating your kitchen, living room, bathroom, or bedroom with contemporary styles can actually be an exciting and simple process.
We often assume that modern home décor is a blanket term used to describe minimalist interiors filled with expensive designer furniture but that perception could use some updating. Rather than cold, empty spaces with concrete walls, contemporary interiors are now comfortable and welcoming.
When it comes to modern home décor, contemporary styles usually revolve around one concept – simplicity with subtle sophistication. Modern interiors tend to showcase the actual room rather than the things inside of it.
By focusing on color, space management, clean lines, shapes, and hints of sophistication, you can give your home a look that is both comfortable and modern.
Keep in mind that you can apply today's modern home interior design ideas to offices, restaurants, and other commercial spaces to give them a more welcoming atmosphere.
---
So, What Are Some Useful Modern Home Décor Ideas?
There are plenty of ways to use contemporary design concepts to give your space a modern look. Luckily, these ideas do not have to be expensive. To make things easier, we're going to go over some of the most effective decorating ideas and highlight some products you can use as inspiration to breathe new life into your dated home.
1. Make Use of Color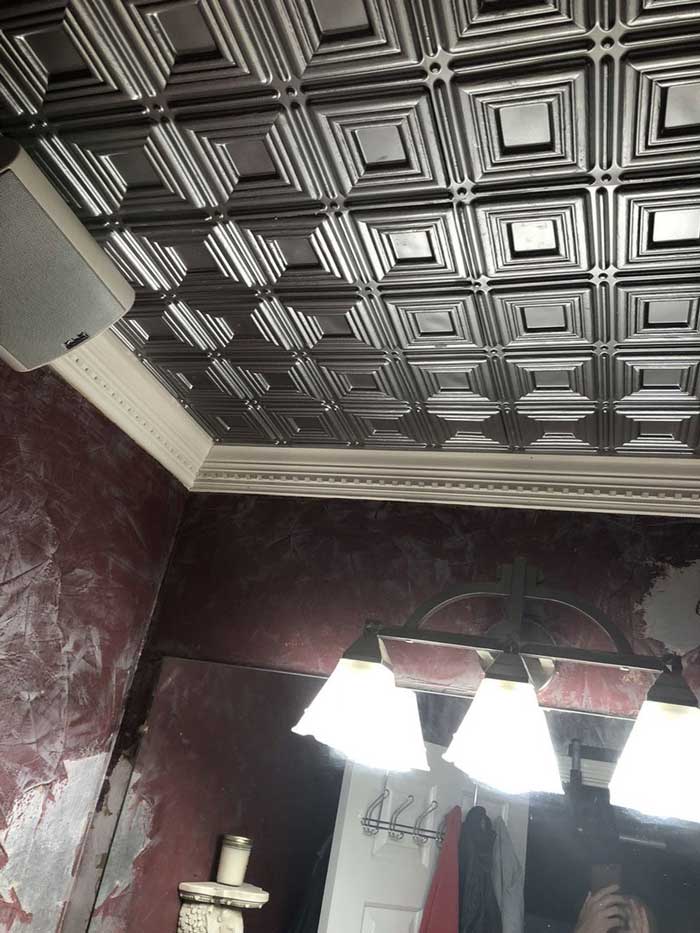 You can really modernize your interior by paying attention to your color choices. As mentioned, you want to highlight the space itself rather than the things within it. For this reason, choose colors that compliment the room. Neutral colors, blacks, and various shades of white all work well in contemporary interiors.
Black Ceilings: Although it may seem a little odd to choose a black ceiling, this is mostly because ceilings are almost always left white. A black ceiling not only gives your space a bold, dramatic look, but it will also highlight the height of the room and give it a modern feel.
Using a black ceiling tile is one way to not only give your ceiling a bold color but to also give it the trademark subtle sophistication of modern home décor.
Our Dimensional Squares Faux Tin Ceiling Tile are an excellent choice in any contemporary space. The design uses geometric patterns and straight lines to achieve a modern look. Concentric squares draw the eye which forces your guests to look up and interpret the room as being bigger than it is. Best of all, the ceiling tiles are available in a wide variety of colors.
While these tiles would look great in any color, if you really want to make a statement and give your home a modern look, choose black or dark color palette. It is also worth noting that our faux tin ceiling tiles are easy to install using a simple adhesive and are compatible with almost any surface. Switch out those old, dated popcorn ceilings and go for a bold look that will transform your room into a modern space.
Find our Dimensional Squares faux tin ceiling tile HERE.
2. Pay Attention To Textures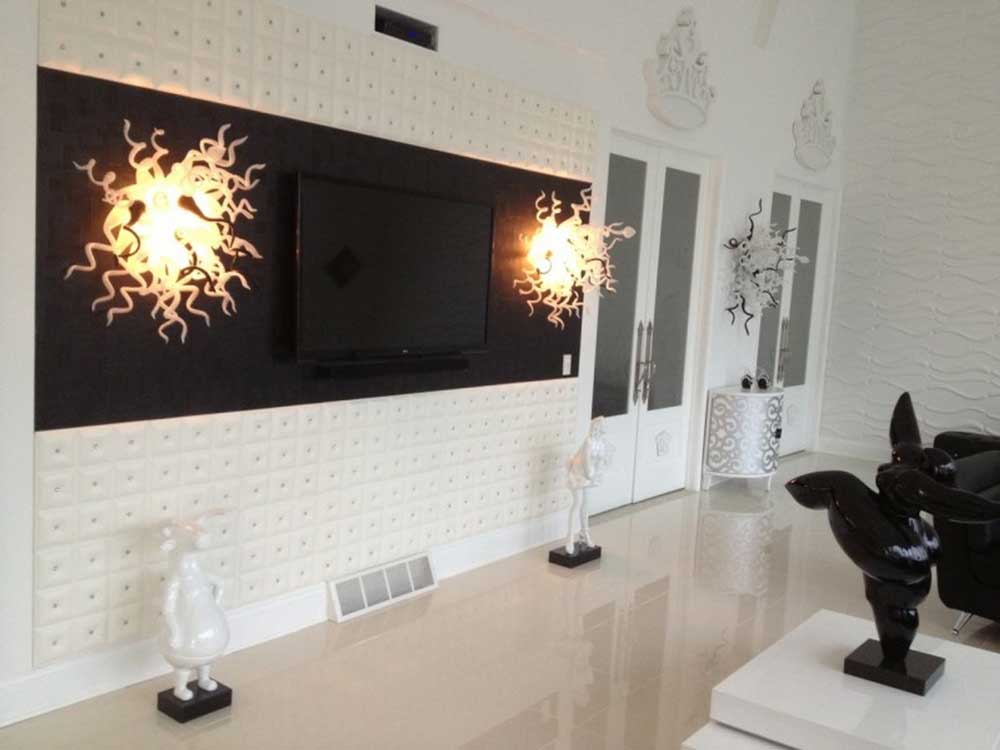 It may surprise you but a key feature of modern home décor involves deliberate use of texture. Modern homes are no longer cold spaces that look like they have not been lived in. In fact, they are quite the opposite.
You can achieve plenty of warmth by making use of soft textures that give the impression of comfort. Do not be afraid to fill your home with comfortable blankets and throw pillows. Go for quality. Rather than hiding an old, ratty blanket, you should proudly display a simple, high-quality wool one. You do not have to hide the fact you are comfortable in your home. Instead, invest in your comfort and put it on display.
Another way to make use of texture in your home is to feature a comfortable aesthetic on your walls. A faux leather accent piece can draw the eye and gives the sensation of warmth. Leather is associated with so many things and you can almost feel its texture when you think about it.
An accent wall using faux leather tiles not only directs attention towards that particular wall, but it will also make your space seem more modern and comfortable. We suggest taking a look at our Diamonds In The Sky faux leather tile. Choose from deep black leather tile or a snowy white shade. Either could be a perfect fit in a modern space. The tiles look indistinguishable from real leather and are sure to make a statement in your modern home.
Find the Diamonds in the Sky faux leather tile HERE.
3. Incorporate Various Design Elements
Generous use of metal, stone, wood, and glass surfaces works well with modern home décor. You want your space to reflect your personal tastes. If you love the appearance of natural wood, incorporate it into your home. Remember, you do not want the focus to be on the objects in the room but the room itself. Consider using natural wood trim or beams in your room to highlight its boundaries.
Natural wood beams are expensive; however, we offer faux wood beams that are incredibly similar to the real thing. Faux wood beams are not only less expensive than those made of real wood, they are much easier to work with. The lightweight design means they can be more easily carried and installed.
Find our collection of faux wood beams HERE.
4. Other Ideas
You should also take into consideration the lighting in your home. Washing a wall in light can highlight the space and is easily achieved with recessed lighting. Use spotlights and strategically positioned lamps, rather than one overhead light fixture.
The wall art you choose to display can also make a space seem more modern. Choose bold colored frames around simple pieces. Again, you want the room to be the main showcase, not the items within it.