Zuccarelli - Pompano Beach, FL, United States. This Italian restaurant has been here since the early 80's.
WHAT IS THE GOAL OF THIS PROJECT?
Beautify an existing drop ceiling on a $5000 budget.
ARE YOU HAPPY WITH RESULTS?
We are extremely happy with the final results and so are our patrons. Everyone is blown away how transformative this was.
WOULD YOU RECOMMEND DCT?
Yes of course I would! They were very helpful and their product is exactly what we are looking for.
LOCATION
Pompano Beach, Florida
PRODUCT
Faux Tin Ceilings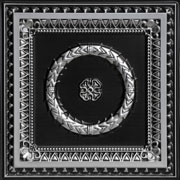 Laurel Wreath – Faux Tin Ceiling Tile – #210
FORMULA
PVC + Antique Silver
PROJECT SIZE
1600 Sq. Ft
PROJECT TYPE
Restaurant Ceiling
INSTALLER
Our maintenance people have installed new tiles after hours in couple of days.
CATEGORY
Faux Tin Ceilings